LingoMap: Travel and Transport in Valencia
22 March 2017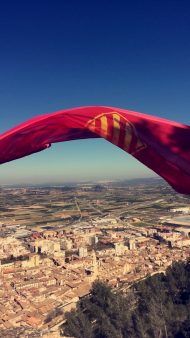 Welcome back to my LingoMap Blog! I have been living in Valencia for five months now! The time is flying by, and I am having the best time.
This blog post is all about travel and transport; The best places to visit and the best ways to get around the city!
For me, using 'Valenbici', is the best way of getting around in Valencia. This is the city bike service which costs 30 euros for the entire year, that allows you to pick up a bike from various stations throughout the city. It is the cheapest and most efficient way to travel in Valencia, as you can cycle from door to door, once you know where you are going! My sense of direction isn't great, so it took me a little while to work out the best ways to go, but my navigation skills have certainly improved thanks to Valenbici!
Living in Valencia has also encouraged me to get more active, and I now walk to the majority of places I need to go. Valencia isn't a huge city, so I try to walk as much as possible; it's good exercise, and the other bonus is that it's free! The metro in Valencia is also incredibly easy to use and navigate around. Valencia metro offers a ten trip card for about eight euros, so this is an efficient and easy option that I would recommend to anyone visiting.
Now that spring has sprung, (although it is currently more like a good British summer here!), I am keen to travel more. The places I want to tick off my to do list are Granada and Sevilla, Ibiza and Barcelona. I'm not sure if I'll have the time or funds to make it to all of those, but there's no harm in trying! So far I have been lucky enough to visit Paris and Berlin since being here. With the time to spare and the availability of cheaper flights from here to the rest of Europe, it seemed silly not to make the most of it.
My trip to Paris was back in December for a friends' birthday. I have been to Paris once before, but this time I fell in love with it. For me, Christmas time is the best time to visit this city. We were so lucky with the weather, with blue crisp skies and the sun shining, wrapped up in warm coats and making the most of the Instagram worthy shots.  We ticked off all of the main tourist sites; the Eiffel Tower, Champs-Élysées, Musée de Louvre, and the Notre Dame.
My second trip was to Berlin in January, and despite doing so many great things, I will never forget how cold it was! Living in such a mild climate, we were not quite prepared for the cold weather we were about to experience, and we certainly lacked the appropriate clothing. Berlin for me was a unique, alternative, gritty and glamorous city. It is full to the brim with trendy restaurants, cool bars and unconventional young people. I loved it and I will be sure to go back, although this time armed with a thick scarf and a puffer jacket!
Inside of Spain, I have visited a few nearby towns but the one that is my 'Go to' when I feel like escaping city life is Xativa. It is situated about forty minutes or so outside of Valencia. The town itself is buzzing with shops, restaurants, bars, and there is a great atmosphere. The thing I love about this town, is the castle. The castle overlooks the whole town and surrounding area, and the walk up to the castle is tranquil and beautiful in amongst the trees and winding roads. I love it there and have taken all of my visitors there!
Aside from these trips, I have mainly been keen to explore Valencia and settle here before planning lots of trips. I wanted to wait until the sun came out to explore the south of Spain and Ibiza. Now that April is looming, I have my bikini at the ready and my suncream in hand, and I'm ready to get going. I'll let you know how it goes!
Hasta luego,
Sarah
What are you looking for?
We're looking for enthusiastic students who are currently abroad, or are soon going abroad, to share their experiences and write for our pages!
If you're interested, get in touch by emailing us at go@cardiff.ac.uk