LingoMap: Self and Relationships
3 January 2017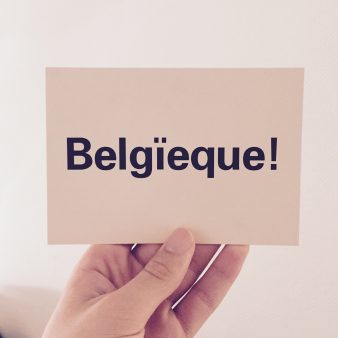 Bonjour tout le monde! (Or, hello everyone!) This is my first submission for the Routes into Languages LingoMap Blog.
Before I catch my very early train back to Brussels tomorrow, to start the dreaded "Blocus" (the Belgian-French word for the exam period) on 2nd January, I thought I'd get started on the blog. The first topic I will be writing about is Self and Relationships.
As you can see on my profile, I usually attend Cardiff University, and I am spending my first semester abroad at the "Institut Libre Marie Haps" in Brussels. It's a translation school, with the building right on Place Luxembourg, along with the European Parliament.
You probably remember what it was like when you first joined your Secondary school, College or Sixth Form. You may have arrived, not knowing anyone, wondering how on earth you would make friends! Well, when I first moved to Brussels, I felt the same way. Luckily, before I had even left the UK, my exchange university had created a Facebook page with the other students on the exchange. This allowed some of us to get in contact with each other, in a safe way (as it was a moderated, private Facebook page), and form some friendships before arriving.
For the Erasmus students, my university organised a "semaine d'intégration" (Integration week) before the real classes started where we had an introduction into life in Belgium. It included a walking tour of Brussels, a trip to Bruges (a famous city near the Belgian coast), visits to the European institutions as well as various museums. As I had come to Brussels with just two other Cardiff students, this week was a great opportunity to meet other people who had come to my university in Brussels to take part in the Erasmus programme.
Fortunately, (or unfortunately you may say) my birthday fell during the first week that I was here, so we all got together at the weekend to celebrate it! I put a little money towards food, decorations and drinks, but in all it was a nice way to get to know each other outside of the university.
As a student of French and Spanish at Cardiff University, I obviously came to Brussels to practice my French and so did many other people. At the beginning, I tried my hardest to speak French all of the time, however being in Brussels and being on an exchange with lots of other students from around Europe and the rest of the world, gave this plan problems.
Firstly, Belgium is a multilingual country, and with Brussels being in more-or-less the centre of the country, Brussels is also a bilingual city. This means that although for 80% of the time, you are able to speak French here with no problems, the final 20% of the time, you may encounter a Flemish speaker. Flemish is the Belgian version of Dutch, the language that is also spoken in the Netherlands, Belgium's neighbour country. Luckily, all of the Flemish-speakers speak excellent English, so I could rely on that.
Secondly, for many of the Erasmus students, French is their 3rd or maybe 4th language, with English quite often taking the spot after their Local and National languages – in the same way that some people speak Welsh and English in Wales. Because of this, it was much easier to communicate with these students in English, than for all of us to struggle along in French!
While I chose not to, a lot of my friends decided to live in residences. These are pretty much the equivalent of "Halls" in the UK or "Dorms" if you have seen American movies and TV series. Since lots of students live together there, from many universities around the city, it can be a great place to make new friends, although some of the residences can be significantly more expensive. Others, like myself, moved into shared apartments, which are generally cheaper than residences and can easily be found online through various websites. A popular website in Belgium is apartager.be. In Belgium a room in one of these shared apartments is called a "Kot", which is a word taken directly from Flemish. Although I do not study Dutch, you can see from this extract of a video clip, that some Dutch words resemble English – more so than French at times!
Also, the Erasmus programme is only for a short period of time, normally between 4 and 10 months. While on the exchange, you will make some good friends, and undoubtedly friends for life, it is important to remember that it is impossible to stay in contact with everyone we meet. Luckily, with social media and the internet, we can stay in touch. Many of us have already decided to visit each other in our home countries next year!
So now that we are towards the end, we should summarise some of the French and Belgian words and concepts that I've put into this blog post!
What is the name of the "exam session" in Belgium?
What is the French translation of "Integration week"?
What is the Belgian word for "Student Halls/Dorms"?
What is the other official language spoken in Brussels, other than French?
On which square is the European Parliament found in Brussels?
Tot ziens et au revoir ! (Goodbye!)
---
Comments
What are you looking for?
We're looking for enthusiastic students who are currently abroad, or are soon going abroad, to share their experiences and write for our pages!
If you're interested, get in touch by emailing us at go@cardiff.ac.uk