How to be an active committee member whilst abroad!
30 October 2019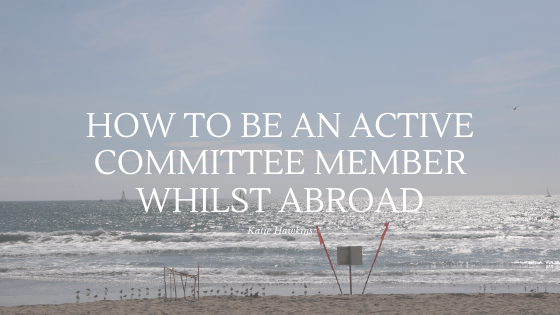 Being a part of the English Literature Society committee has been a big part of my university life at Cardiff, and so was one of the things I was worried I'd miss out on whilst studying abroad this semester. However, halfway through the semester, I can say that (although unable to attend society events) I am still able to fulfil my role as Social Media Officer 5349 miles away and I'm about to tell you how!
The two most important things to being a committee member (even if you're not abroad) are communication and organisation. Obviously, being on the other side of the world and a completely different time zone doesn't make these things easy!
Luckily for me, the rest of the English Literature committee this year are my close friends, so I was always going to be communicating with them on a daily basis anyway. My advice for communicating with your other teammates (even if they're not your best friends and are other students you hardly know) would be to meet up with them before you leave the UK, make sure you lay out the responsibilities each team member is going to have – especially you as you are the one who will be working from abroad, and decide how often you are going to be communicating as a whole team, and how often you will only need to be communicating with various committee members. For example, as the Social Media Officer, I need to communicate with the President of my committee and the Social Secretary the most. At the end of the day, the President is the person who is in charge of giving the okay to every decision the society makes, and the social secretary is usually the person with the most up-to-date information on all the socials that will be happening! So communication is key to make sure you know what you're doing and who you are collaborating on each task with! Both years I have been on the committee we have had a group chat dedicated to just talking about society related items so that it's easy to find and all in one place where everyone can see it!
The other part of being an active committee member whilst abroad is organisation! Personally, I'm a fan of a good list – whether this is online (on a site like Trello) somewhere or a physical list that I can check off. I make sure that I write everything down that I need to do for the week ahead, for instance, I'll write down all the graphics I need to create for posts that week, which events I need to create Facebook events for etc. I also make sure to keep a spreadsheet of all the events that are happening for the society, I think this is especially important for a society member who isn't present in Cardiff as it does get hard to keep tabs on events you yourself will not be attending, even more so when you're in a completely different time-zone!
I hope you've found reading how I'm managing to stay an active committee member helpful if you too are planning on doing study abroad whilst retaining your committee position!
What are you looking for?
We're looking for enthusiastic students who are currently abroad, or are soon going abroad, to share their experiences and write for our pages!
If you're interested, get in touch by emailing us at go@cardiff.ac.uk