Hiking to Vettakollen
22 September 2019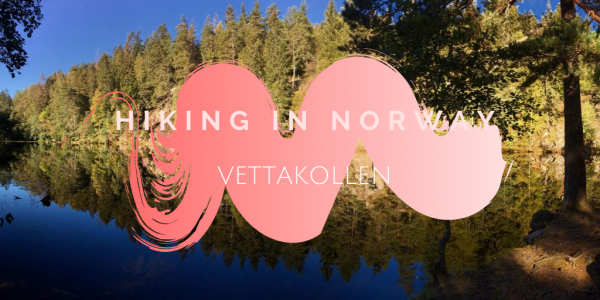 Since being diagnosed with chronic pain and fatigue conditions nine years ago, it is fair to say athletic activity has not been on my agenda. I spent the years leading up to university learning how to manage my conditions to the best of my ability and, in my second year of university, I felt confident enough to join Cardiff University's Aerial and Pole Fitness Society.
Contrary to popular belief, pole dancing is an incredibly tough sport that requires strength in every area of the body. I underwent many trials with pushing the limits of what I could do and equally experienced so many triumphs — and in an environment of supportive people, pole sport was a liberating experience that made me desire to push myself further in different activities.
Whilst I have climbed hills and walked up a small portion that lead to the top of a Swiss mountain, I have never been on an actual hike. As the best sights of Norway come from a height, I decided I wanted to try my hand at a small hike since it would not only provide a view of this beautiful country, but test to my pain management as well.
As it has become evident, one of my favourite hangout spots is Sognsvann Lake situated just a walk away from my accommodation. Having been fascinated by what resides within the horde of trees I can see from my bedroom, my flatmate and I did some research and found that we could hike through it to Vettakollen; a former beacon used as an alarm system turned viewpoint at 1,248ft that overlooks Oslo.
The First Hour: Discovering Båntjern
The hike itself is predicted to take one-two hours and since the weather was predicted to be above 20C, we left early in the morning to avoid travelling in heat and among many fellow hikers.
We began at Sognsvann and the first hour was surprisingly relenting. Neither of us noticed we were slowly travelling higher as we delved deeper into the forest. Along the way, we discovered Båntjern — a mountain lake nestled within the trail to Vettakollen.
Since it was still early morning, the moon could be seen; making this lake all the more tranquil since we had not encountered anyone bar the odd runner on our way so far.
The Final Thirty Minutes: Welcome to the Hike
I knew it was too good to be true and the real hiking conditions began in the final thirty minutes of the trip as we were confronted with an unrelenting elevation consisting of unstable rockface. What had made the previous hour manageable was the balance of elevation and straight paving, so these last thirty minutes immediately picked up my heart rate and pain levels.
This, for me, was the real test of if I was pushing my pain management too far. I had planned beforehand so that I would have a day for my chronic fatigue to hit back but I could not plan for how my pain would be that day other than resting the day before. My flatmate was wonderfully understanding, having been on multiple hikes with people with similar issues, and we stop about several times before we finally made it to the Vettakollen Utsiktspunkt.
No photo, however many we took, could justify what our eyes could see. The city, our housing, the Fjords, the ski jump; the pain of those last thirty minutes were worth it for the breathtaking view that we looked on.
I felt emotional about getting to the top as I was not sure I would manage it. One of the worst areas of impact from my Fibromyalgia are my legs, for which I have struggled with the most so every step, leap, and steep stretch on that last leg of the journey were felt excruciatingly. So this was a huge triumph for me and a stepping stone to do more.
We spent some time sat at the viewpoint before making a return trip, by which time many more people were making the journey to see Oslo in sunny splendour. When we returned back to our starting point of Sognsvann, we discovered via my FitBit that I had hiked the equivalent to a 10km race!
So for a first hike, I would say it was a success!
What are you looking for?
We're looking for enthusiastic students who are currently abroad, or are soon going abroad, to share their experiences and write for our pages!
If you're interested, get in touch by emailing us at go@cardiff.ac.uk