Family Day in Ubon
15 July 2016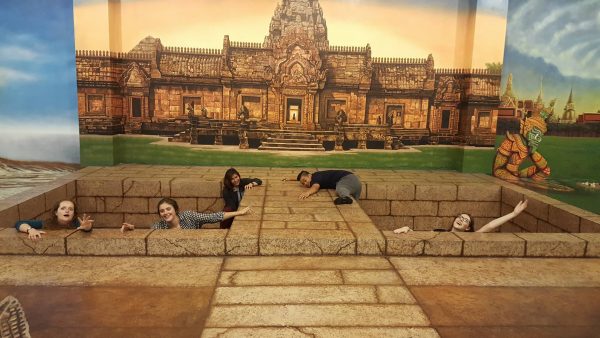 On Sunday I managed to sleep for long enough that the cockerel and the carpenter did not bother me. I was still in my pyjamas when Ma knocked on our door to call us to brunch – thankfully I had a cold shower available to wake me up enough to talk and eat (but not at the same time). Bunch consisted of fried fish, breaded chicken strips, pig colon, fancy mushroom soup and rice. I've got to say that is the weirdest brunch I have ever had while I've been in Thailand. And I'm not entirely sure if that's the weirdest it will get.
In the afternoon, we went to a Japanese buffet restaurant called Ossin. Aum told us that the chef who won the Iron Chef, which he also said is like a Thai version of Hell's Kitchen. After a short wait we were shown to a room upstairs with Japanese sliding doors – it looked so cool.
We ordered our first lot of food, and when it came, oh my goodness it was amazing. It looked so lovely and beautifully laid out that I didn't want to touch it to start with. Then I realised if I left it too long then there would be none left for me!
We were given chopsticks again. I almost managed to use them proficiently; just I kept dropping my food in my soy sauce. Let's just say it's a good thing I like soy sauce!
After we felt like we couldn't eat anymore, let alone move we went back to the school van – the same one as yesterday – and drove over to the 3D gallery in Ubon Ratchathani. In case you're wondering, a 3D gallery is a series of paintings where you take photos of you interacting with the paintings – we got so many good ones!
After spending what seemed like forever in the gallery went to a small tourist shop in Ubon Ratchathani. Although we only bought postcards, I think we all want to go back to buy an Ubon Ratchathani t-shirt.
We then went back to the school, after stopping into Lotus to get Aum some new (Mickey Mouse) flip-flops and a KFC white chocolate and strawberry coated ice cream, and had a small dinner. I don't know how we managed to fit any more food in but we managed it.
But do you know what the best thing is? Ma promised us pancakes for breakfast tomorrow morning.
What are you looking for?
We're looking for enthusiastic students who are currently abroad, or are soon going abroad, to share their experiences and write for our pages!
If you're interested, get in touch by emailing us at go@cardiff.ac.uk