A quick update from an aspiring kiwi
11 May 2018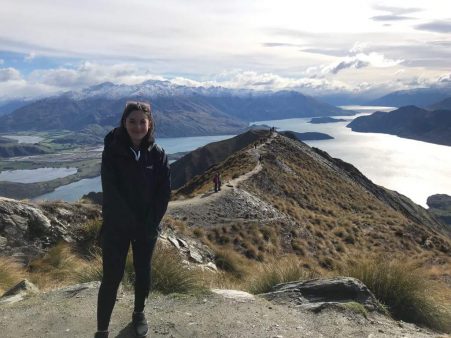 Welcome to my newest blog post. I'm nearing the end of my exchange in New Zealand now, with only around a month or so left to go! I miss home and am looking forward to being reunited with my friends and family but I will be extremely sad to leave this beautiful country. I was lucky enough to travel round the whole of the south island during my mid semester break, which was around 2 and a half weeks long and was an amazing experience. Who knew the other side of the same country would be so different! Where the north island has its beaches and volcanoes, the South island was surrounded by mountains and lakes. During that trip, I saw dolphins, seals and blue whales, I experienced the biggest swing in the world and saw the most stunning views I couldn't have imagined; some of which I have attached some photos of at the end of this post. I honestly couldn't have picked a better place to do my exchange.
Since returning, the workload has definitely picked up! I have struggled a little bit with the difference in expectations for our essays and work. It's hard when you're used to one way of doing things and are thrown into a new environment that the other students are used to and works differently. But, the show must go on. I am trying to work on the feedback given and hope that it will not affect the grades I have at home! I have 2 exams to prep for along with a couple of essays and other bits, so my exploring has come to a halt.
After my exams I have been lucky enough to book some flights to Australia to explore the east coast before returning home. Being on the other side of the world has its advantages, I can travel to places that usually would cost me 10 times as much! With my new trip in mind, I have more things to look forward to, which is a great motivation to keep me going.
One of the main things on my mind is how I will be able to cope with all the people I've become so close to being so far away when we all return home. I'm lucky enough that two of them will be coming with me to Australia, and my closest friend just so happens to be from Cardiff too, and better yet, is studying the same subject as me! Shoutout to JOMEC. Plus, there's always facetime eh? When moving to a new place, it's easy to get comfortable and it's hard to imagine being back in the UK. But, at least I've managed to experience two summers in one year! (Timed that right didn't I?)
---
Comments
What are you looking for?
We're looking for enthusiastic students who are currently abroad, or are soon going abroad, to share their experiences and write for our pages!
If you're interested, get in touch by emailing us at go@cardiff.ac.uk