24 hours in Bergen: On travelling alone and things to do in Bergen
19 November 2019

The first week of October and turning another year older was not a smooth ride. In fact, anything that could go wrong, did go wrong that week. So in the very early hours of the Sunday morning that week, I booked myself a twenty-four hour trip to Bergen.
This is probably the most spontaneous I have been with myself and with spending money. My mother and my boyfriend were both quite surprised (but very supportive) that I had decided to do this; because I have never taken a trip alone anywhere.
But Bergen was on my list of places I wanted to visit in Norway before I returned to the UK; mainly to experience the train journey that is often referred to as the most beautiful train ride in Europe. I had originally intended on going with another person, and who that person was interchanged a lot, so the emotionally taxing first week of October clearly gave me the courage to just go alone.
So, this is what I managed to achieve in twenty-four hours in Bergen and what I learned about travelling alone.
Travel: The Most Beautiful Train Ride in Europe
A seven-hour train journey would be an absolute nightmare in the UK. But I was not disappointed by the popular title that the Oslo to Bergen journey had garnered. In the age of social media and with deadlines looming (although I have completed them, there is always that anxiety), it is hard to switch off so having several hours of being clued to the window sill was something I did not know I needed.
The nature in Norway constantly amazes me and I definitely had to tell myself to put my phone down, stop taking photos and let the memory sink in through my eyes. It is hard because I always want to preserve memories for when the time comes that my mind starts to forget them but putting my phone down and watching as we ventured into tunnels hollowed out within the literal mountains and experiencing every type of weather as we travelled 4,058 ft above sea level is something that only the eyes could truly behold in its entire beauty.
On a technical note, the train offers free WIFI which proved far more useful on my journey home as the entirety of it was spent in darkness as the sun had set. Some fly back but I do not regret my decision to use the train; I just wished that I had taken my eye mask to get some sleep! My advice on travel would be to book a month or two in advance like I did to save yourself about 400NOK. And one of the best perks? The seats are comfortable, there is a lot of leg room and you will most likely have the seats on your row to yourself.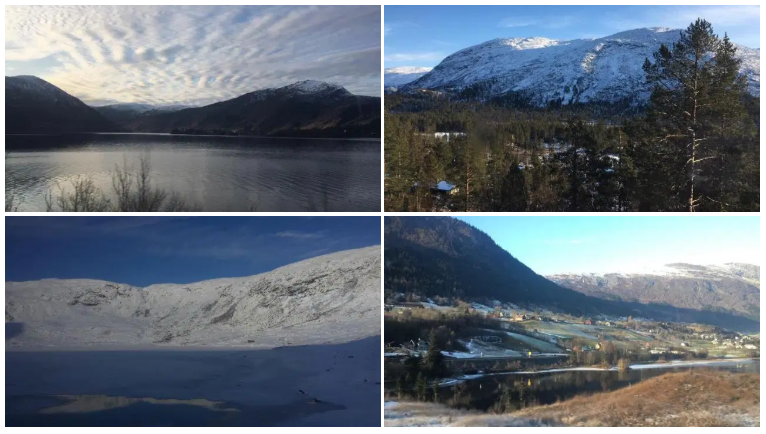 Accommodation: Ole Bull Hotel & Apartments
Online guides say the best place to stay is Hotel Oleana for its quirky decor and picturesque rooms. I, however, chose to stay in a studio next door. When I booked this trip, I did not have a plan nor a preference on my accommodation other than to be close to the station and on the cheaper side.
Ole Bull Hotel & Apartments is just a five-minute walk to the station and is in the heart of the centre, with Bryggen being the same distance as the station. I was expecting the studio, the smallest of the rooms offered, to be adequate for a night. Instead, I was very pleasantly shocked to discover that my studio was the equivalent to a small apartment, fully equipped with cook and dinnerware and I had the view of the square, one of the seven mountains and St. John's Church.
It was the perfect size for me and reclining on the sofa with jazzed festive instrumentals with a cup of tea was relaxing. I would definitely recommend this place to anyone travelling alone — though this studio does sleep three with the bed and a sofa bed if you wanted companions.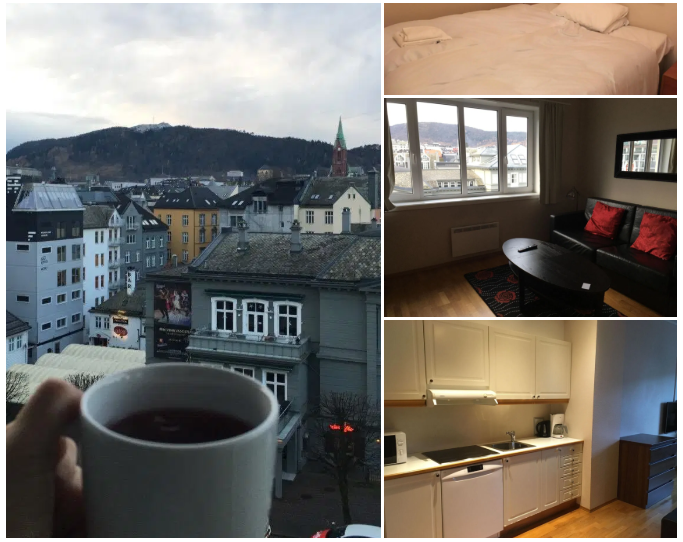 Sunset on Mount Fløyen with Fløyenguttene
As the trip came closer, I began compiling a list of things I absolutely had to do. One of those was to sit upon Mount Fløyen and watch the sunset with the Fløyen Boys, aka the mountain goats. This was probably the only thing, aside from the hotel and travel, I actually planned on this trip. I really wanted to be as free-spirited as I was when I booked the trip.
Booking in advance was cheaper (90NOK return) and I also did not want to go up there to find that it was completely overcast. So if you want to watch the sunset, book the night before you leave.
The funicular takes you to a station platform that supplies a panoramic views of the city, equipped with a gift shop, a cafe selling cinnamon buns and a weekend-only restaurant. As you would expect, it can become a bit loud with camera clicks and people chattering so I wandered off and stumbled upon the Fløyen Boys, mountain goats that help clear vegetation. I sat upon a rock near their shack and watched the sunset from there, where one of them become curious enough sit with me.
This is a must-do experience in Bergen and this moment was the highlight of my time in Bergen. I felt like I was in a modern Tolkien tale, frankly.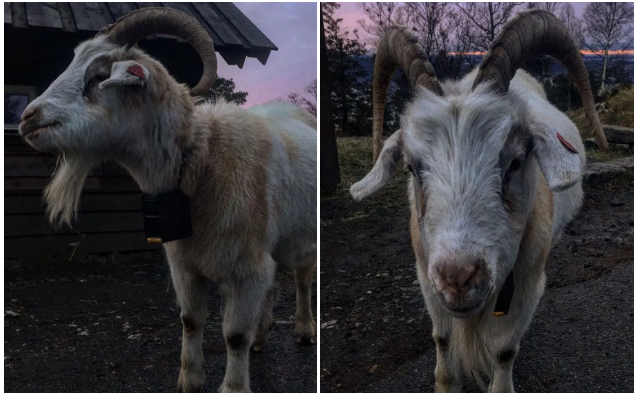 Brunost Waffles at BarBarista
People travel to Bergen to experience the famous fish market. However, I am allergic to fish— and yes, many people asked me if I knew where I was going. Luckily for me and all those that are allergic to fish or do not eat it, there are many restaurants and bars to dine at; including the hidden gem that is BarBarista.
I was recommended BarBarista by a Norwegian friend who promised me it would be exactly the kind of bar that I would love. She was right. BarBarista is the craziest place adorned with anything and everything upon the walls, hanging from the ceilings and sealed into the tables. I experienced my first ever waffle (do not ask me how I have managed this) and my first taste of Norwegian cheese, brunost. It was delicious.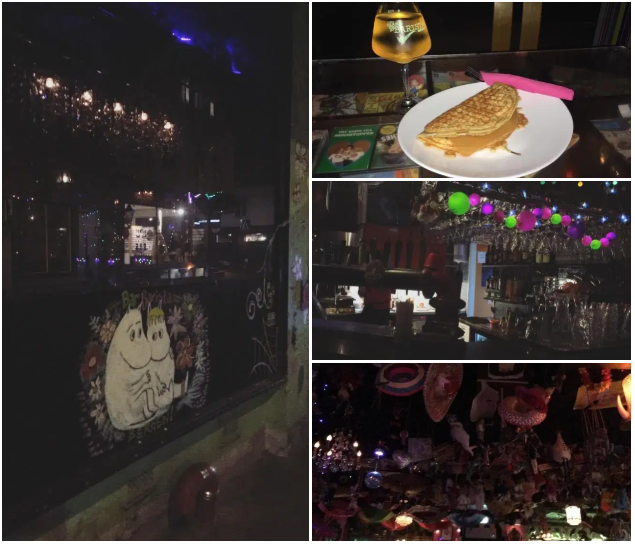 Bryggen
The most famous part of Bergen, and the reason many flock to visit, is Bryggen. It is postcard material through and through. Despite being around since the 12th century, a catastrophic fire tore through Bergen and in 1702, the Bryggen you see today was built.
But Bryggen is more than the postcard shot you want to photograph. No, I spent perhaps one or two hours exploring the many passages where unique shops, galleries, jewellers and history awaits. Walking through this historical landmark was made all the more when I learned at the Hanseatic Museum and Schøtstuene that Bergen was intended to be demolished at one point.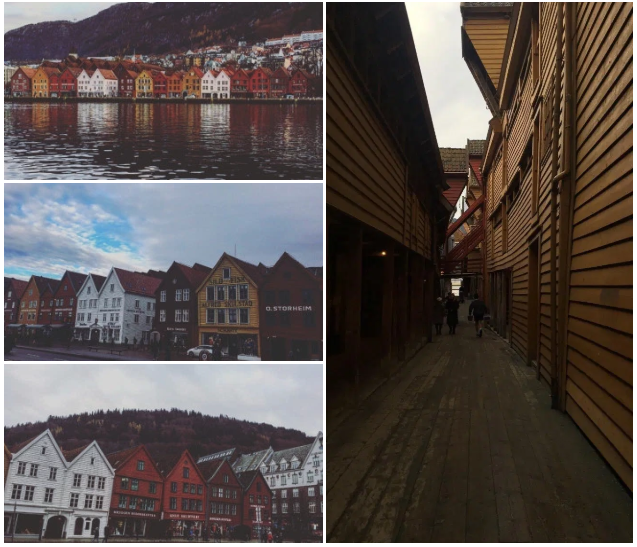 St. Mary's Church and Bergenhus Fortress
Norway really has perfect preservation of historic architecture. If you have an interest in history, Bergen is ripe with it. St. Mary's Church is 839 years old and is situated just behind Bryggen, as is the 13th century Bergenhus Fortress (Bergenhus Festning).
Walking within the remaining walls of the fortress was surreal and is widely larger than you can imagine. The fortress is one of the oldest and best preserved pieces of history in Norway so you really experiencing something remarkable. It was incredibly interesting to learn that the fortress' history, having only engaged in one battle that involved the British. Exploring these two buildings, that sit in the very center of Bergen, was just awe-inducing.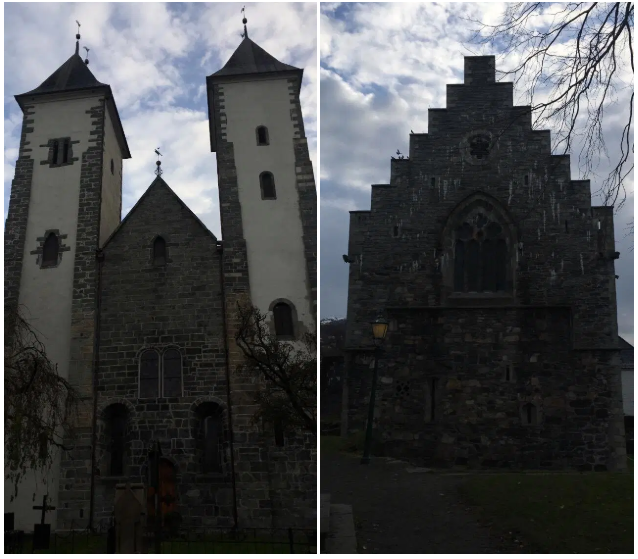 The Hanseatic Museum and Schøstuene
Love a museum? Then the Hanseatic museum is the first to visit. It has two buildings (one currently under construction) and a guided city tour for which teach you about the crucial history of Bergen and how Hanseatic merchants lived.
I would be travelling home when the tour began so I explored one of the museums alone. Like the fortress, it was so special to be stepping into the history of this city and (literally) walking upon the remains of a Norwegian cookhouse at one point. I really liked how interactive this museum is. It is very quiet and I hardly knew there was anyone else there. This silence gave rise to the retrospective feel this museum wanted to implore about preservation. Throughout the different rooms, there would be numerous questions posed about preserving memory and it is all encapsulated by the fact that Bergen, now one of the most visited placed in Norway, was meant to be demolished.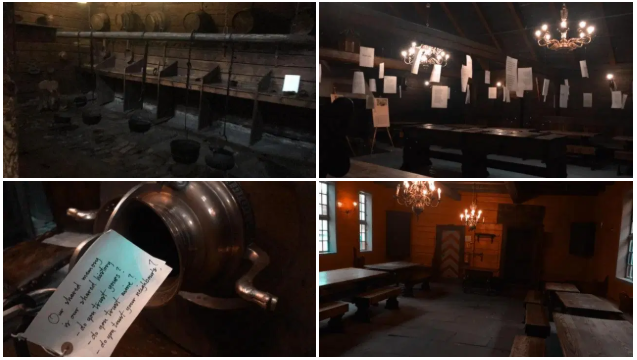 KODE: The Four Composer Homes of Norway
Edvard Munch Exhibit until January 2020.
To end my time in Bergen, I decided to visit KODE: an art gallery. Never have I ever witnessed an art gallery of this magnitude. KODE is not one, but four buildings that showcase Norwegian art. I had visited at the right time as there was an extended exhibit on Munch and his contemporaries and my ticket gave me access to all of the buildings rather than one exhibit.
Whilst I have, of course, visited the iconic Munchmuseet, KODE's exhibit explored Munch's photography and every experimental attitude towards representing his work. It gave new light to his work. I also enjoyed witnessing some beautiful Norwegian paintings and I was sad that I did not make it to all of the composer homes because they really were huge; I managed two of the four.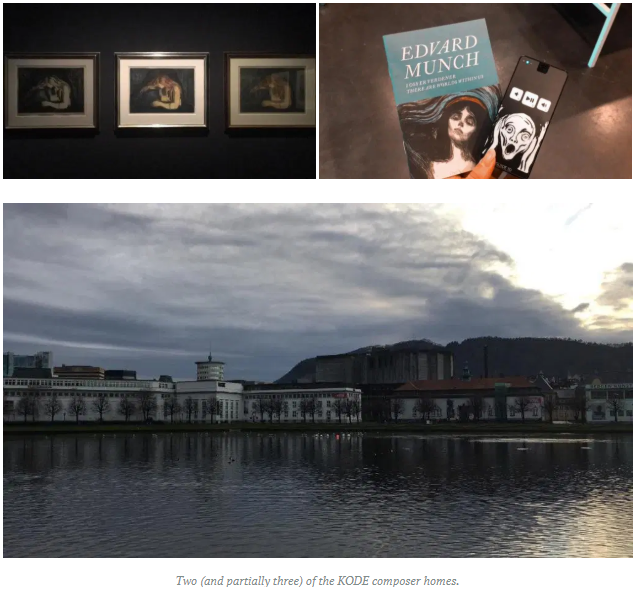 Travelling Alone: A Cathartic Therapy
As I have established, I have never travelled completely alone until I moved to Norway. But even then, it is not like I have spent this semester alone. So when I decided to take this trip to Bergen alone, I was anxious. I like to call myself a clumsy liability.
My days of exploring Europe began with Ben, you could call him my adventure buddy. He somehow unearthed this explorer in me so experiencing places with him has always been so special. Thus, the prospect of travelling and staying somewhere alone was surprisingly daunting. You have to remember that, although coming to Oslo was alone, I have hardly spent my time alone here. What I learned from this trip was to have a little faith in my capacity not to land myself in hospital and have faith that my lack of geographical sense is not as bad as I believe.
In retrospect, this short trip was exactly what I needed after four months of non-stop activity. Whilst I accomplished a lot of things for just twenty-four hours, I did everything at my pace; this trip was an adventure but also a form of catharsis. My semester abroad in Norway has been about 20% studying and 80% exploring. This is mainly due to the fact that my modules consisted of essays and a presentation so I have not needed to cram for any exam, meaning I have had a lot of time to explore Oslo and Norway. It has been blissful but tiring with my Chronic Fatigue Syndrome so this trip to Bergen really gave me a moment to breathe.

The main thing I learned from this experience is that I do no regret experiencing Bergen alone.
I thought I would, I thought I would feel the anxiety of being alone.
There were moments, such as the sunset on Fløyen and the train journey, that I wished I could have shared with people but I am so happy that I got to experience these things alone. I was glad to be completely taken with watching the nature on the train journey without any distraction, to sit upon Fløyen and forget about everything that looms with leaving Norway next month. I think the moment I was most anxious for was going to BarBarista alone; because it is such a societal norm that going alone to a bar is somehow bad. For the first few minutes, I definitely felt like I looked strange alone. But then I peered around and there were others alone, enjoying their waffles and drink. If I am honest, I really could have spent my entire evening there.

I always enjoy my 'quiet time' to recharge and this semester abroad has taught me that living independently is not as scary as it seemed all those months ago when I said goodbye to my family at the airport. So I think the anxiety I was experiencing about Bergen beforehand was purely on a level of something going wrong and not having the security of people being within reach. This anxiety is so normal though and I am just happy that it never deterred me from going to Bergen or doing this semester abroad in the first place.
So I suppose, to summarise; I learned that travelling alone is a great way to breathe.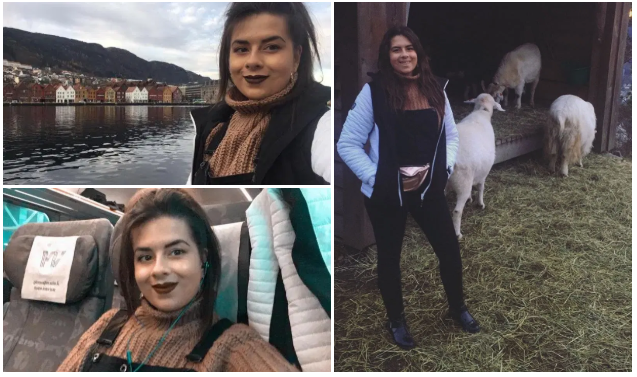 What are you looking for?
We're looking for enthusiastic students who are currently abroad, or are soon going abroad, to share their experiences and write for our pages!
If you're interested, get in touch by emailing us at go@cardiff.ac.uk