Navigating the path from Parent to Professor
10 February 2023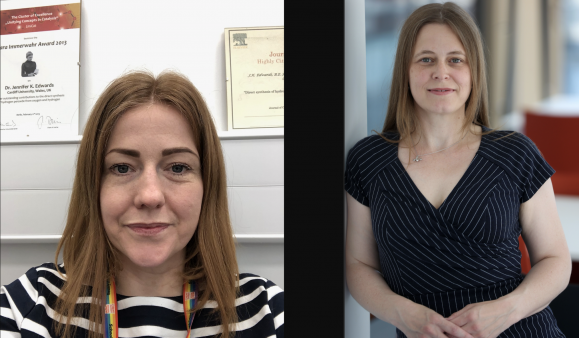 The Diversity in STEM (DiSTEM) network is running the first event of 2023 showcasing the lives of academic parents. Primary caregivers working in academia face the immeasurable challenge of having to divide their time between research, teaching, parenting and self care, often leading to sacrificing the latter in the current status quo. On top of this, research shows that parenting responsibilities disproportionately affect women in academia. Can we do anything to help? Our speakers, Jenny and Kathryn, will be highlighting the impact of being a primary caregiver on careers in STEM. Can part-time jobs be seen as a positive career move? How can you advocate for yourself when returning from parental leave while still breastfeeding? What initiatives are funding bodies taking that can help working parents? Which fellowships provide the bestopportunities for working parents and how? Jenny and Kathryn will take us through their personal journeys of parenthood, providing insights into how to tackle the injustice faced by parents in the academic world today.
Register for the event via Eventbrite and join us at the Main Building, Room 0.13 from 12:00-13:00 on Monday 6th March 2023. We will also be providing a virtual attendance option when you register.
Speaker profiles
Dr Jennifer Edwards
Jenny obtained her PhD in 2007 from Cardiff University and was appointed lecturer in October 2019, then senior lecturer in 2022 (via PDRA positions and an Independent Chancellors research fellowship). Her research focusses on sustainable heterogeneous catalysis, and is currently investigating how photocatalysts can provide a solution to global period poverty (https://www.cardiff.ac.uk/news/view/2539638-harnessing-the-sun-to-tackle-period-poverty). Her contributions to precious metal research was recognised by the International Precious Metals Institute USA, June 2011 when she was awarded the Carol Tyler Award. She was recognised for advances in the direct synthesis of H2O2 and awarded the Clara Immerwhar award in 2013. She had children in 2014, 2016 and 2018. She was awarded the Dillwyn Medal in STEM in 2020 by the Learned Society of Wales.
Dr Kathryn Jones
Kathryn is a Senior Lecturer at the School of Computer Science and Informatics, where she serves as the Director of Equality, Diversity, and Inclusion. After completing her PhD, she spent over 15 years as a software engineer, developing bespoke solutions for major organisations. Having made the move back to academia, she now teaches several industry-focused modules. Her research and scholarship work aims to bridge the gap between academia and industry, focusing on Rapid Prototyping, Emerging Technology, and Computer Science Education. She is an AdvanceHE Fellow. In her spare time, she likes to go hiking,  play piano and spend time with her children.