Inspirational People: 1. Dame Olive Wheeler
22 June 2016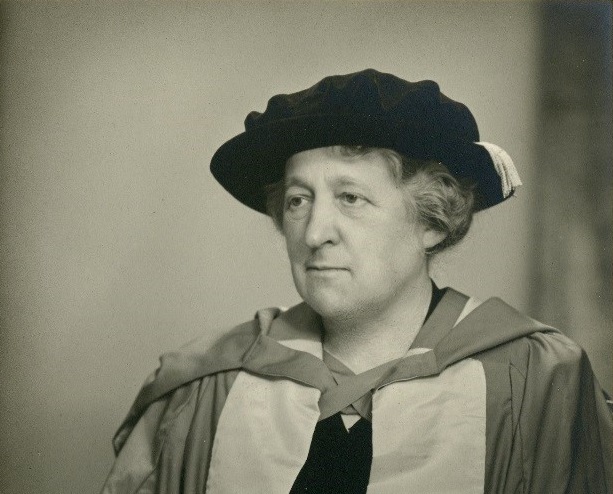 Photograph of Dame Olive Wheeler, taken by Elliot & Fry, London. Part of Accession 271. Reproduced by permission of National Portrait Gallery under the Creative Commons License
In a new series of snippets from the archive, we'll be sharing snappy fact files about inspiring individuals from the University's history. For the first in the series, we'll begin with Dame Olive Wheeler…
Name: Dame Olive Wheeler
Profession: Educationalist and Psychologist
Role at Cardiff:
1925 – Appointed Professor of Education (Women)
1933 – Title changed formally to Professor of Education
1948 – Became Dean of Faculty of Education
1951 – Became Professor Emeritus of the federal University of Wales
Why was she inspirational?
She held and published extremely progressive views on education, particularly the links between education and psychology and mental health.
Her work continues to influence educational theory today. Her progressive approach led her to anticipate later work on 'comprehensive schools', links between schools and industry, and the development of vocational guidance and educational counselling.
She stood as Labour candidate in the General Election in 1922.
She campaigned tirelessly about political and social issues, especially relating to women and young people.
In 1949 she was awarded a DBE for services to education in Wales.
Her work at Cardiff included the development of a collegiate centre in Cathedral Road, Cardiff, where local teachers could develop skills for research in schools and classrooms so her work directly affected and improved the lives of people in the local community. Like Millicent MacKenzie (the UK's first female professor and Professor of Education at Cardiff – http://blogs.cardiff.ac.uk/cuarm/2015/03/17/millicent-mackenzie/), Dame Olive's work had a direct impact on the experience of schoolchildren in Wales and the wider world, and her research would continue to influence educational theory and policy for many years to come.