Creative Citizens book launched in Parliament
21 April 2016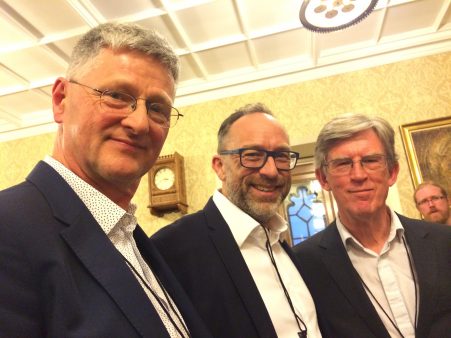 We had a great time this week doing the London launch of our Creative Citizens book in the House of Lords. As guests of Lord Mawson, one of the UK's leading social and community entrepreneurs, we brought pretty much our entire research team to the Attlee Room of the Upper House to talk about our work and the ideas it has set in train about the creative revolution from below.
You can gauge the ambition of the book from its full title: The Creative Citizen Unbound: How social media and DIY culture contribute to democracy, communities and the creative economy. It's published by Bristol-based Policy Press.
Our guest speaker was Charles Leadbeater, one of the UK's most interesting thinkers about the internet. Check out his excellent TED talks online – and the paper on creative cities he wrote for the British Council.
We were also delighted to welcome to the event Jimmy Wales, founder of Wikipedia, who was to be seen deep in conversation with our book's co-editor, Professor John Hartley. They were discussing John's work on an Aboriginal language version of Wikipedia, which grew out of John's own experience here in Cardiff around the Welsh language.
If you would like to join us at the Cardiff launch of the book on Tuesday 26 April, you can sign up on Eventbrite.We will be selling copies of the book at the launch discount price of £15.
Lisa Matthews joins Creative Economy
We're delighted to welcome Lisa Matthews on secondment from the Arts Council of Wales into the role of Director of Creative Economy, as Sara Pepper's maternity cover. Lisa brings a wealth of skills and significant experience to the team.
'Find out how we support collaboration with Cardiff's creative industries.