What to Expect the First few Weeks
16 September 2017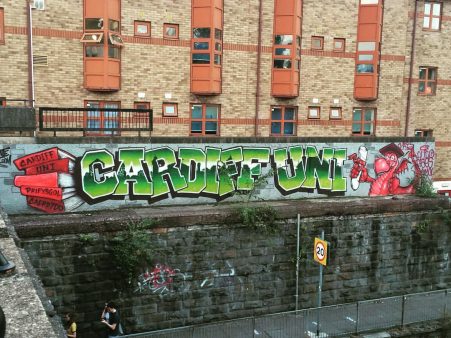 Congratulations and welcome to our new Cardiff University conservation students! We couldn't be more happy to have you. While we look forward to meeting you I am sure most of you are wondering: What happens next?
You've packed your suit cases. You've bought your plane ticket or crammed all of your things into your car. You've gone over the check lists multiple times and know when and where move in is. Excellent! But then what? What happens with classes? How do you pick your classes? When do you meet your professors? Do you need to bring anything to the first day in lab? Are you supposed to have your own PPE (personal protective equipment)? What books should you own?
It's all very exciting and just a bit overwhelming. But never you fear. Your first few weeks are a breeze!
Enrolment week starts off with talks from members of the entire SHARE department. You will learn about the handbook, how to use the library and generally what SHARE is all about. You will be there with students from conservation, archaeology, religion, and other SHARE departments. After this everyone splits up into individual departments and you meet your fellow conservators and a few of the teachers in a room at the John Percival Building. You will have a lovely chat about the things you can expect from the course, grading schemes, and then you choose your modules! However, if you are a masters student, don't be surprised if you only get to "choose" pre-selected modules. The Conservation Practice MSc is a very focused curriculum. Some of the PhD students might filter into the room and be introduced. You will see them in and around the lab quite often and they are an excellent resource! From there you are essentially free to go – the rest of the week will be filled with activities set up by the school that you are welcome to join in. I highly suggest getting out there and meeting new people as well as getting to know your new course mates. Go on tours, attend quiz nights, sign up for societies and sports, check out the museum and castle. Have fun, settle in, and enjoy the ride!
In the first week of the semester, you will be introduced to the building, all of the equipment rooms, and the labs. I remember it as a whirl wind of "this is all really cool but I am never going to remember!" and your brain might feel like the picture below. But have no fear, you will be safe as long as you remember the lab is on the third floor. Everything else can be located later as needed. More than likely one of the professors will give you a brief chat about how the lab functions and answer your questions.
Week one is all about getting you comfortable with the lab and understanding the curriculum for individual modules. Definitely bring pen and paper but don't stress about books. There are no books you need to buy for the conservation course. The lab has a small library with the most critical conservation texts, and the Arts and Social Studies Library (ASSL – get to know it well!!) has many more.
If you are an MSc student, you will be assigned a desk and a set of drawers with your name on it and you will adjust your chair and microscope to your ergonomic specifications. Take this seriously! It will make a big difference in your comfort over the year. The first year undergrads do NOT have assigned seats and will need to come in and work, so do not be alarmed if you come in and your chair has been readjusted. The drawers, however, are 100% yours while you are here, and you will quickly fill them with scraps of plastazote and blue roll, and used gloves.  Along with the desk you will be given a lab coat and tool kit. These are yours to keep and you are expected to have them every time you are in lab. Never tweet a photo of yourself working on an object if you don't have your lab coat on. Jane will call you out publicly (kindly and to enforce/encourage positive habits) – several of us have learned this the hard way.
As the week progresses you will also go through a lab safety course and take a test to prove you understand the essentials. Upon successful completion of this test (which is not difficult if you pay attention, I promise) you will be given badge access to the lab and a key if you so desire. The key does require a £10 deposit but you will get it back when you return the key at the completion of the course.
In the first week, you will probably also receive your first object (usually coins) and freak out about it. This is normal, and a rite of passage. It may seem like you are being thrown into the deep end, but it is really not as scary as it seems. Do not be afraid to ask us (MSc year 2), Phil or Jane, or a passing PhD student if you are unsure of anything – we are all happy to help.
Overall, the first few weeks in the conservation department are nothing to worry about. It's all about settling in, finding your way around, and figuring out exactly what it is you will be learning. We look forward to you joining us. I hope this helped either ease your worries or get you even more excited.
We will see you soon!
All photos are courtesy of Stephanie Whitehead.
---
Comments
Search this blog
Join 25 other subscribers.