Alumni Spotlight: Simon Lambert
17 July 2018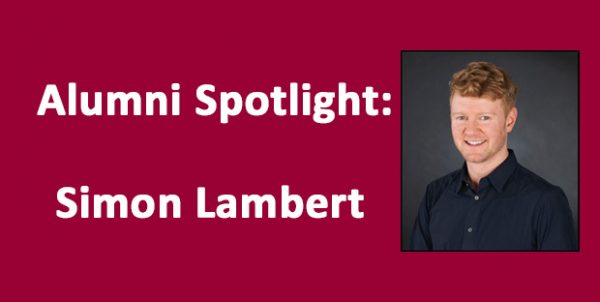 Welcome to Alumni Spotlight, a blog series focused on our alums – where they've been and where they are now. For this installment we interviewed Simon Lambert.
What degree did you complete at Cardiff? Did you pursue more education after you left, in any field?
MSc. Care of Collections. I did not pursue more education after I left.
What have you been doing since you left Cardiff? Where are you now? Are you still in the heritage sector? If not why and would you consider returning?
Since I left Cardiff, I worked about 2.5 years for ICCROM (International Centre for the Study of the Preservation and Restoration of Cultural Property), an intergovernmental organization based in Rome, Italy, which focuses on the conservation of movable and immovable cultural heritage. I worked on coordinating international courses for mid-career conservation professionals who work in conflict areas and on developing RE-ORG, a method to help smaller institutions regain control of their collections in storage, which was made possible with the support of UNESCO. Then, I was recruited in 2012 by the Canadian Conservation Institute (CCI) in Ottawa, Canada as a Preservation Development Advisor, where I conduct broad-based research, facility assessments, training, and provide preventive conservation advice to museums, galleries, archives, libraries, indigenous organizations and other departmental programs with respect to the management and conservation of collections. I am currently Senior Advisor of Collection Preservation (still for CCI).
Have you done any freelance work? If so can you tell us about your experiences in the private sector?
I have never worked in the private sector. I always had an inclination for public service – international or national.
What have been the highlights of your career so far? What are your favourite projects that you have worked on?
One of the highlights of my career so far has been to win the Department of Canadian Heritage Deputy Minister's award for "Creativity and Innovation" (2014-2015) – for developing the RE-ORG: Canada capacity building program here at CCI. RE-ORG: Canada is a 5-year training program that covers all regions of Canada, involving about 20 different partners, that helps small- to medium-sized museums address their collection storage challenges and seeks to inspire the next generation of leaders in storage reorganization. This is definitely one of my favourite projects, as it allows me to think of new ways to support, facilitate and showcase the excellent work that is being done by our heritage community. I also found it very validating to receive my professional accreditation (Canadian Association of Professional Conservators) in preventive conservation in 2014, as the board was made up of peers who are well established in the field (as these boards are…).
How has your Cardiff degree impacted your career?
I found my experience at Cardiff to have been perfect for my career path because it really prepared me to step into an advisory role (quite seamlessly I might add), and gave me a variety of different practical and "desktop" experience that relates directly to what I do every day – from space planning to reviewing plans, conducting building assessments, evaluating risks to a collection and understanding how HVAC systems work. There was so much focus on developing our critical thinking and evidence-based reasoning during the degree and I think that this has impacted the way I approach my work the most.
What was your favourite aspect of the programme? Is there anything you would change?
In retrospect, I like that it was such an intense experience. I was in the UK for 12 months, and I had 12 months to learn and absorb as much as I could on as many different related topics as possible. There was very little time for any extra-curricular activities – but I was there on a mission, so it didn't bother me. Also, the coordinators encouraged us to volunteer in local museums (which I did), and that was very valuable experience that also made me more appealing to potential employers. I don't think I would change a thing – in fact, I often recommend the program to students who come to me for advice on where to study preventive conservation… but you have to be prepared to work… a lot.
If there is anything else you'd like to mention now is your chance. Plug your book or podcast! Share a picture of your cat! Share your most recent conference selfie!
Ha ha ha! The latest version of the RE-ORG Method (2017), which I worked on in partnership with ICCROM is now available online for free: https://www.iccrom.org/section/preventive-conservation/re-org
Thanks again to Simon for taking time out of his schedule to chat with us. Make sure you check out the RE-ORG Method and look into your local professional organizations like CCI and ICCROM. You can find a great episode about these organizations on the C-Word Podcast here.
Search this blog
Join 25 other subscribers.