Alumni Spotlight: Gwen Thomas
7 August 2018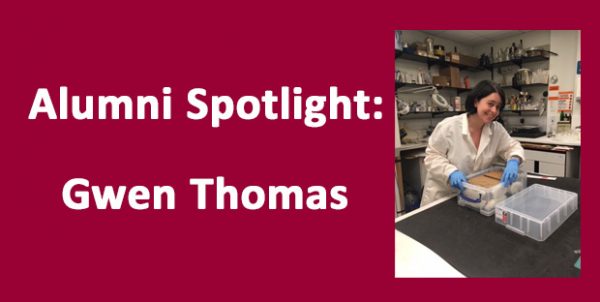 Welcome to Alumni Spotlight, a blog series focused on our alums – where they've been and where they are now. For this installment we interviewed Gwen Thomas.
What degree did you complete at Cardiff? Did you pursue more education after you left, in any field?
I completed my BA History at Cardiff in 2004. I had a summer job working as a Museum Assistant at St Fagans in 2003; as part of the training we were taken to the stores and met the conservation team. This really piqued my interest in possibly working with collections, but I knew I needed a break before taking on further study. During a year temping at the ninth gate of hell (insurance data entry) I applied for the MSc Care of Collections at Cardiff, for which I was accepted. That made the rest of that year easier, knowing there was an end in sight! I completed the MSc in September 2006.
What have you been doing since you left Cardiff? Where are you now? Are you still in the heritage sector? If not why and would you consider returning?
I was really fortunate to land three interviews within six weeks of completing my dissertation. The first was a total disaster, the second I was offered and so I withdrew from the third. My first role was working for the National Trust at Ham House in Richmond, Surrey as House Steward. I was lucky to work with an incredible collection of 17th century art and objects, in their original setting. As well as learning about the collection itself and the challenges of caring for objects on open display, I also had to learn people management quickly as I was managing both staff and volunteers. I later worked as Assistant House and Collections Manager, then House and Collections Manager at Ham House. The nature of the work meant that I was moving further away from preventive conservation so I moved on to the Science Museum, based at Blythe House, to be a Collections Care Conservator.
This was a fantastic experience, being in a lab setting, carrying out Oddy tests, working on exhibitions and preparing objects for national and international loans. The variety of the collections and learning more about hazard management within a museum context was invaluable. However, living in London had never been my plan, and after 11 years (! – how did that happen?) it was time to move on. Last year I moved to Scotland to take up the post of Collections Care Officer with Museums and Galleries Edinburgh. I am the sole conservation professional across 7 museums and an historic house, as well as the city monuments, so I work closely with curatorial and collections management colleagues to identify priorities for my time. There just isn't the time to do everything! The collections are varied: social history, childhood, literature, fine and applied art, archaeology; the materials are no less mixed. However moving out of London highlighted the stark contrast in museum investment – it was a bit of a shock how much less funding there is outside the South East of England, despite having read articles and heard about it from friends.
What have been the highlights of your career so far? What are your favourite projects that you have worked on?
I have worked with such a diverse collection of objects and materials, so individual objects and their stories are special to me but may not make the most exciting retelling here!
I worked with the National Trust's Preventive Conservation Adviser (Environment) to develop a new BMS user interface for the National Trust by acting as the pilot property for the software developer and feeding directly in to what makes the system usable and helpful. It was interesting to see how the programming worked, and to explain how I used the system and what data I needed to be able to access.
While at the Science Museum I had the chance to travel to Rome as a courier to install objects that were ground-breaking in the field of genetics, including a bottle of beer made with genetically modified yeast. This was also the first, last and most likely only time I have travelled business class!
In my current role, I have inherited challenges with historic storage. I am learning about the variety of plastics used in manufacturing dolls – this is partly in my own time, as I have very little previous knowledge of such materials. I am rolling out object packing and handling training as well as asbestos awareness to curatorial colleagues. Eventually I plan to devise a strategy to improve storage based on the needs of different materials, but at the moment I am tackling different objects on an ad hoc basis.
I have already been involved with several large scale object and collection moves, including moving large, complex objects; as well as rehousing objects in the LGBTQ+ collection.
I particularly enjoy the new experience in this role of working with contemporary art. Condition reporting masses of loans in from living artists within a couple of days can be hard, as they never arrive with any; equally, if I find any damage the artist is on hand to repair or stabilise the work themselves, which can be really helpful, but it also feels strange having worked with older objects for most of my career. It is odd condition checking something that may only have been completed by the artist a few days ago!
How has your Cardiff degree impacted your career?
My MSc made it possible for me to make a career in preventive conservation, which I love and feel makes a real difference to how objects are cared for long term. I only had a nebulous idea of what I might learn before starting my masters; the whole course was an eye-opener. It gave me a real edge when starting my career, as fewer people had specific collections care training that was directly applicable to the jobs I was applying for. I am sure that this is the reason I had a job within two months of completing my masters.
Being part of the Cardiff Conservation Graduates Facebook group also helps, as I can sometimes feel isolated as a conservation professional in my current role. It's good to have a forum of peers to turn to, just in case! I also made lifelong friends at Cardiff, so on a personal level the university and fellow students shaped who I am and how I see the world.
What was your favourite aspect of the programme? Is there anything you would change?
I loved the whole course, because Jane and David wanted to prepare us for the working environment from the start. Materials science was a new topic for me, coming from a humanities background, and my interest in materials and construction of objects has continued. I also really valued the opportunity to visit museums of different kinds with Jane, so we could understand the realities facing museums, not just learn about the ideal scenario. I have worked in institutions with incredible resources but also in places that really have to 'make do and mend', and ideal conditions are not achievable overnight. The pragmatism of the course prepared me for this, so I have always been prepared for the worst and taken a practical approach to caring for collections.
The only change for me would have been more time! There was still so much to learn on the job, but I felt that the knowledge and skills I gained through my MSc are utilised daily and you can never learn everything at university, even from Jane.
If there is anything else you'd like to mention now is your chance. Plug your book or podcast! Share a picture of your cat! Share your most recent conference selfie!
Come and visit our exhibitions or book onto a tour of the collections centre! www.edinburghmuseums.org.uk
You can follow me on Instagram but it mostly pictures of my dogs! @gwenllian23
Thank you again Gwen for taking time to share your experiences with us. It's always brilliant to hear/read about the many aspects (who would expect to help develop a user interface?) that fall into conservation and care of collections.
Search this blog
Join 25 other subscribers.