Alumni Spotlight: Gemma McBader
26 June 2018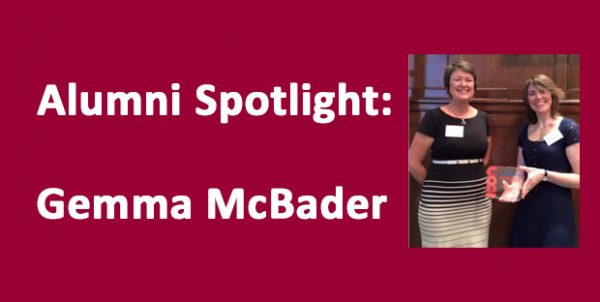 Welcome to Alumni Spotlight, a blog series focused on our alums – where they've been and where they are now. For this installment we interviewed Gemma McBader.
What degree did you complete at Cardiff? Did you pursue more education after you left, in any field?
MSc Conservation Practice, 2012
What have you been doing since you left Cardiff? Where are you now? Are you still in the heritage sector? If not why and would you consider returning?
After a short spell of contract work at the conservation department at Cardiff, I went on to work on the "Once in a Whale" project at OUMNH (I recorded the project's journey in the onceinawhale.com blogs), after which I lead a team of conservation volunteers on an ungulate skull rehousing project.
Since then, I have in the main part been making the most of my new life as a mother of two beautiful children. It is the most smile-evoking job in the world!
Have you done any freelance work? If so can you tell us about your experiences in the private sector?
Yes I have, although not for the private sector. I took on a couple of contract projects at UCL where they had a limited budget and a deadline to work towards.
What have been the highlights of your career so far? What are your favourite projects that you have worked on?
I have been quite fortunate in my career as a conservator before and after my time at Cardiff in that I worked on rather high profile objects and projects. I cannot pick a favourite project but without doubt my favourite work was spent at the British Museum's organic conservation department. It is an incredibly stimulating environment.
How has your Cardiff degree impacted your career?
Cardiff is very well respected and its graduates have generally established themselves successfully in the conservation community. In the 2015 ICON awards, I won The Pilgrim Trust Student Conservator of the Year award for my MSc dissertation project. This in turn generated a lot of publicity which has given me recognition in spite of being in the midst of a career break.
What was your favourite aspect of the programme? Is there anything you would change?
Favourite aspect of the programme: learning to question everything. What would I change? Perhaps more practical demonstrations of conservation techniques (e.g., infilling/inpainting/mould making)
Thank you again to Gemma for taking the time to share with us. Shout out to the moms out there, both working and stay at home, for raising our next generation of scientists, artists, and conservators.
Search this blog
Join 25 other subscribers.