A Greek Tale: Sun, Sand, and Professional Development
11 January 2017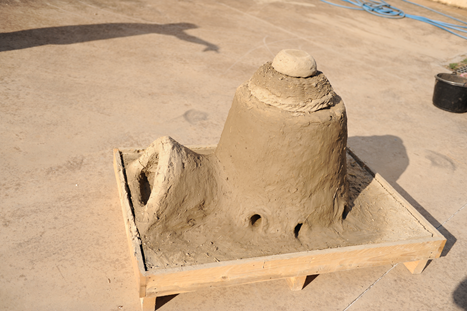 Plane, Bus, Taxi, and Coach… And that's just what got me to the station in Volos, Greece for my summer placement within the conservation department of the Archaeological Ephotate of Larisa. As I was getting off the 4-hour coach ride from Athens to Volos, eagerly looking for someone I had never met in a country whose language I did not speak, the surreal magnitude of what I was about to undertake during this 2-month placement began to settle in. I had decided to entrust my education and wellbeing to someone I'd never met—and I am so glad I did.
Let me start by saying that I went to Greece for the purpose of gaining professional experience; however, I did have the opportunity to go sightseeing a lot over the weekends and on free nights. I explored the beauty, history and culture of the region surrounding Mt. Pelion. Despite how spectacular the area is, these activities or sites did not mark my time on placement. Rather, the work experience and personal growth I underwent took centre stage. As such, I will refrain from focusing too much on tourist anecdotes, and simply say anyone visiting would be crazy not to take full advantage the opportunities it provides—preferably before the summer heat becomes too brutal.

From metals to murals, the work ranged in materials and levels of treatment, thus providing me with greater insight into the various issues and characteristics of different material types. I treated a Hellenistic glass vessel, a multitude of archaeological iron pieces, and over 40 Byzantine and Roman coins and small tokens found behind a church icon. I assisted in the treatment of a marble stele and a church mural.  Additionally, I helped a group of Greek and European archaeologists to recreate a traditional mud and straw kiln for the analysis and research of a particular type of pottery. They definitely kept me busy.
It was empowering to be trusted to use the skills learned at Cardiff and throughout past experiences to treat objects that were going to be put on display, maintained for future use or used for research. Moreover, it was important for me to understand some of the areas I needed to improve.
If I did not know enough about a material, Nadia Tsatsouli (my supervisor) insisted I read up on it to understand what treatments could be used and why. It is a constant necessity of conservation to read up on different materials, case studies and scientific processes. However, without proper focus, the process can detract from the initial question and prevent completion of tasks in a timely manner. Occasionally, I get absorbed by fascinating articles that do not relate to the task at hand. Effective time management and ensuring the knowledgeable treatment of objects is a principal part of conservation, rooted in effective research practices.
Additionally, the museum lab environment provided me with insight into other aspects that impact the conservation method: competing with exhibition deadlines, department priority, large influxes of new objects, and budget restraints, to name a few.  In a way, practising conservators have to be a jack-of-all-trades, as they balance object care with all these external circumstances. Since not all treatments are extensive or fascinating, sometimes the biggest hurdle is managing everything else in the process. All aspects are important and require ingenuity and creativity when approaching the object and any departmental dynamics. Specifically, the ability to work within a group and independently are skills that any potential or current conservator should look to develop further.
My time in Greece had its highs and lows as every experience does: you cannot really predict how a summer abroad or a job will go. On my placement, the highs were in the work I did, whereas the low points arose from a series of unfortunate events elsewhere.
Work strain or the nearly two-hour commute via bike and train surprisingly did not affect me. Rather, allergic reactions, ear infections, insect bites, and a broken bicycle were the main complications of my placement. I was deemed jokingly the 'Black Cat' by my supervisor, who said that while I attracted a bit of bad luck, I maintained resilience and persistence, so I must have more than nine lives.
From these challenges, I learned that you must remain flexible so that if things do go wrong, you are not derailed from what you want to accomplish and can appreciate the positives of the experience.  I only missed work once due to illness. And, despite the language barrier between myself, the other conservators, and the museum computer, I was able to work productively in the lab and gained essential experience as a developing conservation professional.
To say I learned a lot throughout my work placement would be an understatement, and my experience would not have been possible without the fantastic network of former Cardiff University Conservation graduates who were kind enough to host us in their labs. I am deeply grateful for the experience I gained, and particularly for Nadia reminding me that we are trained to be conservators, not technicians. I did not quite understand the difference at first but came to realise that while both require an immense amount of technical skill, conservators are meant to go a step further. Not only following recipes and executing them, but exploring the chemistry, environment and all the different variables to create a solution for the individual object. This process is ongoing and requires an extensive amount of self-motivation and recognition of areas where personal knowledge may fall short, requiring further investigation and research.
All in all – Sun, Sand and Experience: what could be better than that?
Please visit my personal conservation blog for more information about my work.
All photographs are courtesy of Sarah James.
---
Comments
Search this blog
Join 25 other subscribers.