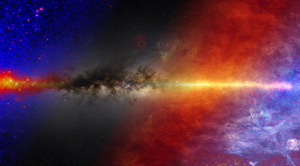 There's not been a Chromoscope blog for a while, but we're back. We'll add information about Chromocope, some hints and tip about how to use it, and examples of how Chromoscope's been used "in the wild"…
For the unfamiliar, Chromoscope was originally developed by Stuart Lowe, Chris North and Rob Simpson in 2009. The original purpose was an exhibit at the 2009 Royal Society Summer Science Exhibition called "From the oldest light to the youngest stars: the Herschel and Planck Missions". Later that year, Chromoscope was released onto the web, and has been gradually updated and improved since then.
Chromoscope is open source, with source data available on GitHub. You can read about the data used here.