Working With Midwives And The Wider NHS: RDCS South East Wales Research Events
20 June 2019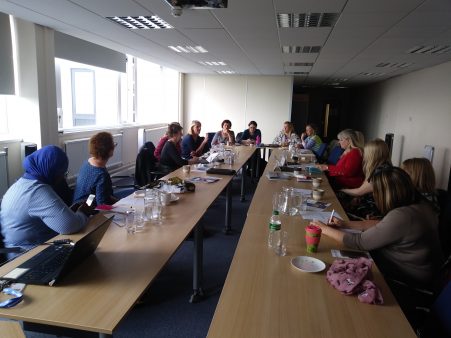 The RDCS South East Wales team have had a busy week with two events both focussing on different stages of developing a research funding application.
All Wales Reproductive and Childbirth Research Forum
On 14th June 2019, we worked with the All Wales Reproductive and Childbirth Research Forum, a group led by Professor Julia Sanders in her role of Health and Care Research Wales speciality lead. The meeting was hosted at the Royal College of Midwives (RCM), and two RCM representatives joined the group. There was good cross-Wales midwifery representation from: Swansea Bay, Betsi Cadwalladr, Powys and Cardiff and Vale University Health Boards, and Swansea, Cardiff and Bangor Universities. After a presentation from Professor Sanders on research design flow charts, we spent the morning examining the different service delivery models across Wales for addressing psychological need relating to the birth experience, ranging from birth reflections to the more trauma-resolution focussed services. In the afternoon we translated the service information into the beginnings of a trial design to examine the effectiveness of the interventions.  The group will continue to develop this work in the coming months, hopefully leading to a funding application by the end of 2019.
Building Blocks of a Competitive Grant Application
 On 17th June 2019, the RDCS team held the second of their regular events of the year, "Building blocks of a competitive grant application". The day was aimed at practitioners interested in developing a proposal for research funding and included a mix of presentations and hands-on practice. 12 practitioners from a diverse range of specialties and six NHS Organisations attended the day; some with clear ideas and plans for a funding application in the coming months, others with lots of ideas who were looking for an opportunity to refine their plans into a proposal.
After a presentation on the Health and Care Research Wales funding streams and observations on what might help or hinder an application, we worked with them on developing plain English summaries of their ideas. Julia Townson, a senior trial manager in Centre for Trials Research, took us through the details of a research plan, looking at the building blocks of any application and delegates worked with the RDCS consultants on translating their ideas into this kind of structure. Pat Tamplin from Cardiff and Vale UHB Research and Development Office joined us in the afternoon to look at linking up with the Research and Development (R&D) office and Professor Deborah Fitzsimmons described the role of Health Economics in a range of funding applications.
Feedback
The delegates gave us really positive feedback, with an average rating of 9/10. Some aspects of the event that they highlighted as particularly helpful included:
"Understanding the process of planning an application"
"The presentations were excellent – clear, informative and inspiring"
"Opportunity to focus on research question in preparation for the RfPPB call"
"The importance of lay summaries"
"I have a much better understanding and clearer sense of purpose regarding our project now"
About the RDCS
The Research Design and Conduct Service (RDCS) South East Wales supports staff working within the National Health Service and social care to develop high quality research funding proposals. The RDCS SE Wales is based in the Centre for Trials Research at Cardiff University, and is funded by Welsh Government through Health and Care Research Wales.
The Centre for Trials Research is a UKCRC-registered clinical trials unit. It is publicly-funded to enable applied research that informs policy in health and social care in Wales and the UK, and is currently running studies across Wales, the UK and internationally. The Centre is funded through Welsh government by Health and Care Research Wales, and Cancer Research UK.