My ASCO: Centre for Trials Research at the American Society of Clinical Oncology 2019
25 July 2019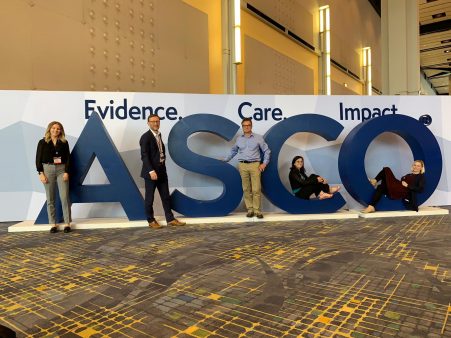 Background
This year I've had the great opportunity to attend ASCO (American Society of Clinical Oncology) conference as a Centre for Trials Research representative together with Professor Richard Adams, Director Cancer Division, and Catrin Cox for the presentation of the FAKTION study by the Chief Investigators (CIs), Dr Sacha Howell (University of Manchester and The Christie NHS Foundation Trust) and Dr Rob Jones (Velindre Cancer Centre and Cardiff University).
Before departure, Richard had explained: "It's a huge conference. Don't get scared!". Which was translated in my head: "Don't get lost! And play the Centre for Trials Research representative role!".
Scale of ASCO
A conference attended by 40,000 people from all over the world and taking place in a 2.6 million square feet convention centre can be described as huge…or normal for the American standard. The convention centre was divided into 4 wings: it took me at least 10 minutes to walk from one wing to another. This forced activity of stretching my legs while moving from one session to the other has challenged my idea of conference paralysis gain from my long-term experience of attending conferences, where the only stretching activity is to lift a cup of tea/coffee while going back home with a painful stiff neck for looking at slides from the never-good seat.
Highlights
The presentation on how consultants should talk to their patients about their cancer and how to offer them the opportunity to enter a trial: what words to use and what to avoid, what attitude to have, and what understanding of the other's pain should underline every word. This presentation made me think of our Participant Information Sheets. We write all the sections that our Centre for Trials Research Standard Operating Procedure (SOP) recommends and we ask our Patient and Public Involvement (PPI) representatives to review it, because this is what our potential funder and Research Ethics Committee (REC) need to see evidenced. But, once it is out with our sites, it is the Principal Investigator (PI) and Research Nurse who explain the Participant Information Sheet (PIS) to the patient as the potential participant of our cancer trials. The clearest, simplest word we may have written has to be translated by professionals with the use of one dictionary: compassion. Do our PIS facilitate their communication with cancer patients? Do we use the same dictionary?
The Women's Networking Center offered some inspiring talks by women for women in an atmosphere of mutual recognition and complicity. A refreshing break from the lone wolf academic presenter competing with colleagues for a moment of high visibility and glory.
Regulations and costs
Finally, a session on the financial aspects of the trials. Though the talks were based on laws and regulations in US, the case of an American woman who travelled to Europe at her own expense for entering a trial and getting access to a drug not available in her country reinforced my idea that, in the era of globalisation, trials need to be more inclusive and national-boundary free in opposition to the political agenda of some countries.
If there is one thing I've brought back from this conference is a feeling of urgency. As a fully-registered Clinical Trials Unit (CTU), our role is to facilitate the running of clinical trials, to streamline the often unnecessarily burdensome process, and to support the research ideas of our consultants.
FAKTION presentation
I attended the session with the FAKTION presentation by our CI, Dr Sacha Howell. I think that was the main reason why I went there. It took place in the largest hall of the venue ….and it was fully packed. Our CI was superb: calm, clear, concise during the presentation and in answering the audience's questions. FAKTION is not an easy trial to manage but at the end it is worthy – not just for the results and hope we can give to many women suffering from breast cancer – but for what is behind the scene: an excellent and inspiring teamwork.
We're now working on the publication. Watch this space.
To find out more about FAKTION please go to https://www.cardiff.ac.uk/centre-for-trials-research/research/studies-and-trials/view/faktion
The Centre for Trials Research is a UKCRC-registered clinical trials unit. It is publicly-funded to enable applied research that informs policy in health and social care in Wales and the UK, and is currently running studies across Wales, the UK and internationally. The Centre is funded through Welsh government by Health and Care Research Wales, and Cancer Research UK.