VIM Abstract At ASCO 2021
7 June 2021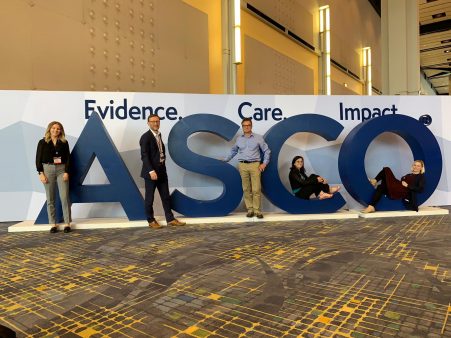 Professor Dean Fennell (Chief Investigator for VIM) presented results of the ground-breaking, investigator-led trial at the ASCO global conference on Sunday 6th June 2021. Centre for Trials Research are supporting VIM. The prestigious ASCO accepted an abstract of the primary results data submitted earlier this year.
ASCO
ASCO is the American Society of Clinical Oncology is the world's leading professional organisation for physicians and oncology professionals caring for people with cancer. The ASCO annual conference is the most prestigious conference in oncology. The audience is oncologists and oncology researchers.
Background to VIM
VIM is a randomised phase 2 trial comparing active supportive care plus an oral drug called vinorelbine with active supportive care alone in patients with malignant pleural mesothelioma of the lung who have progressed after receiving initial chemotherapy treatment. The trial has completed recruitment and follow up and we have just completed the main analysis. 
Study question VIM is answering
The trial aimed to show whether patients in the vinorelbine arm had a longer time until their disease progressed again, compared to those receiving active supportive care only. We found that the patients benefitted from receiving vinorelbine, these patients had an average of 4.2 months until disease progression, compared to an average 2.8 months with active supportive care alone.
VIM study team
The Chief Investigator, Professor Dean Fennel, is based at the University of Leicester and is world renowned for his research into mesothelioma, and current president of the International Mesothelioma interest group. The study is lead at the Centre for Trials Research by Angela Casbard, with trial management team of Lisette Nixon and Georgina Gardner, and with Catharine Porter leading on the statistical analysis. Terri Kitson from the Centre is data manager for the study.
Next steps for the study
We are currently drafting the trial publication which we hope to have ready for submission in a few weeks.
The Centre for Trials Research is a UKCRC-registered clinical trials unit. It is publicly-funded to enable applied research that informs policy in health and social care in Wales and the UK, and is currently running studies across Wales, the UK and internationally. The Centre is funded through Welsh government by Health and Care Research Wales, and Cancer Research UK.