Clinical Trials Units Are Uniting Together To Take On A Virtual Moveathon For Cancer Research UK
25 May 2021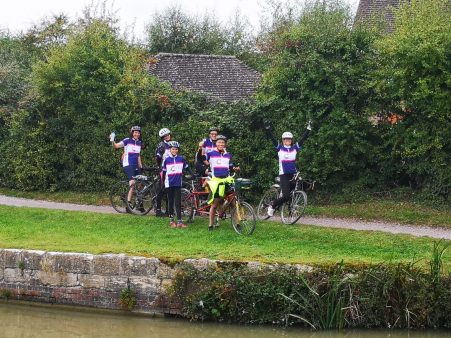 Professor Richard Adams, director of clinical research in Cardiff co-founded the MOVEATHON back in 2019, his team set-up this initiative to not only raise vital funds for life-saving research but to increase awareness of clinical trials and thank all the families and patients who take part in trials. Cardiff, Southampton, Birmingham, University College London, the Institute of Cancer Research, London, and Glasgow are all taking on the virtual Moveathon 2021 which launched on International Clinical Trials Day, and continues through to 20th June, 2021.
The teams will be dusting off their trainers, jumping onto bikes or diving into local pools to clock up as many miles as they can over the month, the target this year is to cycle, run, walk or swim a mile dedicated to each patient who has selflessly contributed to clinical trials.
Professor Richard Adams said: "Clinical Trials are such an important part of how we improve the care of patients with cancer and other diseases, it is often the final step in a long pathway of development of a medical intervention by many individuals and teams. Central to the team, at the final hurdle are our patients who often selflessly and altruistically volunteer to participate in such trials. The Centre for Trials Research in Cardiff University develops and delivers cancer and non-cancer medical trials and studies. In Cancer alone the trials we lead in Cardiff have seen almost 20,000 patients volunteer and take part across the UK and internationally. It is so important to recognise this and when we see the successes impacting on people's lives internationally on a daily basis, it is so important to remember those patients and their families, over so many years who have led to these improvements"
The staff across the sites are hoping to raise as much as possible to help fund clinical trials across the UK. Anyone can get involved in this challenge whether that's donating, taking part or creating a new team under their fundraising platform. All you need to do is sign up here and choose your challenge:
https://fundraise.cancerresearchuk.org/unite/the-clinical-trials-moveathon
Emma Shiggins, Cancer Research UK's Local Relationship Manager for South Wales, said: "We are absolutely delighted that Professor Richard Adams is driving forward such a fantastic challenge to not only raise vital funds for Cancer Research UK but increase the awareness of the work we fund by getting so many teams to collaborate across the UK. We would like to thank everyone signing up to the challenge and wish them the best of luck!"
Emma added: "Cancer Research UK has made enormous progress in the fight against cancer. However, the impact of covid-19 on cancer patients has been devastating. For the first time in decades, this country is faced with the prospect of cancer survival going backwards. We cut £44 million of research funding last year but it's likely to be just the beginning. We are expecting to see a £250 million drop in income over the next 3 years. A drop in fundraising income of this scale would not only be felt by current researchers; but could also impact life-saving breakthroughs.
This is a devastating blow to cancer research UK, especially when you consider we fund around half of all publicly funded cancer research in the country. However, we are still the only charity funding research into over 200 different types of cancer. Cancer will continue to be one of the world's greatest challenges before, during and after the pandemic, and so our mission continues."
For further information about Cancer Research UK's work or to find out how to support the charity, please call 0300 123 1022 or visit cruk.org.

The Centre for Trials Research at Cardiff University is core funded by Welsh Government through Health and Care Research Wales, and Cancer Research UK.
The Centre for Trials Research is a UKCRC-registered clinical trials unit. It is publicly-funded to enable applied research that informs policy in health and social care in Wales and the UK, and is currently running studies across Wales, the UK and internationally. The Centre is funded through Welsh government by Health and Care Research Wales, and Cancer Research UK.