SCOPE2: Can Increasing The Dose Of Radiotherapy Improve Outcomes In Patients With Oesophageal Cancer?
26 April 2016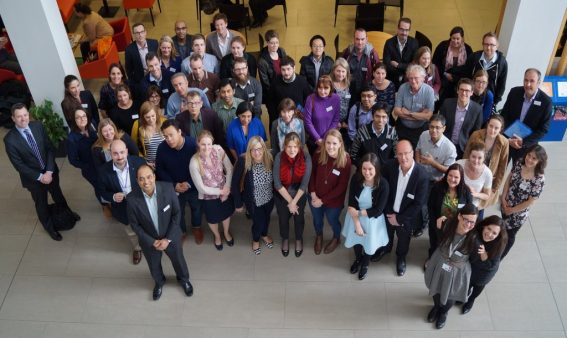 SCOPE2 is a randomised Phase II/III trial to study radiotherapy dose escalation in patients with oesophageal cancer treated with definitive chemo-radiation with an embedded Phase II trial for patients with a poor early response using positron emission tomography (PET). SCOPE2 is a Cancer Research UK funded trial run by the Wales Cancer Trials Unit based in the Centre for Trials Research at Cardiff University.
Research has shown that increasing the dose of radiotherapy improves outcomes in patients with lung and head and neck cancers. The SCOPE2 study aims to see whether this is also the case for patients with tumours of the oesophagus. This trial will compare the effects of the standard dose of radiotherapy to a higher dose, whilst closely monitoring the side effects.
A comparison will also be made regarding the effects of the standard drugs used in chemotherapy (cisplatin and capecitabine) with an alternative combination (carboplatin and paclitaxel) in patients that do not show a response to chemotherapy with standard drugs early on in treatment.
The SCOPE2 trial incorporates a detailed radiotherapy protocol, designed by a group of dedicated clinical experts, which aims to champion the use of the new state-of-the-art radiation delivery system IMRT (intensity modulated radiation therapy) for planning oesophageal cancers at hospitals across the UK. By using IMRT, clinicians will be able to target the tumour more precisely, potentially allowing for a higher dose of radiotherapy to be delivered to the cancer whilst limiting damage to normal tissue.
Clinicians will be asked to follow the SCOPE2 radiotherapy protocol when outlining and planning radiotherapy for SCOPE2 patients. A real time Quality Assurance review of the data will be conducted by the Radiotherapy Quality Assurance team prior to radiotherapy delivery to ensure that the protocol was followed. This has been shown in the SCOPE1 trial to significantly improve patient outcomes.
In order to support clinicians and physicists, the SCOPE2 team organised a radiotherapy workshop on 26 April 2016 to provide training on the protocol and Quality Assurance procedures and will also provide a platform for discussion on past and future trials.  With 60 confirmed clinicians and physicists from around the UK attending, this was a very productive, important and effective meeting!
The trial will recruit 584 patients over 5.5 years.
For more information, please email the SCOPE2 Trials team.
Article contributed by Dr Ruby Ray, Wales Cancer Trials Unit, Centre for Trials Research
The Centre for Trials Research is a UKCRC-registered clinical trials unit. It is publicly-funded to enable applied research that informs policy in health and social care in Wales and the UK, and is currently running studies across Wales, the UK and internationally. The Centre is funded through Welsh government by Health and Care Research Wales, and Cancer Research UK.