PIN: A Trial Looking At Olaparib For Non Small Cell Lung Cancer
13 April 2016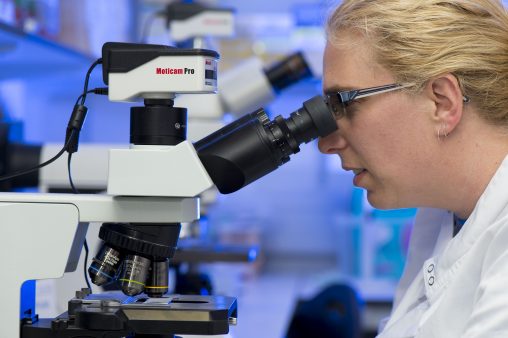 In 2013, there were 45,525 new cases of lung cancer in the UK and it kills around 35,000 annually (Source: CRUK). Non-small cell lung cancer (NSCLC) accounts for around 87% of all lung cancer. NSCLC is one of the leading causes of death worldwide and presents a huge health economic burden. The majority of patients with NSCLC present with locally advanced or metastatic (stage IIIB/IV) disease. Chemotherapy is one of the main treatments for patients with advanced NSCLC but those treated median survival remains modest, at around 9-10 months.
Assessing The Benefits Of Olaparib For Maintenance Therapy
The PARP Inhibitor in advanced NSCLC (PIN) study, funded by Cancer Research UK and AstraZeneca and sponsored by Velindre NHS Trust, seeks to address advanced lung cancer, which is a significantly under-researched cause of cancer death.
The purpose of this clinical trial is to find out whether or not giving a drug called Olaparib following chemotherapy will benefit patients with NSCLC who have responded to initial chemotherapy treatment. Olaparib is a type of biological therapy called a PARP inhibitor. It blocks an enzyme that cancer cells need to repair themselves and grow. The researchers think that giving olaparib after chemotherapy may delay or prevent NSCLC from starting to grow again: This is called maintenance therapy.
Olaparib may offer a potentially effective and less toxic cancer treatment compared to currently available chemotherapy regimens. A recent UK trial of maintenance Olaparib (treatment with Olaparib following completion of induction chemotherapy) in patients with ovarian cancer met its primary endpoint of progression-free survival.
We know that a proportion of non-small cell lung cancers are sensitive to DNA damage (around 30%), and that these tumours will harbour defective DNA repair mechanisms resulting from specific mutations or loss of specific proteins such as BRCA1. By identifying patients who have responded to chemotherapy with tumour shrinkage, this "biomarker" will be used to select patients for enrolment into the PIN trial.
Trial Outcomes
The aims of this trial are to find out
If olaparib can help stop or delay non small cell lung cancer coming back after chemotherapy
How safe olaparib is for people with advanced NSCLC
More about the side effects of olaparib
If olaparib can increase the length of time people with advanced NCSLC live
Eligibility Criteria
One hundred and fourteen patients in hospitals across the UK who have responded to chemotherapy will be invited to take part in the trial. Patients will be randomly allocated to receive either Olaparib or an inactive dummy 'placebo' tablet by mouth. To be eligible to enter the trial patient must meet the following criteria:
Have non small cell lung cancer that is locally advanced (stage 3b) or has spread to another part of your body (stage 4)
Have had a response to chemotherapy that includes either carboplatin or cisplatin
Have satisfactory blood tests results
Are well enough to carry out all your normal activities, apart from heavy physical work (performance status of 0 or 1)
Are willing to use reliable contraception during treatment and for 3 months afterwards if there is any chance you or your partner could become pregnant
Are at least 18 years old
Trial Sites
The trial is offered in the following hospital sites:
University Hospital of Leicester
Royal Lancaster Infirmary
Withybush Hospital
Royal Preston Hospital
Maidstone and Tunbridge Wells NHS Trust
Queens Hospital
Huddersfield Royal Infirmary
The James Cook University Hospital
Wrexham Maelor
Velindre Cancer Centre
Birmingham Heartlands Hospital
St James University Hospital
Bradford Royal Infirmary
University Hospitals Coventry and Warwickshire
Blackpool Victoria Hospital
Weston Park Hospital
Christie NHS Foundation Trust
Charing Cross Hospital
Derby Royal Infirmary
Beatson West of Scotland Cancer Centre
How To Join A Clinical Trial
In order to join this trial, any potential participant would need to discuss it with their doctor.
Further information about the PIN trial is available on the CRUK website.
The Centre for Trials Research is a UKCRC-registered clinical trials unit. It is publicly-funded to enable applied research that informs policy in health and social care in Wales and the UK, and is currently running studies across Wales, the UK and internationally. The Centre is funded through Welsh government by Health and Care Research Wales, and Cancer Research UK.