Judicial Approval And Withdrawing Clinically Assisted Nutrition And Hydration From People In A Prolonged Disorder Of Consciousness
1 August 2018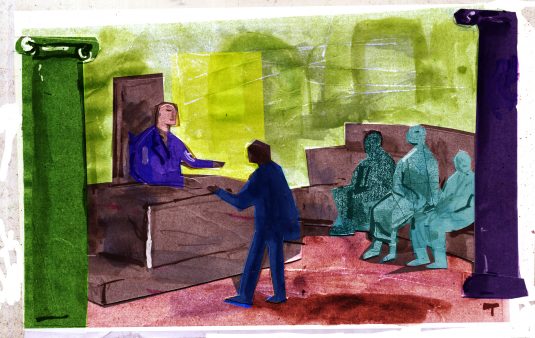 Julie is a research associate who works in the Centre for Trials Research at Cardiff University on the MS-LEAP study and also Cardiff University's Coma and Disorders of Consciousness Research Centre. Here she explains the ramifications and consequences of changes to families and health professionals from this week's landmark judgment.
The landmark judgment by the Supreme Court this July 2018 that judicial approval is not mandatory before withdrawing clinically assisted nutrition and hydration from people in a Prolonged Disorder of Consciousness has been long awaited by doctors and families of people in a vegetative or minimally conscious states. The judgment has clarified that it is not necessary to go to court before withdrawing clinically assisted nutrition and hydration from this patient group in cases where clinicians and the family are in agreement about what is in the best interests of the patient.
Prolonged disorders of consciousness
The judgment centres around the treatment of people in a 'prolonged disorder of consciousness' – a term which refers to a collection of disorders – coma, the vegetative state and the minimally conscious state.
Clinically assisted nutrition and hydration
Specifically, the Supreme Court decision relates to the delivery of food and fluid via a 'feeding tube' (otherwise known as 'clinically assisted nutrition and hydration' [CANH]) to people in this patient group. It has been established for decades (since the case of Anthony Bland in 1993) that this is a form of medical treatment and as such can be withdrawn or withheld. This makes it unlike oral feeding, which is basic care.
The Supreme Court judgment brings the treatment of patients in prolonged disorders of consciousness in line with decision-making about other patients (e.g. with dementia or advanced neurological illnesses) for whom best interests decisions concerning withdrawal of medical treatments (including CANH) can already be enacted without having to seeking court approval (unless there is disagreement).
CANH is one of the key life prolonging interventions that sustains people in a prolonged disorder of consciousness after catastrophic brain injury. These patients are often able to breathe without artificial ventilation in the long term. CANH is provided alongside 24 hour nursing care, medications to manage secondary complications such as chest and urine infections, spasticity and epilepsy.  Therapeutic assessments and interventions from physiotherapists, occupational therapists, speech and language therapists and dieticians are also provided to these patients – for whom such medical and therapeutic management mean that people in minimally conscious or vegetative states can live for decades.
The survival of these patients is made possible by advancements in medical technologies such as ventilators and feeding tubes. But being in a prolonged disorder of consciousness following catastrophic brain injuries is described by some members of the public and families as 'a state worse than death'.
The Mental Capacity Act
Any medical treatment delivered to those who 'lack capacity' following illness or injury must be in their 'best interests'. The Mental Capacity Act 2005 states that an important component of best interests is the person's prior (and, if accessible, present) expressed wishes, feelings, values and beliefs and what they would decide for themselves if they were able to do so.  The person's own views have been interpreted by the courts as carrying significant weight in how decisions about their care and treatment should be made.
Critically, 'best interests' decisions made by doctors regarding whether or not to continue life-sustaining treatment must draw heavily on the prior expressed wishes, feelings values and beliefs of the patient, as described by family and friends, and any other evidence of their views (e.g. via habits and behaviours, religious observance, etc).
The case
This landmark case in the Supreme Court was an appeal against an earlier decision made in the High Court.  A man anonymously known as 'Mr Y' was in a vegetative state following resuscitation after cardiac arrest.  Both his doctors and his family believed that it was not in his best interests to continue with clinically assisted nutrition and hydration because he would not have wanted to live in a vegetative state or with catastrophic brain injuries.
Instead of making an application to the Court of Protection as is usual in such cases, the Trust issued an application in the Queen's Bench Division of the High Court for a declaration that it was not mandatory to seek the court's approval for the withdrawal of CANH from a patient with PDOC in a situation such as Mr Y's.  The case was heard in December 2017 (NHS Trust v Y [2017] EWHC 2866 (QB), [2017] MHLO 37)
The judge of first instance decided that it wasn't mandatory to bring before the court the withdrawal of CANH from Mr Y since the clinical team and Mr Y's family were agreed that continued treatment was not in his best interests.
The Official Solicitor appealed against this High Court's decision. Because of the appeal, Mr Y's treatment was not withdrawn, pending the decision of the higher court. For this reason, the case leapfrogged the Court of Appeal and went straight to the Supreme Court.  Although Mr  Y died of an infection before the case reached the Supreme Court, the appeal was heard because of the broader legal question it had raised.
So, the question for the Supreme Court was: if doctors and families follow a robust best interest decision making process and both are in agreement that continuing clinically assisted nutrition and hydration would not be in the best interests of the patient, then is judicial involvement required?
It's important to keep in mind that:
1) As highlighted earlier, clinically assisted nutrition and hydration had been established in law as a medical treatment in the case of Tony Bland in 1993 (Airedale NHS Trust v Bland [1993])
2) That it can – and indeed should – be withdrawn when it is no longer in a person's best interests
3) Medical practitioners withdrawing clinically assisted nutrition and hydration are not guilty of murder nor is this 'euthanasia' or 'assisted dying' under the law.
In the case of Bland, the House of Lords said that it would be good practice for applications to go to court for decisions to withdraw CANH from those patients in a permanent vegetative state, at least until a body of experience and practice had built up.
From this point in the early nineties, many cases – about 150 – have gone to court both for the permanent vegetative state and the minimally conscious state, a condition that wasn't defined until 2002.
While there have been many other CANH based cases, and many statements made in court regarding the need for judicial review and calling for clarifications about the law in this area, it is only with the Supreme Court judgment that a definitive answer has been given about whether and when court applications are legally required.
What were the main arguments?
In the Supreme Court case, the Official Solicitor argued that court approval was required in every case before CANH can be withdrawn from a person with Prolonged Disorder of Consciousness, to ensure that the patient is properly safeguarded by representation through the Official Solicitor, who can obtain independent expert medical reports about the patient's condition and prognosis and make submissions to the court on the patient's behalf if appropriate.
He also argued that court review was required in order to comply with the European Convention on Human Rights (ECHR), in particular Article 2 which protects the right to life.
The Trust and CCG argued that there is now an extensive body of experience, practice and professional clinical guidelines – as highlighted was needed in the Bland ruling. This meant that judicial review was no longer required – and that there would be no breech in human rights involved in the withdrawal of CANH from a patient in a PDOC if continuation was not in their best interests.
Why is this ruling so important?
The ruling is important for a number of reasons:
First, the process of going to court for these decisions was often a lengthy one, taking months or even years. That meant that some patients were being subject to futile or unwanted treatments for longer than they would potentially need to be, if such decisions didn't require judicial review.
Second, research by Professor Jenny Kitzinger and Professor Celia Kitzinger from Cardiff University's Coma and Disorders of Consciousness Research Centre shows that the process of going of court introduced long delays and can be extremely distressing for families. From the health care professionals I've spoken to in my work, they too experience significant stress by being involved in these court cases in any way. You can read an overview of the problems caused by court applications and a case study of the difficulties for one particular family.
Third, as a health care professional myself, and previous matron of a neurological care centre, having the court involved in these cases, seems to have distorted the best interest decision making process by removing it from doctors and families (this has also been identified in CDoC research). Only around 120 cases have come to court and yet 24,000 people are estimated to be in a prolonged disorder of consciousness in the UK.
Finally, the judgement clarified the law and enables appropriate compliance with the Mental Capacity Act – an Act which protects our rights to autonomy and self-determination. Critically, it enables who we are today, and our values and beliefs, to guide – or even determine – decisions about our care and treatment should we ever lack capacity to consent on our own behalf.
What are the main concerns around this ruling?
Agreeing with the Official Solicitor, the campaign group 'Care not Killing' have responded to the judgment with concerns that without recourse to the courts, a significant safeguard has now been removed from PDoC patients and removes a layer of legislative scrutiny. They also raise concerns about how the judgment impacts upon end-of-life decision making more broadly.
For the past 25 years, patients in a disorder of consciousness have been treated differently from other patients via the assumption that a court application is always required before CANH can be lawfully withdrawn. The Supreme Court judgment has now changed that, placing treatment decisions back into the hands of the people who treat them and those who know them best.
Such decision-making processes are not unregulated. There are well respected guidelines for the care and treatment of people in a disorder of consciousness written by the Royal College of Physicians.  There is interim guidance for doctors specifically about the providing and withdrawing of CANH by the British Medical Association and – now that the Supreme Court judgment has been handed down –  the final guidance will be published shortly. As Lady Black stated in her judgement – the Mental Capacity Act, along with the current and forthcoming clinical guidelines act as a suitable 'regulatory framework'.
The other key area of concern is the nature of death following the withdrawal of CANH. Research from the Coma and Disorders of Consciousness Research Centre shows that while there is a burden of witness for those caring for these patients and those around the bedside, with good palliative care (guidelines for which are available from the Royal College of Physicians), deaths after CANH are largely considered by patients' families as 'peaceful'.
You can read the full paper here.
How else have Cardiff academics been involved?
Academics in Cardiff University's Coma and Disorder of Consciousness Centre, including Professor Jenny Kitzinger, Professor Celia Kitzinger, Dr Geraldine Latchem-Hastings and myself, have been researching and teaching family and health care professional experience of having a relative, and/or caring for people in a prolonged disorder of consciousness since 2010. Focussing on research, teaching, professional training and public engagement the CDoC team have worked tirelessly to raise awareness of the core issues surrounding the care of people with a PDoC.
A significant part of the teams work has included the development of a series of key online resources. Co-Directors Professor Jenny and Professor Celia Kitzinger produced an award winning healthtalk.org module 'Family Experiences of Vegetative and Minimally Conscious states'.
Alongside the CDoC Co-Directors, I have encouraged nursing and allied health professional involvement, teaching and training about the core issues for clinical practice and practitioner wellbeing – and researched various aspects of PDoC care – including how families perceive physiotherapy for their relative in a PDoC – and the broader care of PDoC patients in my thesis.
Along with Dr Geraldine Latchem-Hastings I have developed an extensive online training resource for allied health professionals and for pre-registration students which we have introduced to both pre-registration and masters level teaching at Cardiff University over the past 3 years. Thanks to Dr Geraldine Latchem-Hastings, the clinical, ethical, legal and cultural concerns which surround the care of people in a prolonged disorder of consciousness are taught to Cardiff pre-registration allied health professionals in their final year interprofessional module – educating and supporting the new generations of physiotherapists, occupational therapists, operating department practitioners, therapeutic and diagnostic radiographers.
The allied health professional version of the resource was launched at the National Rehabilitation Hospital in Dublin in June 2018.
The CDoC team are now working on a new online e-learning resource about the providing and withholding of life sustaining treatments for doctors and other health care professionals.
To see all the work of the CDoC Centre go to www.cdoc.org.uk and follow us on twitter @CDOCuk
The Centre for Trials Research is a UKCRC-registered clinical trials unit. It is publicly-funded to enable applied research that informs policy in health and social care in Wales and the UK, and is currently running studies across Wales, the UK and internationally. The Centre is funded through Welsh government by Health and Care Research Wales, and Cancer Research UK.