College Student: My In2ScienceUK Work Experience In the Centre for Trials Research
6 September 2022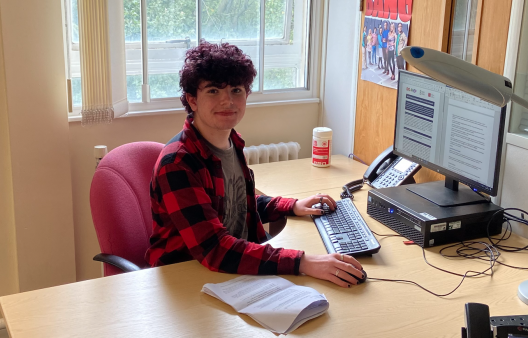 Hi, my name is Imogen Dagdeviren. I am a college student at Nantgarw College, studying Biology, Chemistry and Mathematics. I have just finished AS and will be moving on to A2 in the September term.
I applied for a week's worth of work experience via In2ScienceUK. I submitted the application with the belief that I would pick up some useful skills from this programme, one of which being the ability to work collaboratively. I applied for the experience circa November 2021 and was accepted onto the placement April 2022. I did not know that I would be at the CTR, but I am glad that I ended up there for the week.
Dr David Gillespie was my host organiser, and there was one other student partaking in the work experience with me. I saw this as a large attribute because it gave me an opportunity to have discussions with David as well as ask as many questions as I needed to.
We were given some projects to do throughout the week. These included:
Creating a Pride Cymru twitter post discussing HIV, PrEP, and in general just raising awareness for Pride
Creating twitter posts for world sepsis day
Creating infographics based on the DO-PrEP study, and subsequently its finding
These projects were quite fun to carry out, it allowed me to engage in some fun yet challenging tasks, whilst working collaboratively, which is one of the things that I wanted to get from this work placement. David was very supportive throughout the entirety of this placement, answering any questions or concerns that I had about the projects, as well as any questions that I had about the CTR in general.
We also had multiple meetings with the staff and PhD students of the CTR. Particularly with the members of staff, I was given a thorough insight as to what a career at the CTR is like. I was met with the pleasant discovery that quite a lot of the staff here came from very diverse academic background, and not directly into research. This was very encouraging for me, because I was unsure of my career path. After this week placement though, I am considering doing research, largely due to the placement week. I also become aware of some of the jobs here at the CTR, which I was previously unaware of, one of those being pharmacovigilance.
Overall, this placement was a very eye-opening experience, and I am privileged to have had this opportunity to work with and speak with staff who are experts in their field. I was very pleased with the amount of inclusivity that the CTR has for queer individuals. I am a trans bisexual woman, and it was just really refreshing to know that there were people within the CTR that were supportive and understanding of my identity. I would highly recommend this to ANY student wanting work experience in the science/research field, as well as a student who is not quite sure of their career path.
The Centre for Trials Research is a UKCRC-registered clinical trials unit. It is publicly-funded to enable applied research that informs policy in health and social care in Wales and the UK, and is currently running studies across Wales, the UK and internationally. The Centre is funded through Welsh government by Health and Care Research Wales, and Cancer Research UK.