AIDS 2022: When Cutting-Edge Science Meets Powerful Community Activism
31 August 2022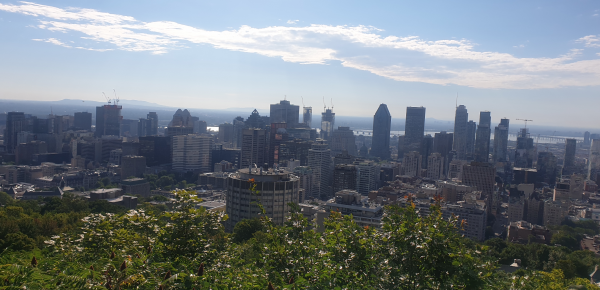 "This is not a kumbaya moment."
These words topped and tailed the foremost conference on HIV / AIDS held in Montreal at the end of July…a conference known for:
Thousands of registered delegates
Hybrid capabilities (new for this year courtesy of the COVID-19 pandemic)
A global village where various community organisations set-up exhibitions and deliver talks
Embargoed abstracts with media coverage of the prime sessions
Sessions where landmark studies and breakthroughs in treatment are first announced to the world
This was my first attendance at this conference and I was excited to see what such a prestigious event had in store…
About me: I've worked in the area of HIV prevention for the past four years, focussing primarily on pre-exposure prophylaxis use in Wales (and expanding to HIV testing through my work as Research & Evaluation Lead for Fast Track Cardiff & Vale). I've spent some time in Zambia learning about HIV and the difficulties people face running clinics and accessing data in a country with a sex work and homosexuality is strictly criminalised, but in all I would describe my experience around HIV still primitive and HIV as a global health concern minuscule. The one thing I am aware of is the strong activism and advocacy around HIV. This was borne out of necessity – structural racism and homophobia has historically limited clear messaging, exacerbated stigma, and arguably slowed responses compared to if this pandemic did not persist primarily in already marginalised groups.
About HIV: HIV is a virus which damages the immune system and leaves a person vulnerable to opportunistic infections. The field of HIV has progressed at tremendous pace since scientists first isolated the virus in the 1980s. Modern treatment now involves just one pill a day, with bi-monthly injectable formulations also starting to be rolled out. Research evidence has demonstrated that effective treatment can reduce viral load to such a low level that it is described as "undetectable", and that those with an undetectable viral load are unable to transmit HIV to their sexual partners (this is commonly known as U = U, or Undetectable = Untransmittable). Prevention of HIV can be achieved by condoms but also by using antiretrovirals following exposure (post-exposure prophylaxis, or PEP), or before exposure (pre-exposure prophylaxis, or PrEP).
Conference programme and visa difficulties: The conference was preceded by workshops, with the main conference lasting for five days. Even before landing in Montreal, there were indications from social media that some individuals were experiencing difficulties with getting visa in order to enter Canada. These seemed to centre on individuals from African countries. Upon arriving, it was becoming evident that a lot of people from Africa had been denied entry – particularly those living with HIV and/or likely to be criminalised in their country for reasons which may also put them at increased risk of acquiring HIV (e.g. their sexual orientation, engaging in sex work, engaging in drug use). There was a tragic irony to this, given the strong focus on understanding, measuring, and tackling HIV-related stigma…those most affected were not in the room for this very reason. Being in Montreal when so many were denied entry highlighted the enormous privilege I had – and the responsibility I and others there had to make sure that people knew about this injustice.
A picture says a thousand words: Towards the end of the conference I attended a session on HIV-related stigma in healthcare settings. This is something I have discussed when conducting interviews with DO-PrEP study participants, and something through Fast Track Cardiff & Vale we have explored as part of an MSc dissertation. The session focussed on experiences of people living with HIV in a number of African countries – with talks also covering intersectional stigma (e.g. HIV-related stigma in healthcare settings experienced by sex workers). While at this point, it was not unusual that a panel member was unable to be there in person due to being denied a visa, at this session a conference spokesperson walked on stage to announce that ALL of the panellists were denied visas into Canada.
A session focussing on people living with HIV sharing their experiences of structural stigma was disrupted because none of the invited panellists were allowed into the country.
This angered me, and without thinking I tweeted a photo of the empty chairs sharing my disgust on social media. This photo attracted a lot of social media attention and became the basis for a Canadian news article.
Conference sessions: The conference itself was very interesting. Session highlights for me included the following:
Those focussing on PrEP
The proposal of a "PrEP-Need-Ratio", which aims to highlight groups who may be in need of PrEP as a HIV prevention option but are not currently accessing it.
Description of a RCT of doxycycline post-exposure prophylaxis to prevent STIs in PrEP users and people living with HIV. The trial was stopped early due to clear efficacy signals, but longer term studies are needed to understand the impact of "Doxy PEP" on the emergence of antimicrobial resistance.
An RCT of six-month PrEP dispensing in Kenya. Findings indicate that a 6-month dispensing model was no worse than standard of care (3-month model) for HIV testing, PrEP dispensing and PrEP adherence at 6 and 12 months…and in women adherence was better at 12 months.
Trial designs for new PrEP formulations. In particular, there were discussions around the use of counterfactual placebo designs to counteract the unethical use of placebos (as oral PrEP is so efficacious) but also to enable trials to be conducted without needing tens of thousands of participants.
Those focussing on HIV testing
By far, the standout discussions focussed on differentiated service delivery models. This is an approach which aims to widen access to HIV testing services by offering choice. These models of delivery centre around changing one or more of four key components of a service (the WHEN, WHERE, WHO, or WHAT). One particular talk which stood out focussed on HIV self-testing in Nigeria. It demonstrated how different services were accessed by different types of people and that the proportion of testers who subsequently returned for confirmatory testing and linkage to care was generally high.
Those focussing on HIV-related stigma
These were wide ranging and included systematic and other forms of reviews around internalised HIV stigma, focussing on frameworks, measures, and outcomes. They also included qualitative studies focussing on HIV-related stigma in healthcare settings. There were also sessions investigating the role of faith communities in reaching people with anti-stigma messages, measures such as the HIV stigma index 2.0, and the use of language (e.g. rights-based language, moving away from blame-based language, and the role of gain-framed language rather than risk-based language).
Those focussing on inclusion, the law, and ethics
Stand-out talks included one which focussed on the inclusion of people with disabilities in national HIV strategies, and how people with disabilities are an often overlooked population because of false assumptions around their sexual activity. A keynote speaker in a session on HIV and human rights talked about punitive laws that criminalise marginalised groups (e.g. homosexuals, sex workers, drug users) are both a violation of human rights and weaken global efforts to eliminate HIV transmission. This speaker gave good advice on challenging these discriminatory and ineffective laws. Finally, there was an entire session concerned with the ethical use of HIV surveillance data. During this session it was outlined how research ethics places individual safety at the forefront of considerations, but the use of data in public health in certain circumstances (e.g. surveillance) does not fall under research ethics and often the "public need" takes priority over individual rights. This was quite a tense session, with clear concerns from community representatives over the use of HIV surveillance data when it comes to index case finding, particular where this is done without individual consent.
Conference protests: Throughout the conference, there were various organised protests. These focussed on inequitable access to medicines, a lack of communication around the U = U message, and punitive laws which directly and indirectly discriminate against people living with HIV in many countries. Some of these felt more like historical re-enactments, but certainly as the conference wore on there was an escalation in the energy behind these demonstrations and the general feeling I was left with was while the HIV sector prides itself on its strong collaborative links between academia, the community, industry, and clinicians – closing the divide in priorities remains an ongoing process.
While the conference was open to individuals from all sectors with an interest in HIV, this was not a kumbaya moment.
Closing thoughts: This was an incredible conference, and it was an enormous privilege to be able to attend it. I learnt a lot, not only from the academic sessions but also spending time in the global village and speaking and listening to people there. HIV remains a major problem globally, and while the field has advanced so much clinically over the past 40 years, I was left with a view that society is struggle to keep up with the pace.
HIV-related stigma persists, and where this permeates structural laws and policies this is having a detrimental impact on efforts to eliminate HIV transmission, the quality of life of people living with HIV, and the ability for the voices of these people to be heard.
I'm proud to be living in a country which has recently launched a national HIV action plan for consultation that emphasises a zero-tolerance approach towards HIV-related stigma. I hope this is a principle we can deliver on in Wales and not only become a better place to live for people living with HIV, but also become a guiding light to other countries.
Acknowledgements: I would like to thank Health & Care Research Wales for funding the DO-PrEP study and enabling me to attend the conference using this funding.
The Centre for Trials Research is a UKCRC-registered clinical trials unit. It is publicly-funded to enable applied research that informs policy in health and social care in Wales and the UK, and is currently running studies across Wales, the UK and internationally. The Centre is funded through Welsh government by Health and Care Research Wales, and Cancer Research UK.