Celebrating The CTR Research Partners Community To Mark International Clinical Trials Day
17 May 2022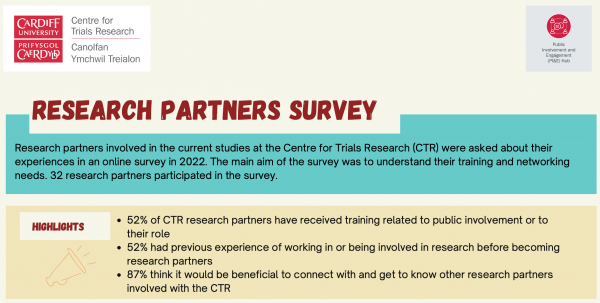 Public involvement is a vital part of all studies within the Centre for Trials Research and our research partners (members of the public) play an important role in providing a public perspective and shaping our studies. Most commonly, CTR studies involve one or two research partners in advisory or oversight roles such as membership of the Trial Management Committee.
As Public Involvement & Engagement are integral to our work, we established the CTR Public Involvement & Engagement Hub, which we refer to simply as 'the Hub'. One of our aims is to develop our community of research partners, so that they can come together for support, mentoring and training.
In January 2022, the Hub initiated a short online survey to understand our research partners' experience of working with the Centre, their training, support and networking needs. 32 research partners participated in the survey.
CTR-HUB Research Partners survey results
The survey findings indicate that around half of CTR research partners have received training related to public involvement or to their role. Clarity about the research partner role and expectations at the beginning of their involvement with our studies was viewed as the most important training need. Signposting to the CTR Guide for Research Partners can help with this. Based on the needs identified through the survey, the HUB will soon be introducing a list of training courses available for research partners alongside a guidance document to help researchers initiate a conversation about training needs.
The survey findings also suggest that majority of our research partners think it would be beneficial to connect with and get to know each other. As a response to this, we are bringing our research partner community together at an online event coinciding with this year's International Clinical Trials Day on 20th May. We invite researchers, practitioners and members of the public to join us for this event to celebrate public involvement in our studies. We will hear first-hand from our research partners involved in our studies and members of the public who currently work with CTR are invited to join a follow on friendly get together online.
The main survey results have been summarised in the poster above. We would like to thank all the research partners that took the time to complete our survey as this helps us to determine what we are doing well and where we need to continue improving.
The Centre for Trials Research is a UKCRC-registered clinical trials unit. It is publicly-funded to enable applied research that informs policy in health and social care in Wales and the UK, and is currently running studies across Wales, the UK and internationally. The Centre is funded through Welsh government by Health and Care Research Wales, and Cancer Research UK.