Cardiff University Research Consultants Successfully Help Wales-Based Researchers To Bring In £1 Million Of New Funding
5 April 2017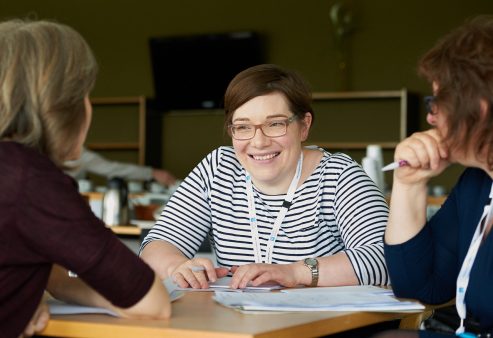 Experts in the Research Design and Conduct Service (RDCS) South East Wales, based in the Centre for Trials Research at Cardiff University, worked with 115 teams across Wales to develop novel research ideas in 2016.
The RDCS supported 16 teams to put in well-designed submissions to a variety of funding bodies through the year.
Senior statistician and RDCS consultant Dr Mark Kelson said, "The RDCS provides expertise with all the crucial elements of study development to help avoid the pitfalls that typically cause ideas to fail. You need to have a well-structured and properly developed funding idea to succeed, as well as appropriate methodology and a clear lay summary. The RDCS is a one-stop-shop providing the expertise that even experienced researchers will need to succeed including health economics, statistics, qualitative research, data management, and trial management."
The Research Design and Conduct Service (RDCS) South East Wales supports staff working within the National Health Service and social care to develop high quality research funding proposals. This includes working with both first time or seasoned NHS and social care researchers individually and in teams across a wide variety of disciplines and fields. Enquiries come through the application form on the website and consultants then schedule a one-to-one meeting, a telephone appointment or Skype session to start assessing the needs of clients. Because the service is funded by Welsh government, there is no cost to those clients who apply for help or the NHS trusts or social care organisations they work for.
Deputy Director of the RDCS South East Wales, Dr Sue Channon commented, "We are very proud of the support we can deliver. We are a small team, funded by Welsh government. Beyond that, we have over 130 staff to draw upon from the largest team of academic clinical trials staff in Wales. We have been able to help both first time, as well as seasoned researchers, to develop their ideas. Many of these are significant studies to improve evidence-based care and treatment. For example, testing different clinical procedures for pain relief."
Director of the Centre for Trials Research Professor Kerry Hood said, "7 out of 16 teams we supported to put in applications have already been successful in securing funding worth £947,444 – and those are only the ones we currently know about. That equates to a 43% success rate for getting funding from submissions and is an incredible achievement. I would like to thank the hard work and dedication of our RDCS consultants. This is a significant step towards getting better designed interventions and evidence-based interventions. I am particularly proud of the engagement and commitment of colleagues in the NHS and social care who have been willing to support their staff and allow us to help nurture new talent."
The RDCS also hosts three events throughout the year aimed at first-time or experienced researchers to develop ideas, including a 3-day retreat where consultants are available to help delegates hone and polish their final applications to give them the best chance of being successful in competitive funding calls. The next event in 2017 is free for staff with early research ideas that they want to explore, develop and discuss with consultants, and get tips and strategies how to develop it.
The Research Design and Conduct Service South East Wales, based at Cardiff University, is part of the All Wales RDCS and is funded by Welsh government through Health and Care Research Wales.
The Centre for Trials Research is a UKCRC-registered clinical trials unit. It is publicly-funded to enable applied research that informs policy in health and social care in Wales and the UK, and is currently running studies across Wales, the UK and internationally. The Centre is funded through Welsh government by Health and Care Research Wales, and Cancer Research UK.