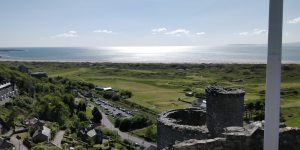 Aberystwyth's weather changes quickly. This can be charming – even refreshing – or it can be depressing, depending on whether it was a) windy and freezing when you woke up and became bright and warm in the afternoon, or b) glorious sunny at daybreak and chucking it down sideways with rain by lunchtime. However, after agreeing a few weeks ahead that one of my friends from home would come and visit Aberystwyth it was reassuring to see good forecasts, no matter how unreliable they can be.
On an amazing and very summery Saturday morning we decided to go North of Aberystwyth for the day and visit somewhere I had been recommended to go and see: Harlech, and Harlech Castle. From Aberystwyth this means driving through Machynlleth, the town which was Wales's capital more than 600 years ago (and where I do my placement in the GP surgery), then through Snowdonia national park and along the coastal road through Barmouth until one reaches Harlech.
The friend visiting normally studies at Warwick university. While Warwick is a respected university it is not famously scenic; and even if it had been, he was mostly shut in his room or in the library working hard for the final exams of his final year. The nearest large place to Warwick university is not Warwick, bizarrely enough; Coventry is closer, as is Leamington Spa. I give you this background because again and again all my friend could say to me was: "Coventry is…" or "This isn't at all like Coventry, it's…" and so on. His ruler by which to measure Aberystwyth was Coventry shaped and Coventry coloured, and it had 'Coventry' helpfully engraved on the side.
The drive up to Harlech takes about an hour and a half through amazing scenery which includes river estuaries, close Welsh valleys and the harsh and steep mountainous terrain in Snowdonia. The grass is thick, growing fast and brightly green everywhere you look in Mid Wales, and as we drove to the wilder Snowdonia terrain there were occasional carpets of bluebells mixed in with gorse, bare slate rubble or low stone walls. Lambing has mostly finished now and new little sheep are clumsily running around or getting their heads stuck in fences wherever you look as you drive.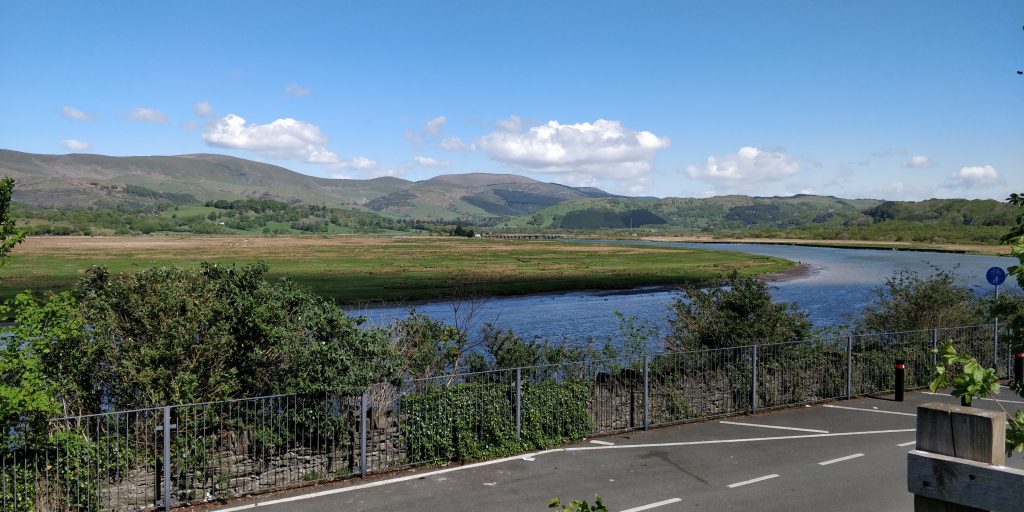 How was my friend's room in Warwick supposed to compare to this? Away for the weekend, in the sun, presented with so many different sights so quickly, my friend was helpless in front of Wales's Summer charm. With the best will in the world, Warwick and Coventry were not going to be on the podium.
I had not known what to expect, but when we arrived in the village of Harlech I was surprised by the close collection of stone houses on a steep angle with old and narrow streets. The village felt like it had settled into the ground a long time ago, looking out onto new land deposited bit by bit and which now had formed a long bank of sand dunes protecting flatter reaches currently used as a golf course. Harlech castle is on the very edge of this steep face, and although now the land stretches out for some way before meeting the sea, when the castle was first built it had the waves lapping at the cliff's edge beneath it.
Harlech castle was completed by about 1289 having been built in only six years. This is insane to me. I have seen people take longer than this – maybe seven or eight years – to build a music hall. Instead, this formidable and architecturally cutting-edge feat of engineering and military confidence rose up in no time at all, with stone coming in by ship and more than a thousand craftsmen, stonecutters, carpenters, plumbers, soldiers, draughtsmen and labourers pouring in as the building went on. King Edward I commanded its construction as part of his domination of Wales. A local prince or lord – someone important, though very embarrassingly I forget the details – either forgot or chose not to pay an annually demanded sum, and in return Edward mobilised troops and took Wales by force. As part of his campaign of subjugation he had many castles built to consolidate his hold, Harlech being only one example. In the centuries since it was held by one group or another various times and Harlech and its occupants had a reputation for strength and valour, immortalised in the song 'Men of Harlech'.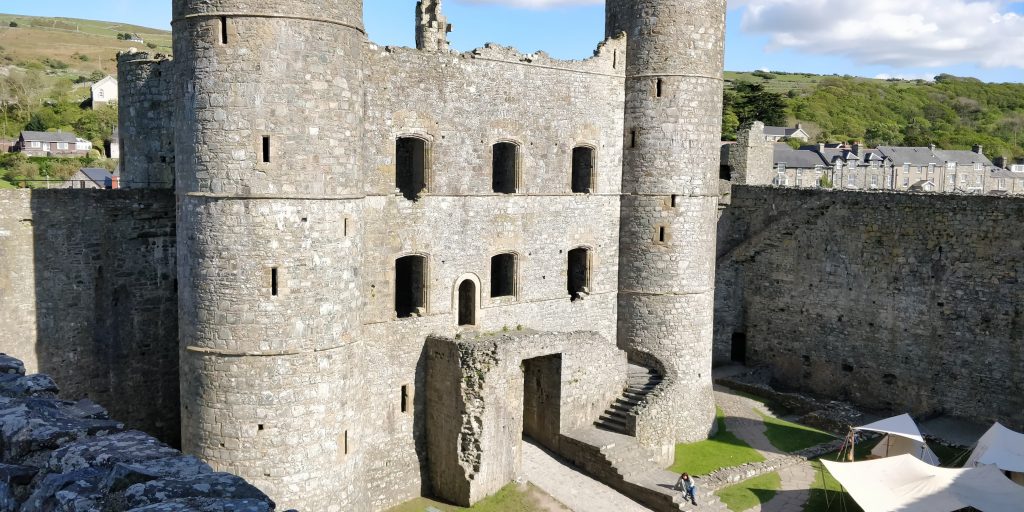 Looking at Harlech is amazing. It is right on the dividing line between a ruin and a completely intact castle. It is gigantic: it takes a few minutes just to walk around the walls, there is a steep walk down to a gate that originally bordered on the sea, and there are multiple winding staircases and narrow corridors preserved in the main part of the castle. The views out to sea and North to the rest of Snowdonia are incredible.
The two of us stayed until closing, when the very impressive wooden doors to the gate were being closed behind us. The stones of the castle are huge and in the sun had been gleaming white all day. It was easy to see why in 1986 it and other castles in Gwynedd such as Beaumaris were given UNESCO world heritage site status. They are incredible pieces of building work and they represent the astonishing military efforts used to bring Wales under English rule.
Is it any wonder then that Coventry and Warwick paled? On the way back to Aberystwyth we visited a camping spot that advertised waterfalls and a walk. Only twenty minutes from the coast we felt high up in Snowdonia and miles from anywhere in the late afternoon light.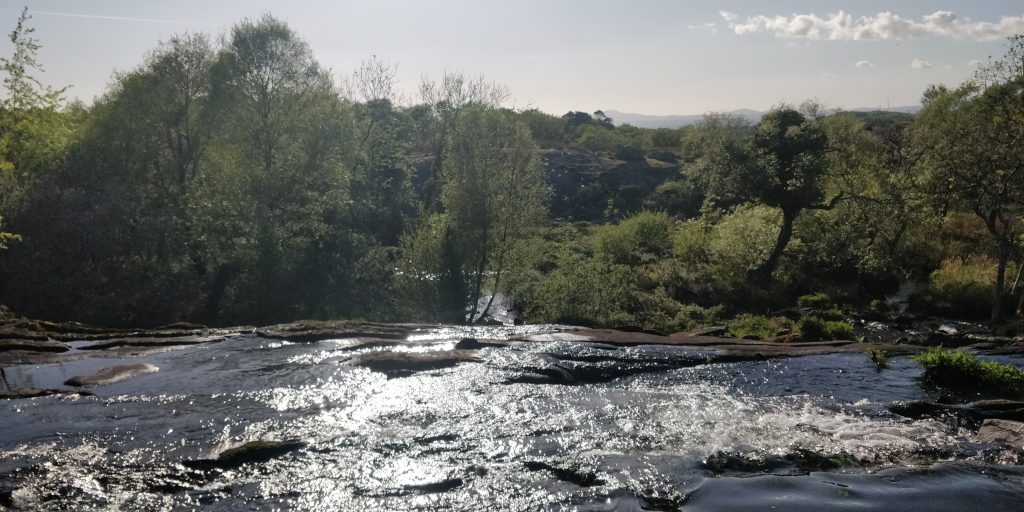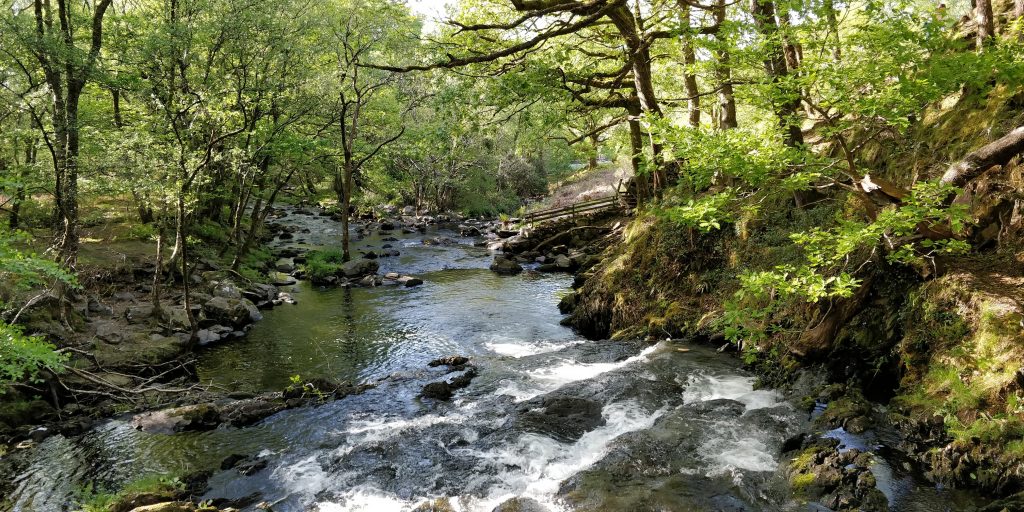 Having sat through a very stormy Winter where Aberystwyth was almost deserted I am waiting to see how many people flood here as Summer holidays start for most families in just under two months. The light lasts until well into the evening and the wind has died down: the birds are amazingly loud in the morning and the sea's edge is unbelievably blue in the sunshine.