Octoberystwyth
6 November 2018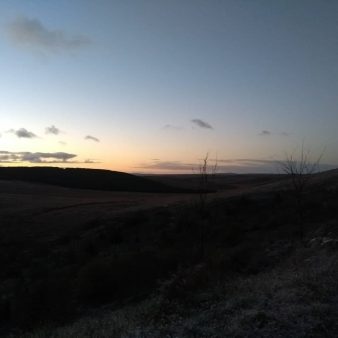 Dear reader,
you might be thinking, "oh no, not again. Here goes that eccentric student, sounding off about god-knows-what." If you weren't thinking it, you are now, because you just read it. Well, now I've got us all on the same page, let's get right to it.
Four more weeks in and Aberystwyth hasn't lost its charms. Things are getting a little rougher weather-wise: we've already had storms wash half the dark glittering stones from the beach onto the promenade, hailstones clatter down with no warning and I've also already been snowed on – and all of this before the end of October. But despite this violent treatment and despite the encroaching Winter darkness I am in high spirits. When we're not being battered by nature it is often freezing and very clear, and you can see for miles. Though the vibrant green foliage on the trees has almost finished moving through bright oranges to dark reds, the fields and hills surrounding Aber are green as ever.
Life in the GP surgery carried on as normal during October – not that there is such a thing as a normal day. Minor injuries, flu clinics, minor operations, chronic disease review… and the emergencies, and the walk-in appointments, and so on, and so on… The biggest change since last we spoke has been doing my first proper 'parallel consultations'.
Parallel consultations are very intriguing. Patients very kindly and for who knows what reason agree to a blundering interrogation by a confused student, e.g. yours truly. If that wasn't enough, the next stage of this bumbling Cambrian Inquisition (nobody expects the Cambrian Inquisition) consists of strange manipulations of the patient's limbs, or exploration of their middle ear, or anything else I desperately think might help me make a diagnosis. The patient's GP finally comes in at this point. "Thank God!" the patient usually says, relief written all over their face. The GP now has to listen to the patient's medical history garbled and twisted beyond recognition and some confused mumbling about foot pulses or air entry – luckily for the patient they instantly recognise the problem and the relevant treatment. This elaborate form of patient torture is only practiced once a week so far, but with any luck many more hapless locals will soon offer themselves up.
Since reporting last from the scene I have also run a race longer than a marathon: the Race to the Sea, or Ras Yr Mor, following the Ystwyth river toward the sea for 50km. Incredulous friends asked some common questions, which I have helpfully compiled for you, reader, in this delightful interview format below:
FRIEND: fifty kilometres? Wait, how long is a marathon?
YOURS TRULY: about forty two.
FRIEND: so… have you… run, a marathon before? At least say you've done that.
ED: not as such.
[my friend looks sceptical. They consider which wreath they will lay on my tomb in the cold November rain.
FRIEND: when did you start training for this?
ED: I went for at least one run in training.
FRIEND: one? When did you sign up?
ED: about two weeks beforehand. My housemate sent me a link to registration as a joke, then I passed it on to someone in the university club as a joke– the next thing I knew, he'd registered and was asking if I wanted to join him. This time not as a joke.
However foolish my lack of training was, I survived the run – how else could I entertain you, dear reader? I did in fact cross the finish line – on my feet, on the same day. Whether the local sports mania is some sort of mass psychosis or just a simple drug lacing the region's water, I found myself – and here I have no doubt I lose many of my readers – I found myself actually enjoying the event. I have gone native.
I won't take up any more of your time for now. If the Yeti is sighted enjoying a lager on the Pier, you'll be the first to know.
---
Comments
Search this blog