Three podcasts about the TransAtlantic Slave Trade and a powerful talk about health inequalities…
9 May 2023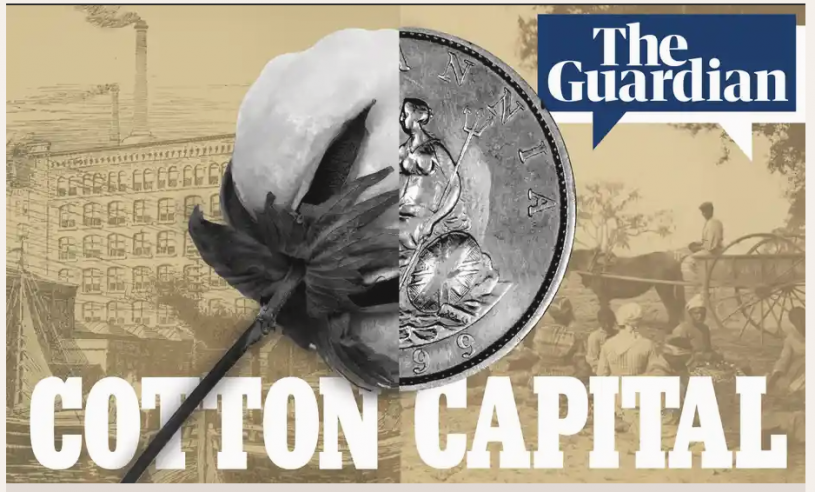 "The people who have been left out of our history are the enslaved Africans who picked the cotton"
I'm currently reading and listening to Cotton Capital, a website and podcast produced by the Guardian, that "explores how transatlantic slavery shaped the Guardian, Manchester, Britain and the world". It is very interesting and quite upsetting too. I'm only on episode 2 right now (May 2023) which is based in Jamacia and future episodes involve exploring the links to the Sea Islands and Brazil. Edited and presented by Maya Wolfe-Robinson this podcast series promises to be extremely interesting and informative.
Already, I've listened to Professor David Olusoga talking about how we forget about the role of slavery in building the wealth of Britain. "Britain was a premier slave trading nation". Also Dr Cassandra Gooptar tells us "how the Manchester Guardian's 19th-century founders had connections to transatlantic enslavement." A key part of the industrial revolution in Britain was processing cotton grown and harvested by slaves in the Americas.
Professor Olusoga also draws a direct link between the racial theories about black people being inferior that were used to build and defend New World chattel slavery and the inequalities of today. To learn more about global health inequalities, this talk by Professor David Williams delivered in 2022 at a conference organised by the NHS Race and Health Observatory feels very powerful and important.
The Guardian podcast is part of a process I've embarked on to learn more about the slave trade, its history and legacy. I have listened to all of Human Resources by Moya Lothian-McLean. There are two series "exploring the true story of British involvement in the transatlantic slave trade and how it touches every part of the nation." Released across 2021 and 2022, McLean explores topics as wide as money from the elite in England and Scotland, fabric produced in Wales and chocolate production. All of these and many other parts of Britain had links to and benefitted from chattel slavery. The two series are truly facinating, informative and compelling listening. I highly recommend them! Here is the Spotify link. I listened through Apple Podcasts.
I'm a little hesitant about recommending another podcast also called Human Resources by Dan Carlin but I did also find it fascinating. Carlin's produces long podcasts following his reading of various sources and this one is very long at over five and a half hours. As he writes: "The Atlantic Slave Trade mixes centuries of human bondage with violence, economics, commerce, geo-political competition, liberty, morality, injustice, revolution, tragedy and bloody reckonings." Carlin reads extracts from books that describe brutality of chattel slavery in a way that is very troubling. The accounts of the slave led Haitian Revolution from this book entitled "Facing Racial Revolution: Eyewitness Accounts of the Haitian Insurrection" are very powerful. But this is not for the faint hearted. I had a real sense of being a witness to one of the most shameful parts of human history and it provoked some strong emotions. Carlin is white and many of the sources he quotes from white historians. As such, while the information is powerful, it doesn't feel as important as the work edited by Maya Wolfe-Robinson or Moya Lothian-McLean which feels more co-produced with the people directly affected by slavery.
I have learned more about slavery and its legacy but there is still more to learn… I'm going to listen to more of the Cotton Capital podcasts today….