Inspired by Liberating Structures…
1 May 2019
Yesterday, I attended a Meetup with the Cardiff Liberating Structures group. I found out about it because of an advert from Meetup. Through Meetup, I help organise the CaRdiff User Group (an informal R learning group) and Meetup alerts me to new groups. For some reason, my interest was piqued. I can't really remember why…
I did a bit of 'research' – searching webpages and the like. The Liberating Structures website talks about 33 different kind of interaction and promotes them as alternatives to conventional structures which are either too inhibiting or too loose. Again, I felt intrigued.
The graphic on the webpage shows some of the funky names.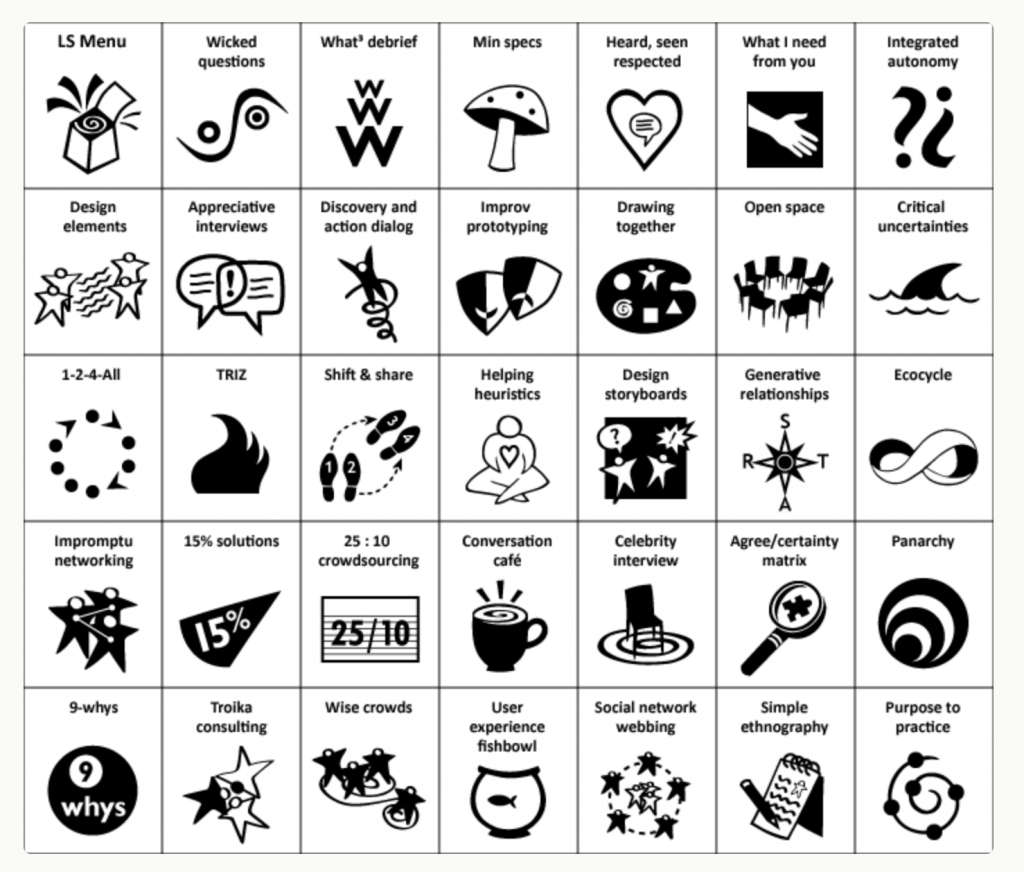 There are descriptions on the website but they don't always make it easy to understand how to use the particular structure. Inspired, I bought the book.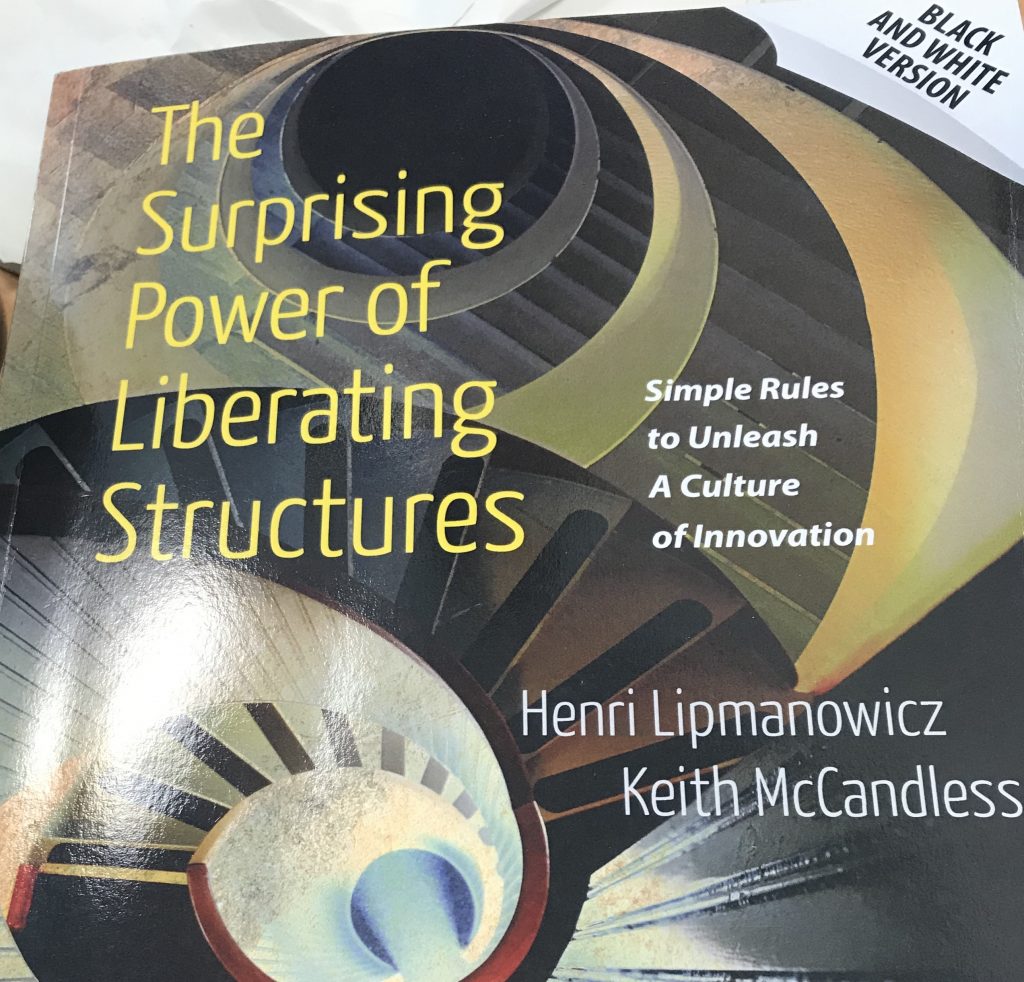 I found the book inspiring. Key quotes that resonate with me are:
"Liberating Structures are specifically designed to include, engage and unleash everyone in contributing ideas and shaping their future." Page 21.
"The Liberating Leadership practice we advocate is to include people before the fact" Page 55.
"To build a high-performing organization, the quality of interactions between people is at least as important as the quality of the people themselves, if not more so." Page 59.
As I headed to yesterday's meeting, I was excited. The meeting was focussed on Ecocycle planning facilitated by Alexis Palá.
Alexis started with a Principles Walkaround as a starter activity. The Liberating Structures principles were placed on the floor and we were invited to read them and stand by one. A short discussion ensued. This was repeated three times. Afterwards, we reflected. The reflection questions were interesting (I can remember two):
"What did you notice?"
"How would you use it?"
About the Principles Walkaround, we commented that it was a nice safe start to the session and didn't require us to share any personal information at this time. Nice. Also it was active, I moved and talked to three different people.
My first Ecocycle planning encourage me to look at my own work. As mentioned on the website, I looked at my "portfolio of activities, identifying which elements are starving for resources and which ones are rigid and hampering progress". It was interesting.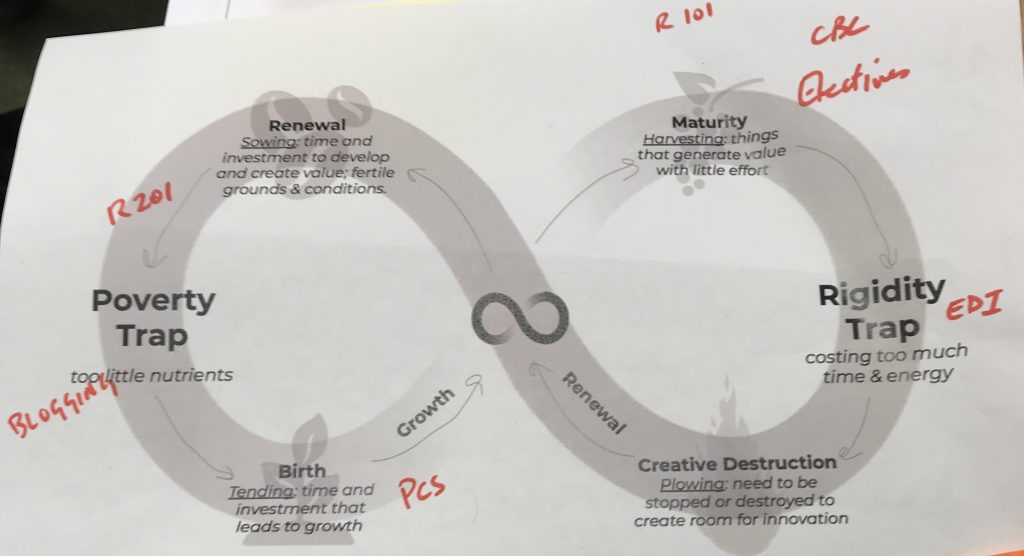 As a group, we also reflected on our Liberating Structures skills.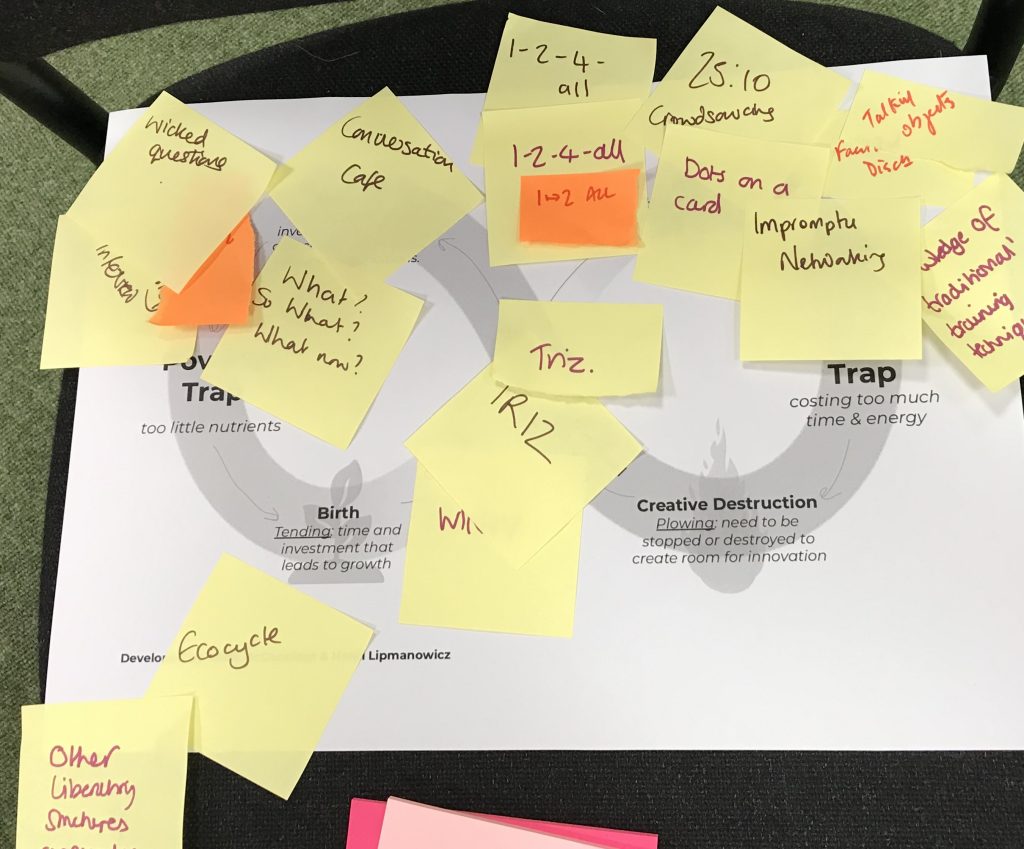 In reflection, we discussed how Ecocycle planning could be used as a way to evaluate projects, as a mentoring tool or invigorate organisational processes. All very interesting.
I woke up this morning inspired by the options provided by Liberating Structures and wondering how I can integrate them into my workshops and teaching. I really enjoyed meeting all the participants. I am looking forward to another session. I hope I can make it. Thanks to Alexis and all the other participants.