A year of Liberating Structures in Education
20 May 2020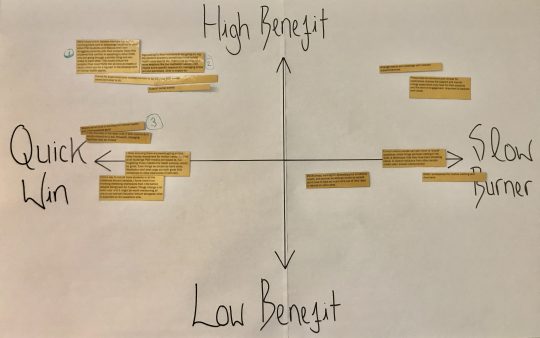 It's just over a year since I attended my first Cardiff LS Meet Up and saw what could be achieved by Liberating Structures. Since, I have used LS with staff, students and facilitated workshops with academics, computer professionals and consultants. I have played with LS in person and online. My facilitation skills have deepened and strengthened. I have become a better teacher.
Reflecting on the year, three highlights come to mind:
Using 1-2-4-All with over 200 students in a large lecture theatre
Delivering a session to the Academy of Medical Educators
Facilitating post-graduate students to evaluate ideas and plan to improve mental health support (#StepChange)
These were all in person events (my preference) but I know that many of the approaches will work online too. Below are more details.
1-2-4-All with hundreds of students.
I regard 1,2,4,All as the essential first Liberating Structure to practice. It is basically the same as Snowballing. I used it with over 200 students in a lecture theatre. I encouraged them to write individually, discuss in pairs and then fours and to share the paper with me. I then explored some of the ideas and had people share if they felt willing. For me it is important for two key of reasons:
The first step gives us time to reflect in quiet. Everybody can engage and most do. I believe this improves the quality of ideas generated and allows different paces of thought to come to the fore. It limits some of the fast thinking that can cause problems.
The 2-4 element allows everybody to talk about the question we are considering. It allows everybody to present an idea to me, the facilitator. So, hopefully, it is not just the loud, more pushy individuals that get to speak. I believe this facilitates more diverse viewpoints.
Recently, our LS Meet up tried 1-2-4-All online with about 50 participants. It worked quite well with the ideas brought forward in the chat and the facilitator inviting people to tell more. It was quieter than my session with 200 students but it worked!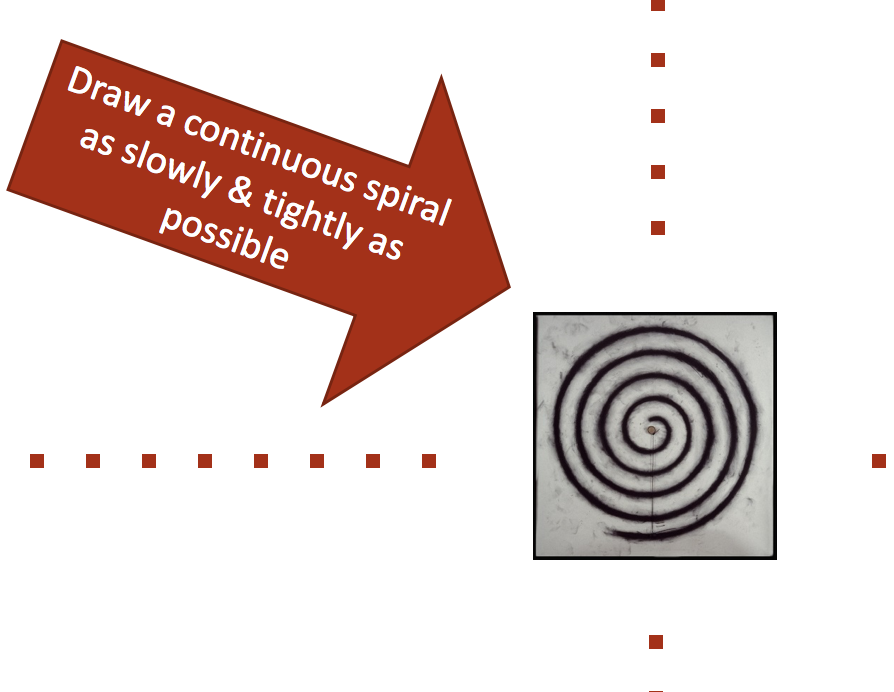 Using Liberating Structures to facilitate medical education
The Academy of Medical Educators invited me to deliver a session at their Medical Educators' Day. My one hour session (lesson plan link) used a LS string with Mad Tea Party, Spiral Journal, Troika Consulting, 15% solution. The aim was to have participants reflect on their teaching and how they could improve it, get feedback on their challenges and to plan action. It was a really enjoyable session. The participants all engaged. They did lots of talking; I did hardly any. Many of them had productive solutions to challenges they faced. The key point about the structures in this session is they can probably ALL BE DONE ONLINE. I think online breakout rooms are probably essential for the Troika Consulting.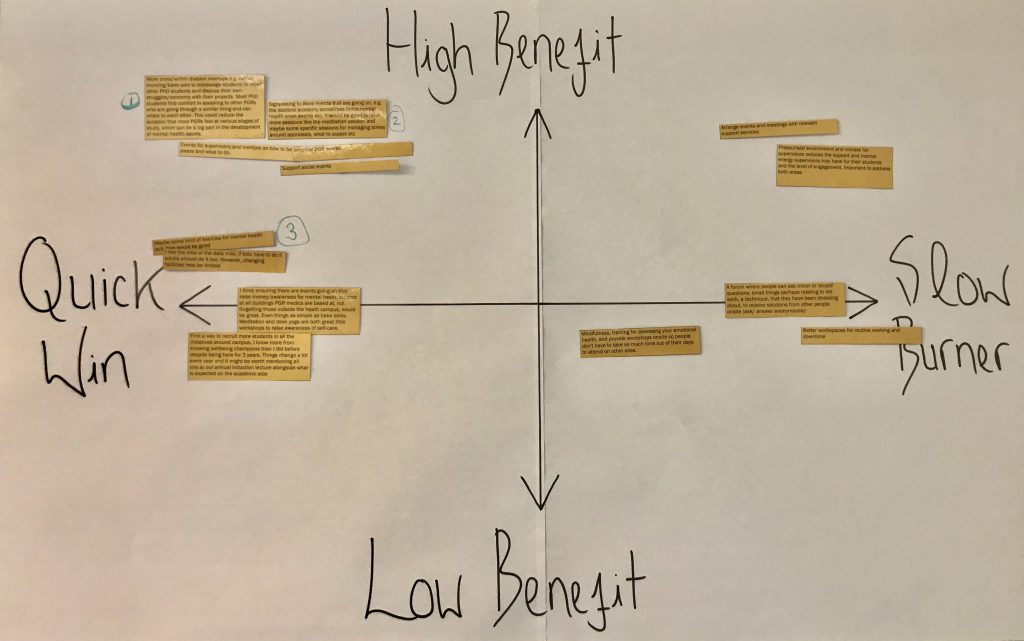 Facilitating post-graduate students to evaluate ideas and plan to improve mental health support (StepChange)
I was invited to help the Cardiff University MEDIC Postgraduate Research Degrees Office, Evan Cragg & Aled Holt, as they work towards improving the support for researchers' mental health. It is part of the #StepChange project – a UK wide approach. The group contained about 8 students. The whole session worked really well. We introduced each other with a variation on Appreciative Interviews. We used 5×5 Writing to determine our criteria for evaluation. Then we used a 2×2 Matrix Model (picture above) to evaluate ideas based on benefit and time scale. We prioritised and developed the favourite ideas. This was a very productive and enjoyable two hour session: efficient and fun! Here the Session Plan that was developed jointly with Evan and Aled.
Thanks for lots of advice and support during this year of learning to Alexis Palá who is a key host for our Cardiff LS Meetup group and an inspiration to me. She works at Y Lab and wrote this interesting piece.
Blog posts, resources and people: