Ukraine, the response to the Augar Report, Taith
25 February 2022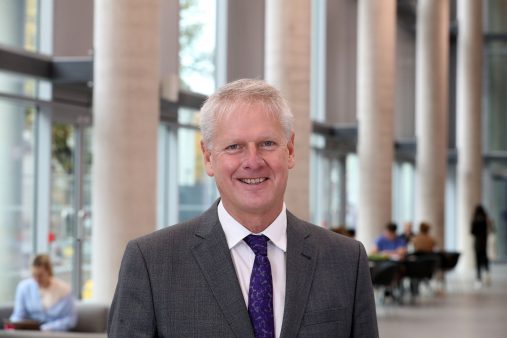 Dear colleague
As I write this email Ukraine is being subjected to a large-scale military invasion by Russia. While we believe that we do not have staff or students on University business in the combat zone, we do have colleagues and students from both countries at Cardiff, and we are offering them our support. I can only imagine the concern and anguish of those whose family and friends are directly affected and it is up to all of us to be as supportive as we can in this unthinkable circumstance. It is worth remembering a point that I have frequently made in other contexts, which is that the actions of governments, and indeed the rights and wrongs of any conflict, are not ascribable to the citizens of particular countries merely on the grounds of their citizenship or affiliation. We will support anybody who is affected, should they make themselves known, and indeed we are taking steps to contact directly any of our staff and students who we feel may want reassurance or help. This deeply troubling turn of events has been developing for eight years now, or longer if one considers other places such as Georgia, and has been expected for some time. But there is no denying that its realisation is a shock or that conflict and bombardment on this scale will be any less than catastrophic. The substantial human cost already incurred is set to increase sharply, and the effect this war may have on international relations, the economy and, ultimately, the lives and livelihoods of citizens well beyond the region can only be guessed at. We can be sure, however, that those detrimental effects will be serious, long lasting and felt here as well as elsewhere.
Moving on to matters of higher education policy here, the UK government has finally published its response to the Augar Report almost three years after receiving it. You may recall that the lavishly trailed (though publicly unconfirmed) original intention of Theresa May's government in commissioning this enquiry into university funding and student support in England was to reduce the fee cap to £7500 and divert more money into vocational education. The reduction in the fee cap duly made it into the final report (although the enquiry's chair, Philip Augar, now disavows the measure), but it does not appear in the government response. Instead, home fees in England are to remain capped at £9250 for a further two years. Given the high rate of inflation we can expect during that period, this is likely to amount to a real-terms reduction of at least 10% and probably more. The position in Wales, I should say, is even tighter. We have had no increase in the fee cap of £9000 for students from a UK domicile since the system was introduced in 2012, and inflation has already reduced the buying power of that sum to little more than £7000 in real terms. It will be noticeably below that if nothing changes for the next two years, and unless the Welsh Government implements in full the recommendations of the Diamond Review and the Reid Review the funding for universities in Wales will become increasingly inadequate.
But back to the Augar response: beyond the funding issue, the UK government is clearly intent on rolling back the reforms introduced during the 2000s by introducing measures to limit the numbers participating in higher education in England. The consultation on the re-introduction of student number controls will be interesting to observe, particularly in relation to how they will be operated in the absence of the block grant system that used to be run by the now defunct Higher Education Funding Council for England. In a similar vein there is to be a consultation on imposing minimum qualification requirements, likely to be in Maths and English, on those applicants who need to apply for a student loan. Quite apart from the question of how those requirements would be set and by whom (questions which led to their not being accepted when they were originally proposed by the Browne review in 2010), there is an obvious equity issue in that applicants from a wealthier background who do not need to apply for a student loan would, on the face of it, not be subject to this restriction. When I was applying for university in the 1970s a minimum qualification in Maths and English was required for everybody, which at least seems a little fairer, although there remain questions of equality of opportunity nevertheless. How the outcome of these consultations will affect Wales is unclear at this stage but will need to be considered in due course.
The response also focuses very much on the affordability of the loans system for the Treasury and for graduates, at least in terms of interest rates, proposing as it does a reduction in the interest rate but a resetting of the repayment threshold to £25,000 p.a. The extension of the repayment period to forty years — beyond which any remaining debt is forgiven — would make the system so similar to a graduate tax that one has to ask whether a proper graduate tax that is more widely applicable would not be more equitable. Any changes of these nature would clearly affect the Welsh Government's participation in the scheme and would need to be carefully considered here too.
Moving to another matter, the decision by the Welsh Government to fund what was originally called the International Learning Exchange Programme, to be hosted by Cardiff University, was both very welcome and admirably visionary. We have been working very hard to deliver the programme, now known as Taith, under the able guidance of the Chair of the Advisory Board, Kirsty Williams, the former Minister of Education. Taith is now moving to the delivery phase and applications for mobility will be opening next month. This is a huge effort undertaken in partnership with Welsh Government and with the other sectors, especially schools, colleges and the voluntary sector, and I want to recognise the outstanding work done by Cardiff colleagues in this respect. As ever it has been a team effort but my particular thanks for leading on the project go to Elid Morris, Eevi Laukkanen and Cerys Bartlett, while Nabil Ali, Emily Daly and Huw Morris have done excellent work on sector consultation and policy drafting. Rose Matthews has played a key role in helping to shape the project and Sunita Farnham's support has been invaluable. I cannot stress enough the importance to Wales of ensuring the success of Taith, and to the participants both here in Wales and from our international partners who will benefit. I will keep you posted on progress and am meanwhile pleased to welcome Susana Galván from the British Council as Executive Director. Susana's experience will be a huge help and I am confident that this fantastic programme will transform many lives in the coming years.
Finally, and staying with the international theme, our association to Horizon Europe, like that of the Swiss, remains at an impasse. As I have said before, UK participation remains government policy and the Treasury has made the requisite funding — in the billions per year — available. We were ready to associate over a year ago and the hold-up lies with the EU, who do not wish to proceed until the question of the Northern Ireland protocol is resolved. The Swiss are in a similar position for different but analogous reasons. A campaign has been launched — in which Cardiff University is participating — to persuade the various parties that this question should be uncoupled from wider political questions and that the pursuit of knowledge and benefit to society should trump such disagreements. If you want to find out more the campaign is called Stick to Science and it is possible to sign up as an individual, as I have done myself.
With best wishes
Colin Riordan
Vice Chancellor
Read about our strategic direction and focus on research and innovation, education, international and engagement.