Major presence at Eisteddfod
1 August 2019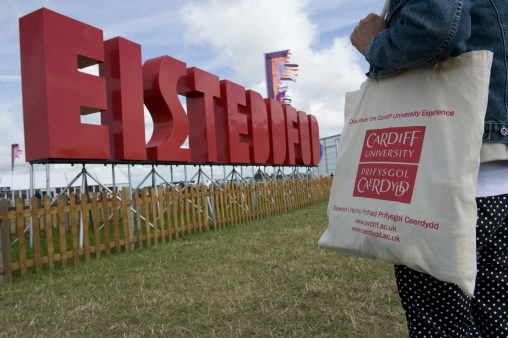 Many colleagues have been hard at work at Welsh cultural festivals this summer to showcase their research and teaching.
Thousands of people came to our tent and enjoyed our hands-on activities at both the Urdd Eisteddfod in Cardiff Bay and the Tafwyl festival in Cardiff.
I attended both events and was impressed by the excellence of these activities and, more important, so were the large numbers of visitors – including many prospective students.
Colleagues are now busy preparing for the big one, the National Eisteddfod, which takes place in Llanrwst, Conwy county, in north Wales from 3 to10 August 2019.
Our focus at the National Eisteddfod is again to highlight our research and teaching, so we've organised an impressive range of talks, discussions and activities on the Maes.
We also have a range of hands-on activities in the science village that will be popular with younger Eisteddfod visitors.
I'm proud to say that this work is a key part of the University's 'civic mission' – the important work we do in partnership with our communities in Cardiff, Wales and further afield.
We are a Welsh university – international in outlook, while deriving strength and identity from our distinctive location of culture – and we contribute a great deal to our communities. We must also remember that they contribute a lot to us.
If you're lucky enough to be in north Wales and attending the Eisteddfod, please have a look at our activities, and if you're working at the festival, good luck – and enjoy it.
Read about our strategic direction and focus on research and innovation, education, international and engagement.