Vice-Chancellor's all-staff email – March 2018
27 March 2018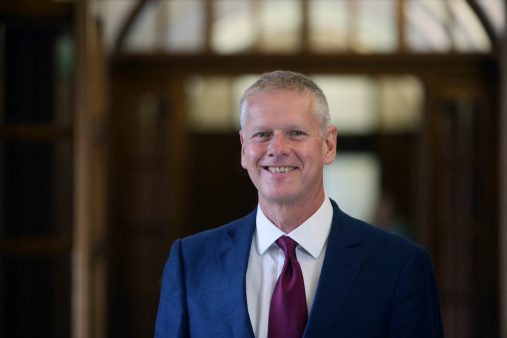 Dear colleague
March has been another very difficult month for the universities involved in the USS dispute, and Cardiff of course has been no exception. It rapidly became clear that we employers had dramatically underestimated the strength of feeling that the original UUK proposal would provoke, and the move to negotiate under the auspices of ACAS was part of that recognition. I myself was left under no illusions about the concerns of staff at Cardiff when I took part in the UCU-organised Q&A session on 5 March. I think that more opportunities to exchange views in a less charged atmosphere may assist us to make progress, at least in understanding the different positions. I have been making every effort to represent the views of our staff to the Russell Group and to UUK, and to both the Trustee and Executive of USS. I have also talked to two of our local MPs, Jo Stevens and Stephen Doughty, to discuss both the predicament of our staff and possible ways in which to alert the UK government to the seriousness of the situation. Although at the time of writing we are unfortunately still in dispute, the latest issue proposal to review the valuation methodology may offer a route to resolution, and  it is helpful that a key principle — the preservation of a meaningful Defined Benefit element of the USS scheme — has been recognised. I am hopeful that now that there is a much greater understanding on the employers' part of how colleagues feel, and that there is generally more understanding of the issues surrounding pension schemes in the UK, we might be able to work together on an approach that is sustainable and future-proof. I'll leave it at that for the moment, because there are other issues I would like to touch on, but for further news, information and views on the pensions question please follow this link.
In other news, earlier in the month I was in Brussels to talk to the Commission and to MEPs about the latest state of play with regard to Brexit. We were told that much depended on the two sides being able to reach an agreement on the transition (or implementation) period, which since then has happened, at least partially. This is to be welcomed, but there is much to be negotiated and until the agreement has been more fully worked through in the autumn we are unlikely to be able to have substantive discussions on what the position will be post-2020. Those negotiations will be complex and there is a strong possibility that any agreement on Horizon 2020 and Erasmus+ will remain dependent on other matters being satisfactorily concluded as part of a package, which could delay matters such that we once more find ourselves under time pressure ahead of the effective full withdrawal from 2021. We really need to have such matters resolved a good 18 months ahead of time — in other words by mid-2019 at the latest — if we are not to be faced with another cliff-edge or at least a gap between the end of Horizon 2020 and Erasmus+ and their successor programmes. Bridging such a gap would be difficult and sub-optimal, and it could mean that we would find it difficult to engage with the successor programmes adequately when we do have access. On top of that are the related matters such as clinical trials and the data protection framework which could have a material effect on research. There is good will on both sides to address and resolve all these questions, and it does look now as if we should have sufficient time to do so, but much depends on the big issues being resolved during the course of the next six months or so.
There are two or three other items I would like to draw your attention to before closing. I am pleased to say that Professor Siladitya Bhattacharya has been appointed as the new Head of the School of Medicine. Professor Bhattacharya comes to us from Aberdeen where he is Professor of Reproductive Medicine and will take over from the Acting Head of School, Professor Ian Weeks, in May 2018. I should like to extend a warm welcome to him and to wish him all the best in his new role, and record my gratitude to Professor Weeks for his vital work as interim head.
You may be aware that at its March meeting, and having satisfied itself that any effects on investment revenue would be marginal, Council agreed to divest from fossil fuel companies by 2021. This is part of our wide-ranging commitment to sustainability that is exemplified by our strategic commitment to phase out single use plastic, on which we now have an action plan. You can find out more about the steps we are taking over the next 12 months and how to help us become more sustainable here.
Finally I am pleased to report that refugees living in Wales will now have the chance to learn Welsh, thanks to an initiative devised by Cardiff University and funded by The National Centre for Learning Welsh. The lessons, which are organised in partnership with the Welsh Refugee Council, will be offered at various locations around the city, with the aim of introducing participants to Welsh language, culture and life. This is just one of many examples of the ways in which we fulfil our social obligations and put our civic mission into practice, something worth remembering in these troubled times.
With best wishes
Colin Riordan
Vice-Chancellor
Read about our strategic direction and focus on research and innovation, education, international and engagement.