Images of Research
3 January 2018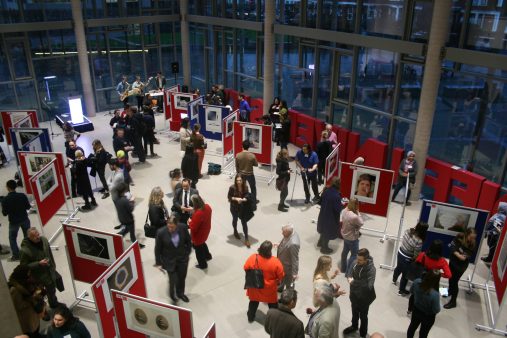 The annual Doctoral Academy event, Images of Research, delivered again a visually captivating and truly inspiring display of the breadth and exceptional quality of research being undertaken at our University. What I also witnessed were lively conversations between our early career researchers across the disciplines, academic staff and professional services.
The Doctoral Academy has a mission to promote Cardiff University as a leading postgraduate research institution and one of its very important tasks is to promote a sense of community for our doctoral students. The Images of Research competition is a prime example of how the Academy encourages and facilitates interactions between our researchers across the University.
Thank you to the College Deans of Postgraduate Research, Dr Emma Kidd, Professor Martin Kayman and Professor Walter Gear, for undertaking the very difficult task of judging this year's 45 high quality images. First place was awarded to Ewa Poniecka from the School of Earth and Ocean Sciences for her image 'Black Holes are Alive', which she took during her fieldtrip on the ice fields of Greenland.
Second place was given to Najia Zaidi from the School of Geography and Planning for her image 'Resilience of the Street Trader', encapsulating her research on the violence and territorial struggle between street traders in Pakistan.
People's Choice winner was Anya Barton from the School of Social Sciences for 'Sloths: Great at Interviews, Terrible at Transcription', depicting her cuddly 'research assistant'.
I was also very pleased to announce at Images of Research the newly appointed Director for the Doctoral Academy. Professor Anwen Williams from the School of Medicine has just taken up her role and I look forward to working with her. To add to the theme of new starts, the Doctoral Academy team have also just moved from their offices in the Hadyn Ellis building to a new city centre location in Friary House. The Doctoral Academy occupies the 5th floor of the building, with two seminar rooms and an IT suite for workshops and events. There will also be space for 40 postgraduate research students who require space to write up their doctoral theses.
Read about our strategic direction and focus on research and innovation, education, international and engagement.