UEB, 9 January 2017
9 January 2017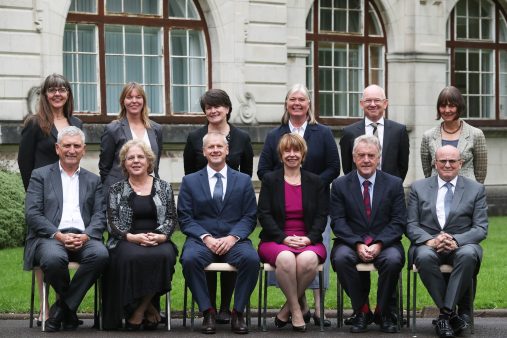 Professor Jones announced his intention to step down as PVC for the Biomedical and Life Science College at the end of the academic year; the Vice-Chancellor extended his thanks for Professor Jones' contributions to the College and the University together with the best wishes of UEB.
The congratulations of UEB were extended to Professor Thomas on his award of a CBE in the New Year Honours.
It was noted that the latest edition of Challenge Cardiff would be shortly released with a focus on University experts on Brexit.
It was noted that while University level Memorandum of Understandings (MoUs) were well documented, this did not seem to be the case for those below this level. It was agreed that the PVC for International and Europe would work with College PVCs to review the criteria and sign-offs for agreements with international universities/organisations, at the individual, School and College level, should be defined and a template and process should be clarified.
UEB received the draft teaching Excellence Framework narrative and were invited to provide feedback to the PVC for Student Experience and Academic Standards.
UEB received the draft paper from Strategic Planning on HEFCW grant 2016/17 in-year adjustments and supporting the strategic change fund. The final paper would be received by UEB in February before being submitted to HEFCW.
UEB received a paper on proposed changes to the new National Software Academy.
UEB received a paper updating on the joint working of the University with NHS organisations in Wales.
UEB received the University financial report up to November 2016 for information.
UEB received the draft submission to the House of Commons Exiting the EU Committee and agreed to approve its submission.
UEB received the following regular reports
Monthly Activity Report on Research and Innovation
Report on Engagement activities
Innovation System update
PVC Student Experience and Academic Standards monthly report
Director of Communications & Marketing Monthly Report and Forward Plan
PVC Arts, Humanities and Social Sciences monthly report
External Environment Update
Estates monthly report
Read about our strategic direction and focus on research and innovation, education, international and engagement.