Academia Europaea: the new Knowledge Hub takes shape at Cardiff
11 March 2016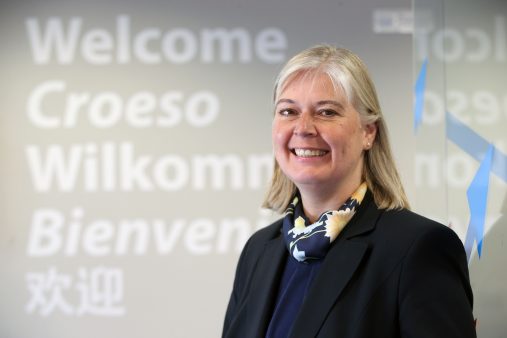 Academia Europaea is an international association of scientists and scholars from all disciplines, who are experts and leaders in their subject areas, as recognised by their peers. With hubs already operating in Barcelona, Wroclaw and Bergen, it was exciting news in 2015 that the Academia and Cardiff had formally agreed to set up a fourth hub, here at the University. The Cardiff Knowledge Hub will stimulate new links and networks across our region, including the Welsh universities, the Learned Society of Wales and the GW4 Universities of Bristol, Bath, Cardiff and Exeter.
I was very interested to meet Louise Edwards, who took up her post as the Hub Manager at the beginning of February, having worked in The Hague in the Netherlands for nine years. It was good to hear how we have already passed important milestones towards the formal launch of the Cardiff Knowledge Hub in June. The Hub has its own office in the Hadyn Ellis Building and Professor Ole Petersen, School of Biosciences, has taken up the post of Academic Director, supported by Executive Officer, Judith Lockett, and now also Louise.
Very importantly, Academia Europaea will be involved in European Union policy making at the highest level, through the Scientific Advice Mechanism (SAM), established last year to support the European Commission with quality, timely and independent scientific advice. The Commission has issued a funding call to the Academia and four other European networks to work together over the course of a four-year project to produce joint studies, publications, events and knowledge resources. Once approved, the project is expected to kick off later in the year, with the Cardiff Hub actively involved throughout.
The Steering Group for the Cardiff Hub includes the Vice-Chancellor, Professor Dianne Edwards FRS and myself from Cardiff, as well as members from the Universities of Munich, Swansea and Southampton, the Royal Society and the Learned Society of Wales. Our first meeting will be in June, to coincide with the Annual Conference of the Academia Europaea, hosted by Cardiff. The Annual Conference will attract members from all over Europe and its varied programme includes a debate on Scientific Advice Mechanisms, plus mini-symposia on topics such as the reproducibility of research, migration and identity. A highlight is the Erasmus Lecture, to be given by the Astronomer Royal, Lord Rees of Ludlow.
Registration is open to all staff at Cardiff and further details are available here (with an early registration fee available until Mid-April)
Read about our strategic direction and focus on research and innovation, education, international and engagement.