Times Awards High
22 June 2015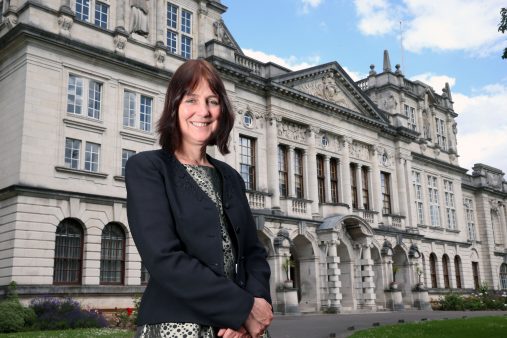 Cardiff University was well represented at the annual Times Higher Education Leadership and Management Awards last week. An extraordinary event, with hundreds packed into the basement of a London hotel and with Jack Whitehall as host, the evening posed some logistical challenges for the Cardiff team. Changing at the Reading service station on the way was my personal low point.
The high point was watching Janet Peters, Director of Cardiff University libraries, receive the Outstanding Library Team Award, on behalf of the Wales Higher Education Libraries Forum at the Times Higher Education Leadership and Management Awards 2015.
The University Executive Board was also delighted to be "highly commended" for its leadership and management. The category seeks to commend those universities able to demonstrate the greatest breadth and depth of leadership and management skills.
Also travelling to the event were colleagues from the College of Arts, Humanities and Social Sciences, shortlisted for the Outstanding Departmental Administration Team category.
A full house and an opportunity to show case to the rest of the HE sector the valuable work that goes on at Cardiff University and the seriousness with which it takes leadership and management and professional services.
Read about our strategic direction and focus on research and innovation, education, international and engagement.