Libraries: yesterday, today and tomorrow
31 March 2015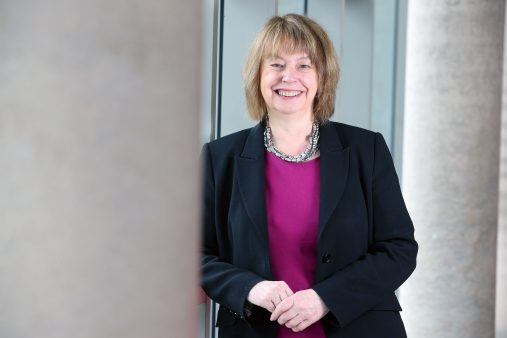 As a Cardiff alumna, I was delighted to attend the celebration to mark the refurbishment of the ground floor of the Arts and Social Sciences Library ASSL on Tuesday evening. New self-service facilities for issuing and returning books, an automatic book sorter, bright new informal seating areas, a larger short loan area enclosed by glass and movable shelves for periodicals all contribute to a better experience for students and academics. Janet Peters and her team have done a brilliant job and it is well worth a visit.
The event was attended by a number of alumni. Joanne Meek, a very recent graduate with an MA in Creative Writing from 2014 read her atmospheric work "Jellyfish", shortlisted for the Costa Short Story award which you can download here, and shared her appreciation for this library as a portal to the world of knowledge.
I was pleased to share my experiences of the library rather longer ago as an undergraduate when it opened in 1975 and then as a postgraduate. As a Classicist, I know study is only possible because of the value placed from ancient times on the written word. Scrolls, kodices, handwritten and then printed books have been preserved and made accessible through libraries from ancient times until today.
Yesterday's ASSL library, albeit a very different, "low tech" library in 1975, opened my world. I too saw it as a portal to the riches of knowledge of society and of the ancient world. But one which also understood differing study needs even then – the basement coffee bar was my favourite study space.
The increasing digitisation of materials opens the world still further and more quickly. The mix of quiet and relaxed study spaces accessible for even longer –opening times reflects the changing needs of today's students.
The library today has evolved and the improvements on the ground floor demonstrates clearly that the ongoing care and transformation of the library is in safe hands with Janet Peters and her team.
Libraries continue to evolve and develop, the ASSL included. The library tomorrow will change and grow. In Phase 1 of the University's estates masterplan there are major and exciting plans for extension and improvement of the ASSL at the heart of the Cathays campus. Future generations of students will have the opportunity to experience the library as their particular portal, as Joanne and I did in our respective eras.
Read about our strategic direction and focus on research and innovation, education, international and engagement.