Growing the Welsh language journalists of the future
11 March 2015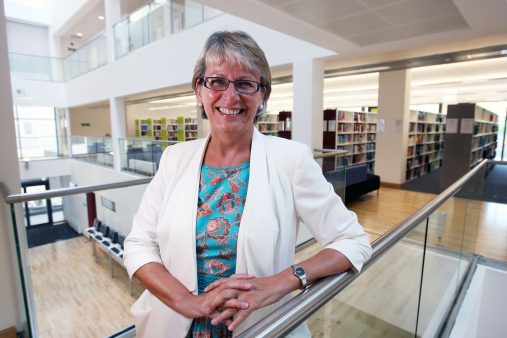 I was delighted to deliver the welcome address at the launch of the new BA in Welsh and Journalism this evening. A host of familiar figures from the Welsh media were present including Betsan Powys of Radio Cymru, BBC's Welsh Affairs Editor Vaughan Roderick, Siân Morgan of Y Byd ar Bedwar, and Golwg Editorial Director Dylan Iorwerth, as well as Menna Richards, former Head of BBC Wales and a past Vice-President of Cardiff University. Together they provided one of the highlights of the evening: a panel discussion about their experiences as Welsh language broadcasters and journalists. Fascinating stuff!
It was wonderful, too, to meet pupils from several local Welsh-medium secondary schools and to be able to point them towards a growing portfolio of Welsh-medium academic provision here at Cardiff University. Tonight's event was a recognition of the importance of the Welsh language to the future of the institution and also of the key role that the Coleg Cymraeg Cenedlaethol is playing in developing capacity for Welsh medium teaching and research across Wales. There are now two Coleg-funded posts in the School of Journalism and Cultural Studies, with twelve such posts in total across the University and a further five currently being recruited.
Demand for graduates with the ability to communicate through the medium of Welsh is increasing. As Wales' leading University, we have an important role to play in meeting that need. There are already over 3,000 Welsh-speaking students here at Cardiff: through offering programmes like the BA in Welsh and Journalism, we hope to see that number grow further. Many congratulations to Sara Moseley and the team for organising such an inspiring launch event.
Read about our strategic direction and focus on research and innovation, education, international and engagement.