UEB 1 December 2014
1 December 2014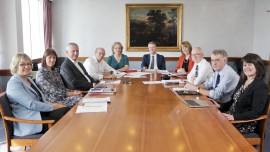 UEB received an updated business case for the Information Security Framework (ISF).  UEB agreed to fund the additional capital funding request and that the business as usual revenue funds would need to be actioned through the next planning, performance and budgeting round.
 The University's Strategic Planning Engagement return to HEFCW was agreed.  It was noted that the text was taken from The Way Forward documentation and provided HEFCW with information on our progress towards our KPIs.
UEB received and agreed the Annual Safety, Health and Environment report.  The report will be recommended to Council later in December.
UEB noted a paper which provided a summary of current and planned arrangements for joint working between Cardiff University and Cardiff and Vale University Health Board. It was agreed that wider clinical innovation and research agendas needed to be included.
UEB received the following regular reports
College of Arts, Humanities & Social Sciences November Report
Chief Operating Officer's November Report
Forward Planning Document December 2014 – January 2015
Read about our strategic direction and focus on research and innovation, education, international and engagement.