Stonewall Cymru Workplace Conference
24 October 2014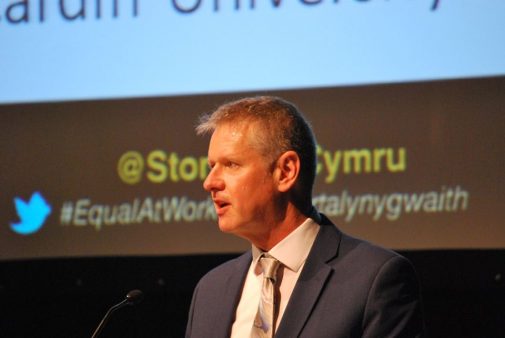 This morning I spoke at the Stonewall Cymru Workplace Conference as part of the opening plenary panel alongside Ruth Hunt, Chief Executive of Stonewall, Dame Rosemary Butler AM, Presiding Officer, National Assembly for Wales and Amy Stanning, who works for Barclays as Service Director, Home Solutions.
Ruth gave a brilliant speech (I hear a lot of them and don't say that lightly) so it was hard to follow on from her, but I was genuinely delighted to be invited to speak myself because it seems to me that universities need to give a lead on inclusivity, diversity and equality. I've been a board member of the Equality Challenge Unit since 2008 so I know that we can't be complacent, but if universities cannot be a powerful force for change in society, who can?
I made the point that while it makes good business sense to ensure that everybody in the organisation feels welcome, comfortable and valued in the workplace, we also have a fundamental (and indeed legal) obligation to create an inclusive and safe environment on campus. That's just a basic part of the way society should work. In her witty and supportive speech, Rosenary Butler made a similar point on behalf of the Welsh government. I talked about my pride in being the first Friend of Enfys and said how important leadership is in ensuring that LGBT+ members of staff and students feel supported and that their voices are heard. I ended by quoting one of our members of staff who said 'the work the LGBT+ network does is amongst the best of the reasons for why I'm proud to work at Cardiff University'.
Amy Tanning spoke after me and was absolutely inspirational. She really brought home the importance of role models in getting organisational change, and I think that many of us were pleasantly surprised to hear how progressive Barclays is in supporting inclusivity, diversity and equality. We're doing well – 10/10 from Stonewall's 'Gay by Degrees' assessment for the second year running – but we can always learn more from what others are doing.
Read about our strategic direction and focus on research and innovation, education, international and engagement.