Working together for Co-operative and Just Food Systems
10 February 2020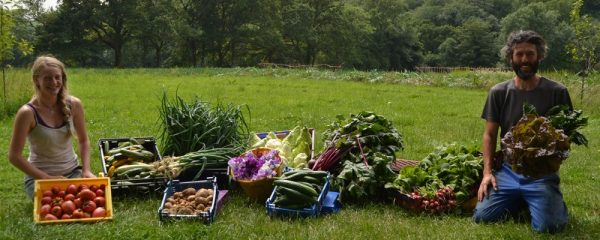 Poppy Nicol and Alice Taherzadeh
A roundtable event at the Senedd on 14 January 2020 saw 30 stakeholders come together to discuss the question of how to achieve sustainable and just food systems in Wales.
During a morning of discussion, AMs, and stakeholders considered the barriers to scaling-out sustainable and just food systems in Wales and the policy changes needed.
Stakeholders included representatives from organisations working in the food sector including the CSA Wales Network, Food Manifesto Wales, Food Sense Wales, Land Workers Alliance Cymru, Open Food Network, RSPB Cymru, Social Farms and Gardens Wales, Sustain, Trussell Trust, WWF Cymru as well as a number of growers and researchers.
The event began with a presentation on the report 'Working Co-operatively for Sustainable and Just Food Systems in Wales[i]' written by Sustainable Place Research Institute researchers Dr. Poppy Nicol and Alice Taherzadeh, commissioned by the Wales Co-operative Party.

---
Sustainable and Just Food Systems: challenges
Drawing upon findings from the report, Poppy and Alice outlined a number of key challenges to scaling-out sustainable and just food systems within Wales.
First, the urgent need for change. Globally, agriculture is the largest consumer of global freshwater resources and major contributor of greenhouse gas emissions, whilst food systems account for one quarter of global energy use[i]. Meanwhile, those who are most vulnerable are most likely to be affected by climate change and malnutrition.
Second, the scale of the changes required. The amount of fruits and vegetables produced in Wales meets an estimated 5% of the 5-a-day requirement for the population of Wales[ii]. Meanwhile, sustainable agriculture is currently marginal, accounting for around 5% of agricultural land coverage[iii]. Currently, the agricultural industry in Wales is dominated by livestock and livestock products – accounting for more than four-fifths of agricultural output. Crops, including cereals, potatoes, fruits and vegetables account for 6.3% of agricultural sector outputs[iv].
Third, the current gap in skills required for the scaling-out of sustainable and just food systems in Wales. Wales has an ageing population, whilst new entrant sustainable farmers face a number of barriers including access to land, training, infrastructure and markets[v][vi].
Drawing upon the EAT Lancet 'planetary health plate'[vii] – which consists largely of vegetables, fruits, whole-grains, legumes, nuts and unsaturated oils, low to moderate amounts of seafood and poultry and no to low quantities of red meat, processed meat, added sugar, refined grains, and starchy vegetables derived from sustainable production, the report notes the gap between aspiration and reality of sustainable food systems in Wales. It further highlights the need to attend to food justice – whereby healthy food is understood not only as fresh and nutritious but also affordable, culturally-appropriate and grown with care for the well-being of the land, workers and animals.

---
Co-operative ways of working: people-centred approaches
Co-operative ways of working are identified as people-centred approaches that prioritise the working and living conditions of people and the communities within which they live[i]. However, there are currently limited identified opportunities for working co-operatively within the food sector in Wales.
Community supported agriculture (CSA), producer co-operatives, platform co-operatives and food hubs are identified as mechanisms that could support the scaling-out of sustainable and just food systems in Wales.

---
Roundtable discussion
Attendees challenged the ambition of the report and called for more work on developing clearer pathways and action to achieving sustainable and just food systems. Many highlighted the role of legislation and the need for more integrated policy-making that identifies the connections between public health, agriculture and economy.
The need for supportive infrastructure for sustainable producers was highlighted – including distributing and processing hubs, equipment and training provision. Public procurement was also identified as a key tool that had the potential to lever significant transformation in scaling-out sustainable food production.
Case studies and projects such as CSAs and food hubs presented during the roundtable highlighted the fact that there are existing co-operative solutions which are already bringing about a more sustainable and just food system.
Tom O'Kane, grower at Cae Tan[i], one of the largest CSAs in Wales outlined the opportunities and challenges CSAs face – including training opportunities, planning constraints and access to land.
Nick Weir, Open Food Network also explained the potential for community food distribution online via platform co-operatives, collectively owned digital platforms designed to provide a service or sell a product governed by the people who use it[ii].
Several attendees argued passionately for the importance of wildlife-friendly, regenerative and ecological farming and local food economies in realising more sustainable and just food futures and recognised the need to scale out (increasing in number as distributed networks) rather than scale up (increase in size).
Many stakeholders attending highlighted the multiple barriers they face as marginal actors competing within the dominant food regime where the 'real' costs of food are not reflected. They called for more ambitious and transformative change from government policy to challenge this.
This opportunity for a range of stakeholders from across the food system to come together was seen as a much needed first step to create wider cooperation on the issue. However, there was also a strong sense that this must result in concrete action rather than merely continued conversations.
The roundtable presents the potential to launch a sustainable and just food network to continue this collaboration and this requires support from a broader section of the government as well as the inclusion of key organisations such as farming unions. The Sustainable Places Research Institute are now discussing the next steps to open up this discussion further and collaborate to work towards meaningful outcomes based on the report findings.

---
References
[i] Cae Tan: About. Available online: http://www.caetancsa.org/en/
[ii] Open Food Network: About. Available online: https://about.openfoodnetwork.org.uk/
[i] ICA. Guidance Notes to the Co-Operative Principles; ICA: Brussels, Belgium, 2015.
[i] FAO. The State of the World's Land and Water Resources for Food and Agriculture: Managing Systems at Risk; Earthscan: Abingdon, UK, 2011.
[ii] Wheeler, A. Beyond 5 a Day; University of South Wales: Pontypridd, UK, 2016.
[iii] DEFRA. Organic Farming Statistics 2018; DEFRA: London, UK, 2019.
[iv] Welsh Government. Farming Facts and Figures, Wales 2019; Statistics for Wales, Welsh Government.: Cardiff, UK, 2019.
[v] Taherzadeh, A. Learning Pathways into Sustainable Agriculture: The Motivations and Approaches of Young Entrant Farmers; Working Paper; Sustainable Places Research Institute, Cardiff University: Cardiff, UK, 2019.
[vi]Zondag, M.-J.; Koppert, S.; de Lauwere, C.; Sloot, P.; Pauer, A. Needs of Young Farmers. Report I of the Pilot Project: Exchange Programmes for Young Farmers; European Commission: Brussels, Belgium, 2015.
[vii] Willett, W.; Rockström, J.; Loken, B.; Springmann, M.; Lang, T.; Vermeulen, S.; Garnett, T.; Tilman, D.; DeClerck, F.; Wood, A.; et al. Food in the Anthropocene: The EAT–Lancet Commission on Healthy Diets from Sustainable Food Systems. The Lancet 2019, 393 (10170), 447–492. https://doi.org/10.1016/S0140-6736(18)31788-4.
[i] Nicol, P., & Taherzadeh, A. (2019). Working co-cooperatively for sustainable and just food systems in Wales. http://orca.cf.ac.uk/126880/1/Sustainable-and-Just-Food-System.pdf
---
Comments