Understanding the role of plants for societal health and well-being in the past, present and future
1 October 2019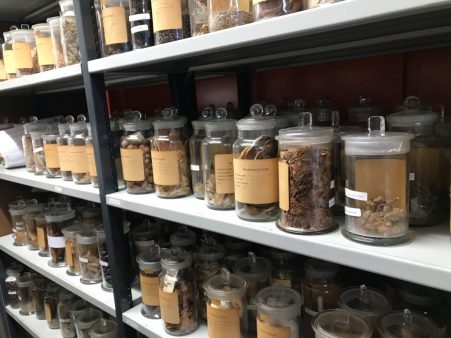 Dr Poppy Nicol
On Friday 20th September a SPARKing Impact workshop was held at the Amgueddfa Cymru-National Museum Wales National Museum Cardiff.
Drawing upon collaboration between Amgueddfa Cymru-National Museum Wales and the Sustainable Places Research Institute, the SPARK workshop brought together a range of curators, researchers, practitioners and industry representatives working around the topic of plants, health and well-being.
The workshop, entitled 'Understanding the role of plants for societal health and well-being in the past, present and future' had three key aims. First, to share insights into the critical role of plants for health and well-being. Second, to explore how bio-cultural collections can build understanding of the role of plants in health and well-being in the past. Third, to distil some of the key burning issues and questions facing medicinal plant collections and bio-cultural collections more widely.
Inter-disciplinary collaboration
To kick off the day, Dr Chris Cleal (Head of Botany, Amgueddfa Cymru-National Museum Wales) and Dr Heather Pardoe (Principal Curator: Botany, Amgueddfa Cymru-National Museum Wales) introduced Amgueddfa Cymru's plant collections – including the herbarium and economic botany collection. Some of the workshop participants had attended a pre-workshop 'behind-the-scenes' tour of the Amgueddfa Cymru-National Museum Wales plant collections including the herbarium, botanical illustrations, botanical models and economic botany. Professor Bella Dicks (Professor in Sociology, School of Social Sciences, Cardiff University) then set the scene for the potential for inter-disciplinary collaboration within and between museums, universities and civic society.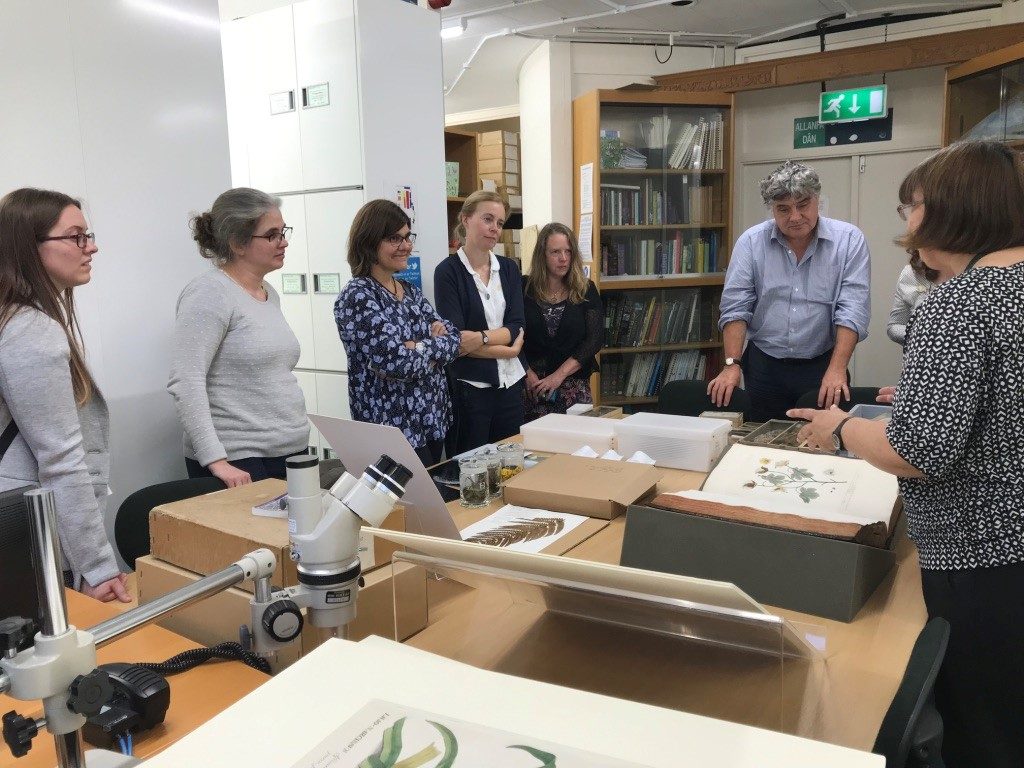 Medicinal plant research and traditional knowledge
Keynote speaker Professor Monique Simmonds (Deputy Director of Science, Royal Botanic Gardens, Kew) presented on the role of traditional knowledge in medicinal plant research and current challenges and opportunities facing the development of new plant-derived medicines. She highlighted the need for social science to complement and enhance scientific work on medicinal plants.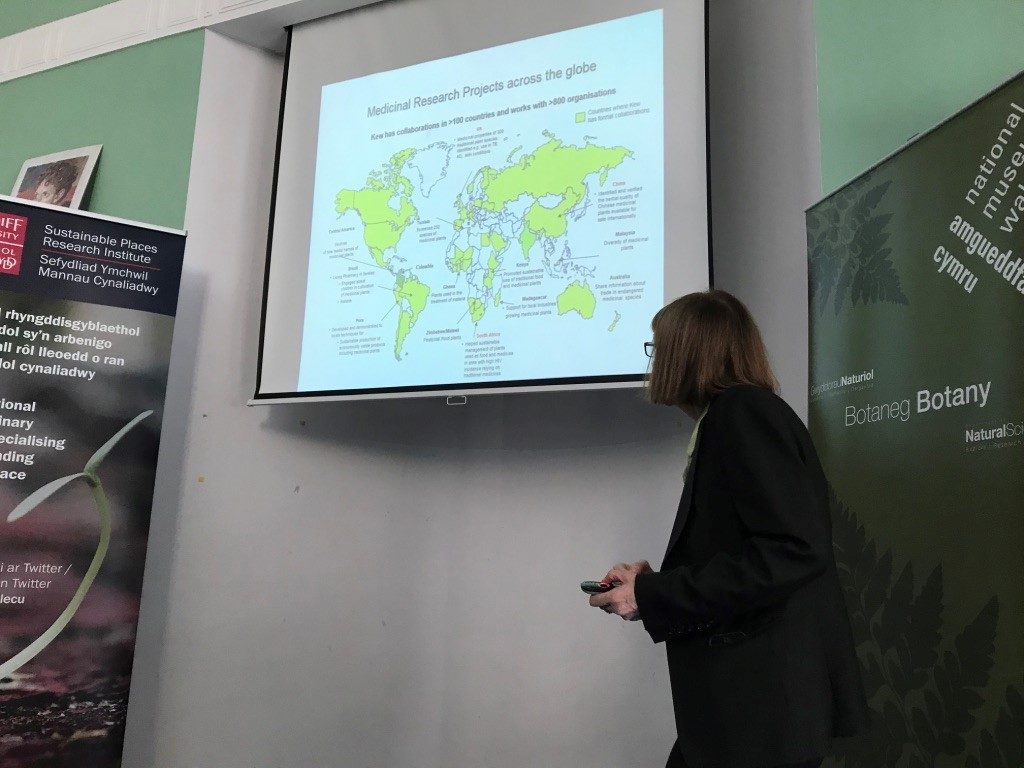 Currently, of the 28,000 plants currently recorded as being of medicinal use, only 16% are catalogued in medicinal publication. The Medicinal Plant Names Services[i] (MPNS) and Ethnomedica were identified as two vital digital resources for medicinal plant research. Whilst the MPNS acts as a global nomenclatural indexing and reference service for medicinal plants, the Ethnomedica database aims to collect, archive and disseminate oral history data about traditional medicinal plant uses within the British Isles. In tandem, these databases have the potential to link scientific nomenclature with traditional knowledge and offer insight for cutting-edge medicinal plant research.
At Royal Botanic Gardens, Kew new therapeutic agents are being discovered, drawing upon traditional knowledge of medicinal plants. A case of current research[ii][iii] on Alzheimer's disease highlighted the potential for bringing together ethnobotany and clinical trials. Agitation for people with dementia was found to be alleviated by some plant species including lemon balm. This research draws upon European herbal medicine where Lemon balm is reputed to enhance memory and to possess calming and antidepressant properties.
Monique also spoke about the importance of attending to wider ecological communities and local knowledge systems within medicinal plant research.
Natural Science Collections: resources for the future?
A range of curators working in museums and botanic gardens around the UK presented on their medicinal plant collections including Manchester Museum, World Museum, Liverpool, the Natural History Museum and Edinburgh Royal Botanic Gardens.
Dr Rachel Webster (Curator of Botany, Manchester Museum) discussed how creative writing projects are ways of engaging older generations with the herbarium and material medica collections whilst PhD student Jemma Houghton (Manchester University/Manchester Museum) presented on her work with community curators and the materia medica at Manchester Museum.
Donna Young (Curator of Herbarium, Liverpool World Museum) suggested bio-cultural collections can be used as stimulation for conversations around plants, health and well-being. She highlighted the Encountering the Unexpected project[iv][v] that engages older people using natural heritage collections.
"Engaging people in nature is not only critical to developing or strengthening pro-environmental attitudes and associated behaviours, there is growing evidence of the benefits of contact with nature for people health and wellbeing."

Donna Young
Robyn Drinkwater (Digitisation Officer and Technical Developer, Royal Botanic Garden Edinburgh) presented on the digitisation work underway at Royal Botanic Garden Edinburgh (RBGE) Volunteering and citizen science are fostering connections with bio-cultural collections and natural heritage.
Of the three million herbarium specimens held at RBGE, one million are currently databased and half a million imaged. Through a DataBlitz initiative, volunteers are helping with input of basic data of herbarium sheets. This information speeds up the process of barcoding specimens so that they can be imaged and made available through the catalogue. To date, the DataBlitz at Edinburgh has involved 21 volunteers over 4 years and has resulted in inputting basic data (such as barcode, filing name and filing region) to the catalogue on over 42,000 specimens.
Robyn highlighted the need to enhance information connected to specimens. Through the citizen science initiative DigiVol, over 165 volunteers have transcribed over 41,000 specimens, supporting further information to accompany specimen basic data.
These processes of digitisation can support connections across collections. The 'Hidden Stories' project is connecting the collections of the RBGE Herbarium, library and archive and beyond to produce contemporary online material that illuminates and enhances the collections of the RBGE[i].

"Having collections digitised allows for stories of collectors to be built up."

Robyn Drinkwater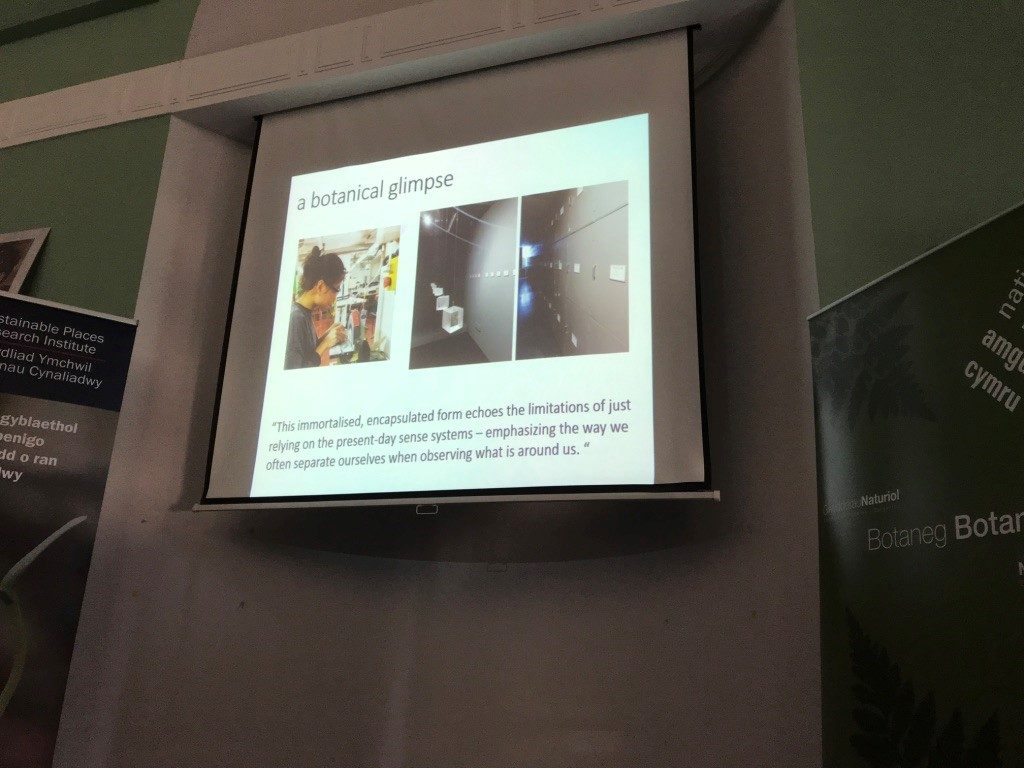 Dr Fred Rumsey (Senior Curator in Charge, Historical Collections, Life Sciences, Natural History Museum) presented on increasing the usage of herbaria. He suggested four key things increase herbaria usage. First, enhancing accessibility – both digitally and physically; second, raising public awareness of the collections; third, increasing public involvement, and; fourth, embracing diversity.
Digitisation is recognised as an important tool for increasing engagement and usage of bio-cultural collections. Fred highlighted advantages of digitisation of collections including: increased usage; remote access; searchability; damage prevention; cost reduction; and less environmental impact. But he also highlighted some of the potential disadvantages of digitisation including: reduced physical visitation; feedback issues (for example, around acknowledgements for data); and potential limitations of study depending upon details of the archive.
In conclusion, Fred suggested "we still need new collections, expertly determined, skilfully curated and preserved to provide the materials which others derive the added value from." Collecting and collections remain vital. But they need to adapt – and storage needs long-term commitment.
History of Plant Medicine at Cardiff University
Briony Hudson and Sarah Daly (Freelance Curators) presented on The Turner Collection parts of which are held at the School of Pharmacy and Pharmaceutical Sciences, Cardiff University and Amgueddfa Cymru National Museum Cardiff.
Professor Terence Turner was a pharmacist based at Cardiff University School of Pharmacy and Pharmaceutical Sciences from 1957 until this year. During his professional career, he built up a collection of items relating to pharmacy history and he personally collected a wide range of plants with medicinal properties. In 2007, Amgueddfa Cymru were gifted a collection of 469 materia medica – which includes material of plant origin including bark, roots, seeds, leaves and resins. The collection was developed to support students who needed to learn to identify and use plants and is now a useful resource for current plant-based medicines.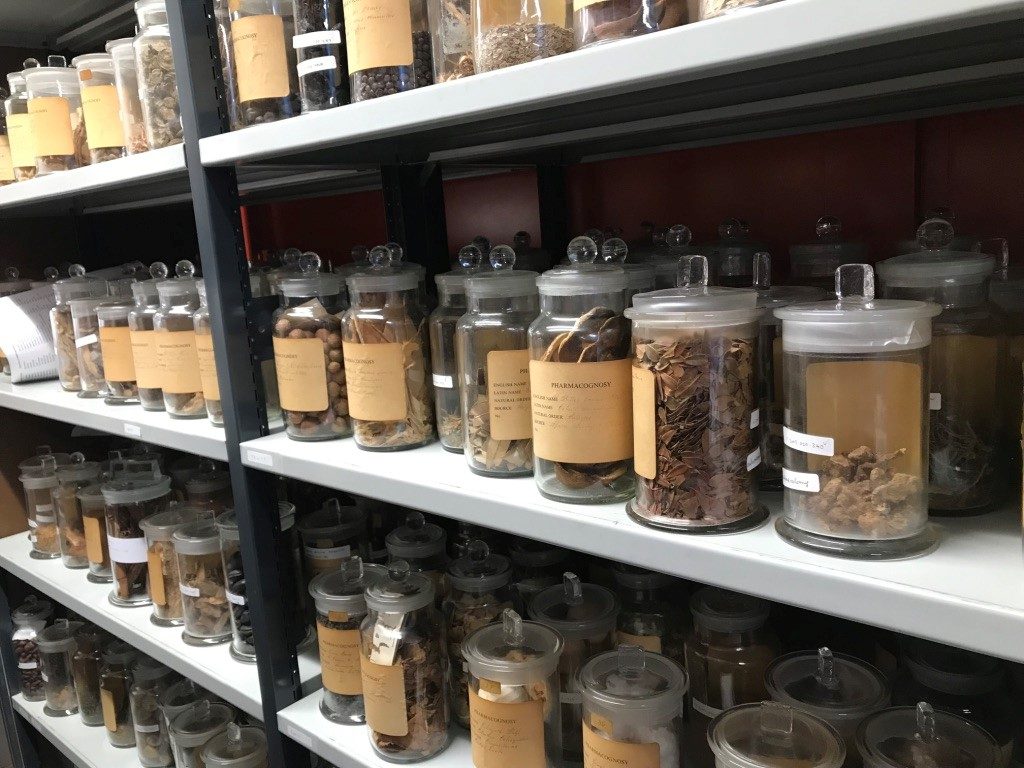 When the Cardiff School of Pharmacy was founded in 1919, materia medica and botany was a requirement of the curriculum. Briony explained how the first British school of pharmacy started the teaching day with outdoor botany lectures based in a park, and a similar scheme was attempted by local pharmacist Robert Drane in Cardiff. From the 1930s onwards plant-based teaching was questioned within the pharmaceutical sciences. As current research at Cardiff University School of Pharmacy and Pharmaceutical Sciences suggests, there is renewed interest in the potential potency of plants for medicine.
Briony and Sarah expressed an interest in digitising the Turner Collection in order to share information more broadly and integrate with other collections. They also suggested potential for future research connecting with the collection.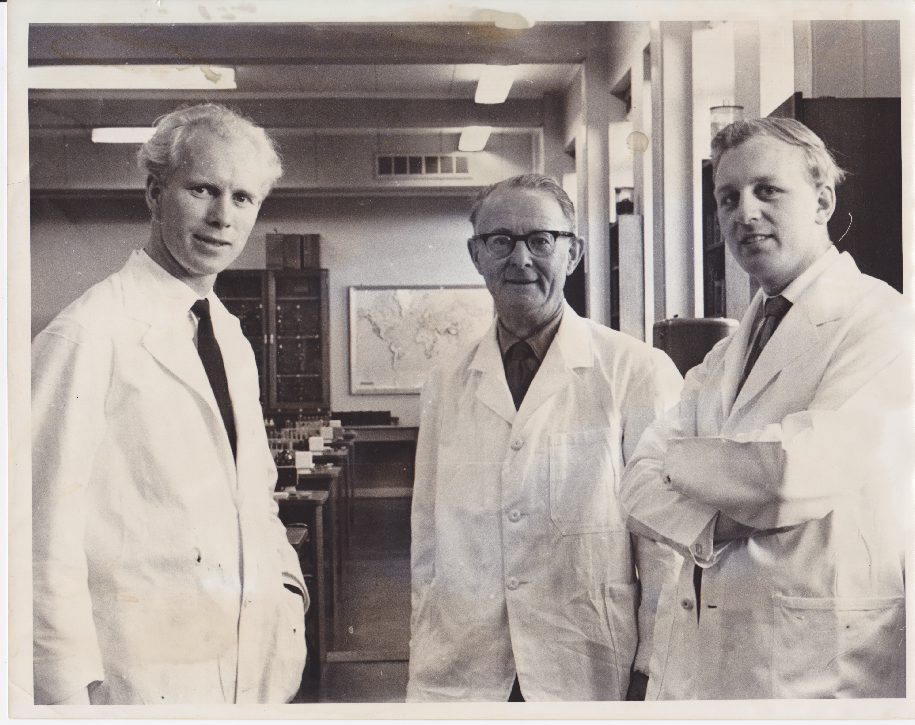 Bio-cultural Collections Research: bringing historical archives alive
As well as curators, a number of researchers working on bio-cultural collections attended the workshop. Professor Luciana Martins (Professor of Latin American Visual Cultures, School of Arts, Birkbeck, University of London) presented on digital repatriation of biocultural collections. She focussed on her work connecting scientific and indigenous communities in Latin America with bio-cultural collections, particularly those of Richard Spruce.
A short film presented innovative ways of connecting indigenous communities with bio-cultural collections the subsequent new insights that can arise as a result of traditional and local ecological. Luciana emphasised the importance of acknowledging that artefacts are part of a wider cultural economy complex and the importance of reconnecting with the making of things.
A short film presented innovative ways of connecting indigenous communities with bio-cultural collections and the subsequent new insights that can arise as a result of traditional and local ecological knowledge. Luciana emphasised the importance of acknowledging that artefacts are part of a wider cultural economy complex and the importance of reconnecting with the making of things.
Contemporary Pharmaceutical Research and Agri-business
In the afternoon, we heard from scientists, artists and industrial representatives working within the field of plants, health and well-being in the present day.
Professor Les Baillie (Professor of Microbiology, School of Pharmacy and Pharmaceutical Sciences, Cardiff University) spoke about the Pharmabees Project at Cardiff University where they are working with honey and honey bees to discover new pharmaceuticals. This research includes investigation into which Welsh plants are associated with honey with rich antibacterial properties in Wales.
Kevin Stephens (Managing Director, Agroceutical Products) presented on daffodils, dementia and the 'Black mountain effect'. Galanthamine is an alkaloid contained in certain varieties of daffodils. When isolated, it has been found to effectively treat vascular dementia and Alzheimer's. Daffodils grown in the Black Mountains contain significantly high levels of Galanthamine. This theme links back to Monique's earlier emphasis on the importance of soil and ecosystems on medicinal properties.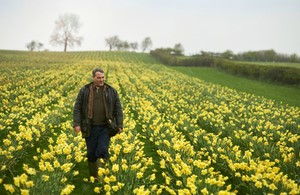 The work of Pharmabees and Agroceuticals exemplify the opportunities for collaboration between science and industry around plants, health and well-being.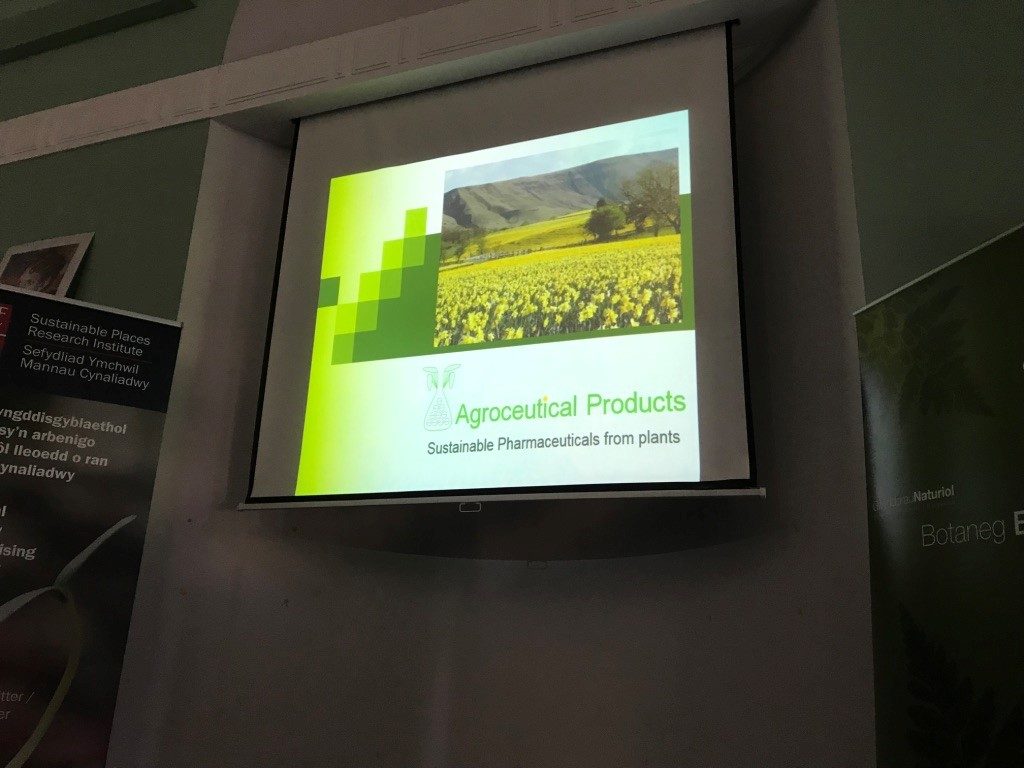 Arts, Plants and Medicines
Throughout the day, there was much discussion of the powerful role of the arts in stimulating and inspiring connection with plants. Artist Cat Lewis (Colourfield) presented on the interesting intersections between plants as medicines and as dyes. Many plants used for medicinal benefit also have colouration effects and many plant pigments have been scientifically validated as having anti-oxidative and anti-inflammatory benefits (such as anthocyanin and carotenoids).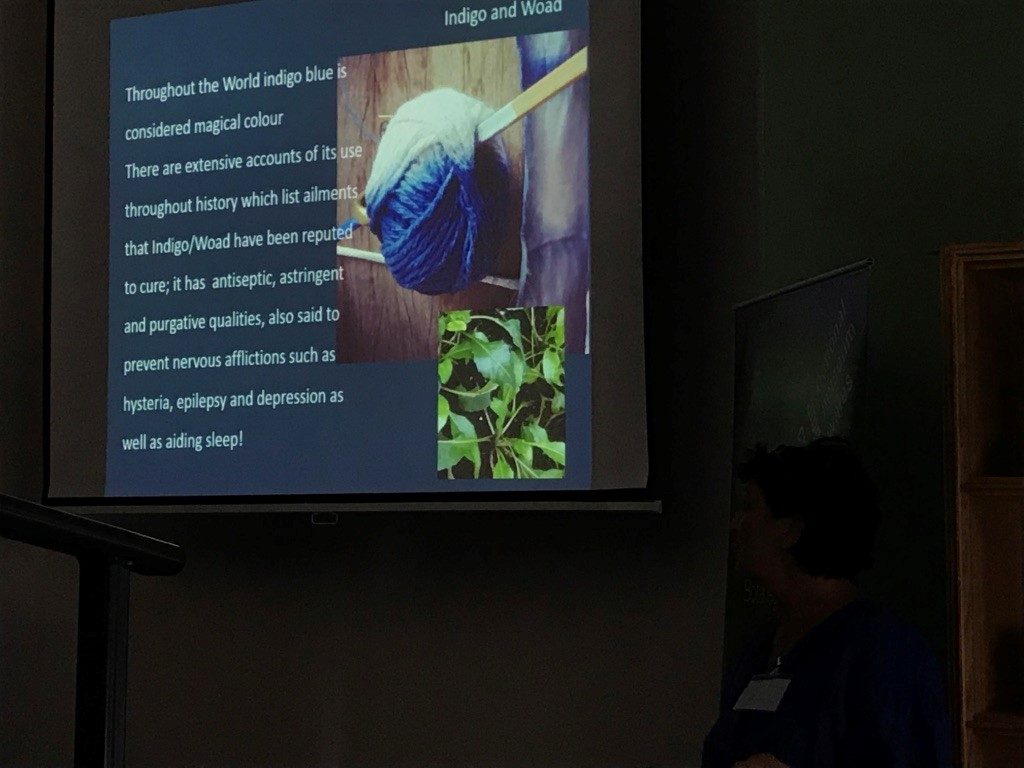 Cat spoke about ayurvastra, a branch of an ancient form of medicine practiced in India that involves dyeing textiles using medicinal herbs. Clothing, bedding and mats were seen as carriers for plant medicine and skin receives the medicinal benefits of herbs through contact. Cat suggested there is much to learn from this practice in the context of ecological degradation and the need for more holistic approaches to the fashion and textile industry.
During the day, it was also interesting to learn more of the Welsh herbal archives held at St. Fagans National Museum. Lowri Jenkins (Senior Curator Cultural Life: St Fagans National Museum of History, Amgueddfa Cymru-National Museum Wales) presented on the work of St.Fagan's archivist Anne Elizabeth Williams. Anne collected hundreds of interviews with people across Wales. The interviews focussed on folk remedies and medicines for humans and animals. The archives demonstrate significant regional diversity of remedies – and versatile use of plants. Some less appealing remedies included using the slime from a snail to cure an eye infection.
On the 2nd November, as part of the ESRC Festival of Social Sciences, a 'Plants, health and well-being through the ages' event will be held, which will include a behind the scenes tour of the Anne Elizabeth Williams archives and herbal walk at St. Fagans. Find out more here.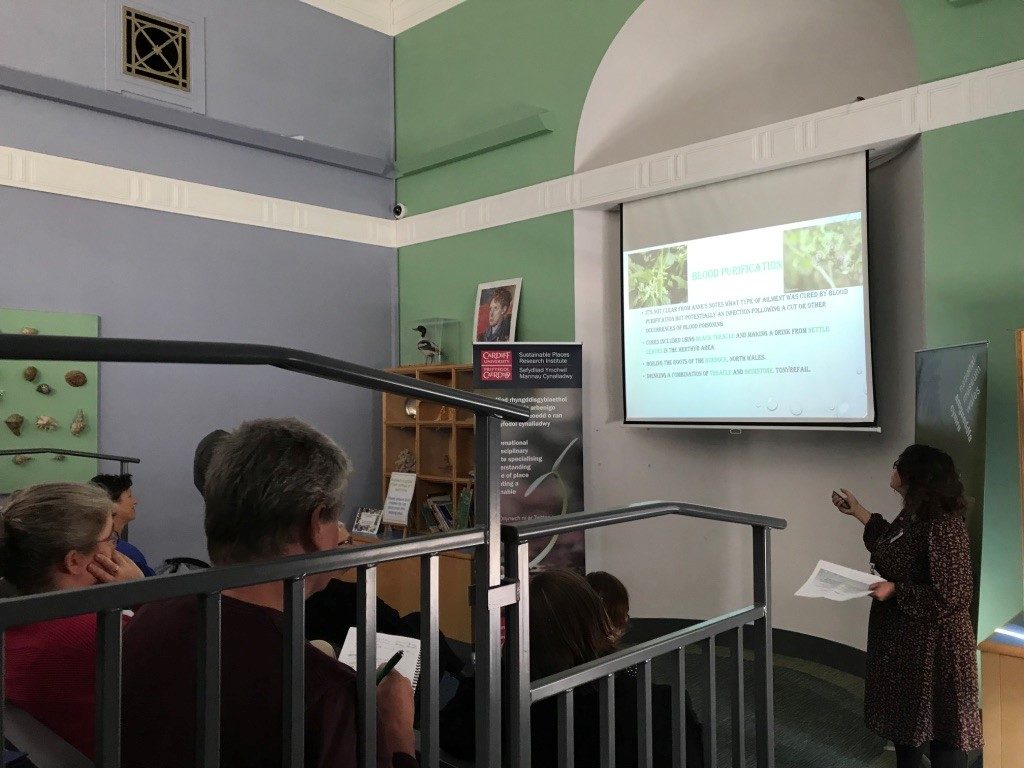 Climate Emergency: Endangered Species
This workshop coincided with the Climate Action strikes and as the day unfolded, the urgency of this work felt very pertinent.
In the context of changing climate and uncertain climate futures, there is urgent need to protect endangered species including plants. As Monique Simmonds outlined, of the 28,000 plants currently recorded as being of medicinal use, only 16% are catalogued in medicinal publication. This workshop highlights the critical role for interdisciplinary research and the social sciences in forging connections between cutting-edge pharmaceutical research and traditional knowledge in order to enhance valuing and understanding of the potential role of plants for health and well-being in the future.
---
[i] https://stories.rbge.org.uk/archives/26253
[i] https://www.kew.org/science/our-science/science-services/medicinal-plant-names-services
[ii] Perry, Elaine, and Melanie‐Jayne R. Howes. "Medicinal plants and dementia therapy: herbal hopes for brain aging?." CNS neuroscience & therapeutics 17, no. 6 (2011): 683-698.
[iii] Howes, Melanie-Jayne R., and Elaine Perry. "The role of phytochemicals in the treatment and prevention of dementia." Drugs & aging 28, no. 6 (2011): 439-468.
[iv] https://unexpectedencounters.le.ac.uk/
[v] Funded by the Museum Association's Esmée Fairbairn Collections Fun, it is a partnership between the Research Centre for Museums and Galleries, University of Leicester, the North West Natural History Museums Partnership, and other strategic partners including The Eden Project, Age UK and Equal Arts.
---