Should we act on climate change? perspectives from global south
26 January 2021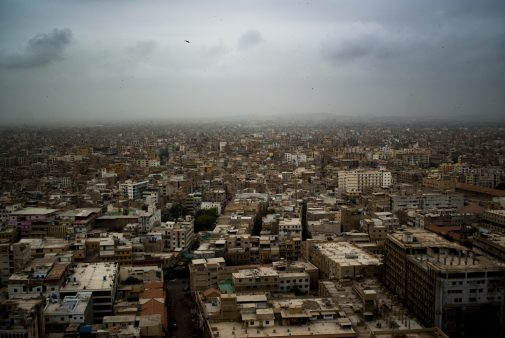 Dr Abid Mehmood, Senior Research Fellow, Sustainable Places Research Institute
Dr Saeeduddin Ahmed, Assistant Professor, NED University of Engineering and Technology
The global spread of COVID-19 in 2020 has put many societal challenges on the backburner. Climate emergency is one of those issues. Despite the lockdowns, factory closures and reduced flights the world has continued to experience the impacts of the changing climate. Any gains made in reducing carbon emissions and restoring ecosystems in 2020-21 might be lost once travel restrictions are eased and people start getting back to pre-pandemic lifestyles. Cities remain at the forefront of unsustainable lifestyles. This year the UNEP is launching the Decade of Ecosystem Restoration giving us 10 years to restore our planet. Cities remain a key part of this agenda. Arguably, urban areas occupy less than 1% of the Earth's land surface but house more than half of its population.
To discuss the question as to whether urban planners, developers and policymakers should focus on the climate emergency, a webinar was held with eminent experts from Karachi. Karachi is the largest city of Pakistan, and with a population over 20 million is one of the fastest growing cities of the world. Pakistan itself is the 5th most vulnerable country to climate change. Recent years have witnessed spells of flooding, heatwaves, air quality depletion, waste accumulation, soil erosion, and water contamination due to unsustainable urban policies and development practices. Karachi has particularly experienced a general decline in the quality of life especially in terms of social inclusion, economic opportunities and disaster management. With its coastline along the Arabian Sea, the city is also vulnerable to sea-level rise whilst at the same time is a major contributor to the marine pollution that is damaging the marine life including mangrove forests and other flora and fauna.
Key stakeholders were invited from academia, research and civil society to join the discussion, while members of public including a sizeable number of university students also attended the webinar. The panelists included Prof Noman Ahmed, Dean, Faculty of Architecture and Management Sciences at NED University; Prof Nausheen Anwer, Director Karachi Urban Labs at IBA; Afia Salam, environmental activist; Mansoor Raza, urban planner; and Farhan Anwar, Shehri-CBE.
The panel discussed at length the role of academia, civil society, the public bodies and decision makers in the background of climate challenges for cities. A number of key points and cross cutting themes, explained below, came forth out of the discussion.
In many developing countries, awareness and regulations exist on climate action. There are also collaborations with international organisations to achieve SDG and climate goals. However, the focus largely remains on disaster response and recovery efforts rather than addressing the causes of climate change, taking preventive and adaptive measures through structural and design solutions, and mitigating the climate impact by reducing carbon emissions, improving air quality and adopting sustainable lifestyles.

Development needs and related projects should emerge out of a planning process rather than the 'development by projects' approach. Urban and regional planning regulations are often bypassed in the development decisions that mainly end up in gentrification. Projects without due planning process can lead to adverse environmental impacts and untenable urban infrastructure.

Collaboration between civil society and public bodies are essential for effective climate action. However, there is a general feeling in civil society that it is difficult to deal with the state institutions on aspects related to climate change and sustainability. On the other hand, policy makers are reluctant of taking civil society onboard to avoid deliberations and delays.

Academia plays an important role in building an evidence base by actively engaging with both civil society and public bodies. However, for academia to produce quality evidence, support is needed to fund and sustain research in the long term. Local institutions such as Karachi Urban Lab and NED University have tackled this issue through international networking and cross-disciplinary collaborations.

The role of institutional development and capacity building is important in scaling up the otherwise scattered successful efforts of academia and civil society; to institutionalize the successes and implement the learning in a variety of contexts.
To sum up, collaborations, both inter-sectoral and interdisciplinary, are the way forward for effective climate action. State institutions have a critical role to play in this respect by following confidence building measures to work in partnership with civil society and to create a culture of research freedom in academia along with providing access to required resources. Academia should capitalise on the opportunities for international collaborations through active networking keeping civil society and state institutions on board. An inclusive and collaborative approach can equally help face disasters and emergencies in cities in the face of pandemics and climatic events.