Running and neoliberalism
9 July 2019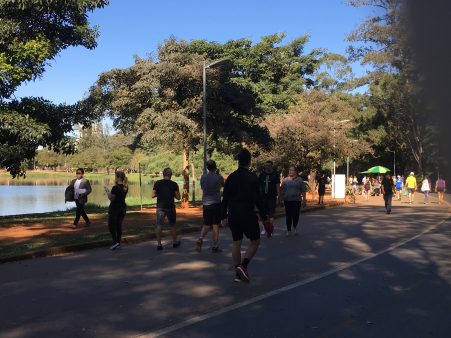 Dr Sara MacBride- Stewart
Going for a morning run in Sao Paulo while attending a Latin American research network meeting on neoliberalism and subjectivity, gave me some time to reflect on my experience of negotiating unfamiliar streets and on the question of what makes a megacity, runnable? More specifically, in asking how it was possible for me to run, I was curious to link to the question of running and neoliberalism, asking 'what forms of neoliberalism impact on my experience of running in Sao Paulo?' Let me begin with the story of my actual run.
It is 10 am on a Sunday morning in Sao Paulo, Brazil. I am trying on my shoelaces to set out for a run in one of the most populous cities in the world. I head to the end of the street and turn left onto Brazila Avenue – a four lane highway that turns into part of the city cycle network for Sundays only. A single lane has been separated from the main traffic by red cones that travel all the way along the avenue in both directions. At every junction there is a person, sat under a large branded umbrella. Their job is to use a large red flag, extended on pole that reaches across the cycle lane to stop the non-car traffic when the lights are red. On Sundays, these teams of low-paid, service-economy attendants relieve the worry about aggressive drivers, whose tactics to manage endless jams can feel terrifying from the street level. This is 'Ruas Abertas' (Open Streets) in action, Sao Paulo's answer to the political problems generated by pollution and noise of the endless heavy traffic.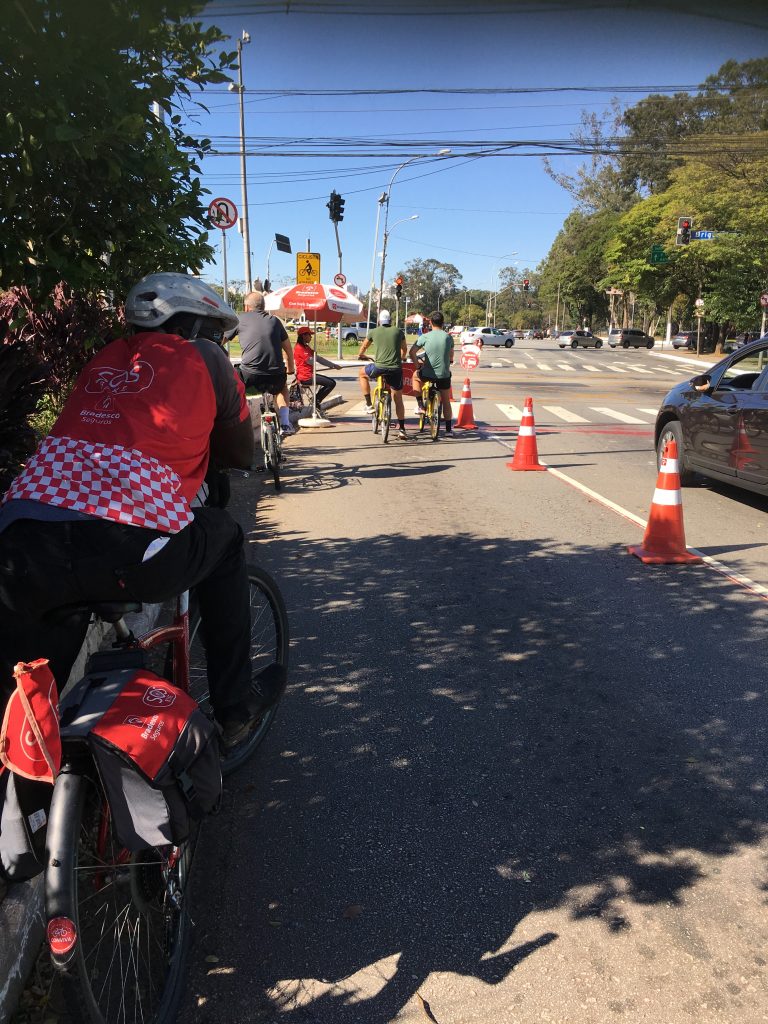 Sao Paulo is a city dominated by cars, where the building of cycle routes, opening up of parks and improved sidewalks became a symbol of liberation and public activism in the previous administration. I had previously tried to run at other times of the day, but few runners venture out before 10am and being unfamiliar to the city meant that I felt uncertain to run alone. The pavements in the city are piecemeal, constructed in a mosaic by each building owner and maintained unevenly in the same fashion. They are fun to run if you like challenging terrain, but having an alternative to running on the pavements is ideal. Ruas Abertas seems a really helpful response to the problem of runability in the city. This appeal seemed shared by athletes in training (one cyclist I spoke to was completing a 30 km circuit) and leisure runners like myself. As the avenue linked directly to the city's famous Ibirapuera Park (home of a number of museums and Sao Paulo's biennale), it is was possible to run with a sense of 'a destination' rather than just for the sake of it.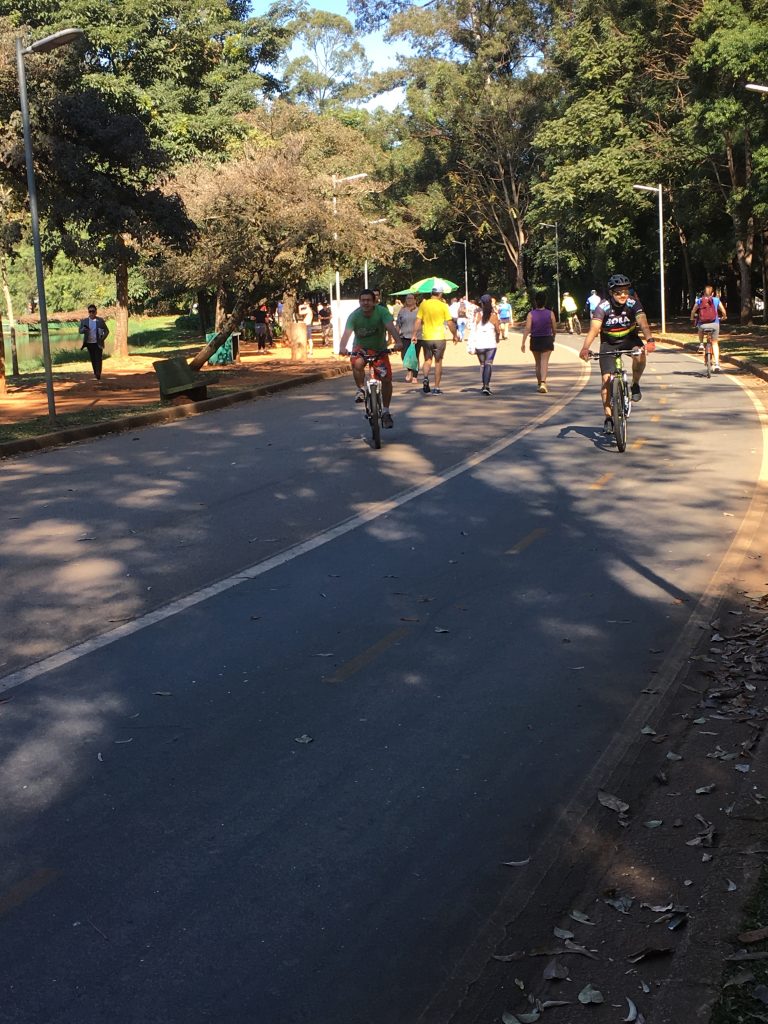 Reaching Ibirapuera park with its thousands of walkers, skaters, skateboarders, runners and cyclists all sharing the marked lanes around the park, I had a feeling safety and community in this huge city. By 10.30 am the park was packed. There were runners of all types and reassuringly lots of women on their own. The spectacle felt like the cultural equivalent of a parade, with participants kitted out in a plethora of finishers t-shirts advertising recently completed triathlons, endurance races, or membership of one of the many crossfit gyms in the area. For the first time in my life I recognised the capacity of the finishers t-shirt to communicate my place in the running world, and wished secretly that I had been wearing one from the women's only marathons that I have run (and researched) in the UK and Malaysia. The whole spectacle felt a little old fashioned too, echoing our own social history in South Wales where similarly built Victoria-era parks such as Roath Park Lake and Gardens were constructed in urban spaces as places for courtship and public show.
Neoliberalism – as we discussed in our network – while representing a global shift to economic structures for economic growth and public welfare through a focus on the support of individual and the dismantling of state support, also reflects concrete projects that account for specific responses by local institutions, people and places (Bell & Green, 2016). Ruas Abertas was a form of transport reform that was specific to a political desire to open up the opportunities to engage in cultural and social activities. These activities – including being able to engage in sports and car-free travel – were ones that have currency largely to the middle-class communities of Sao Paulo. What was also being prioritised and privileged was a sense of freedom to run in the way that I experienced. This freedom to run is legitimized in the academic literature as an important component of the politics of opening up greenspace, which advocates the principle of the right to public space for all, for the benefit of community wellbeing.
However in the context of my run in Sao Paulo this 'sense of freedom' emerges in the context of an unevenness, where it is evident that communities too poor to live in areas near to greenspace, and too busy in precarious and low paid work (with commutes of up to 4 hours) have little if any leisure time, let alone time to run. Furthermore, running in my account is described as a form of ecotourist dalliance and consumption. In other words, running is reflected in values in which the economic elements of running (including being able to travel to a 'exotic' destination to run) also coincide with the actual consumption of events and tshirts, the low and precarious pay position of the attendants on the avenue and the labour of the many coconut water sellers in the parks. Most striking too is understanding that my freedom to run comes at the social and economic cost of other workers in the same neighbourhood – precisely the security guards who sit in the sentinel boxes at the gates of each of the apartment blocks throughout the entire day, and not just during the hours in which I run.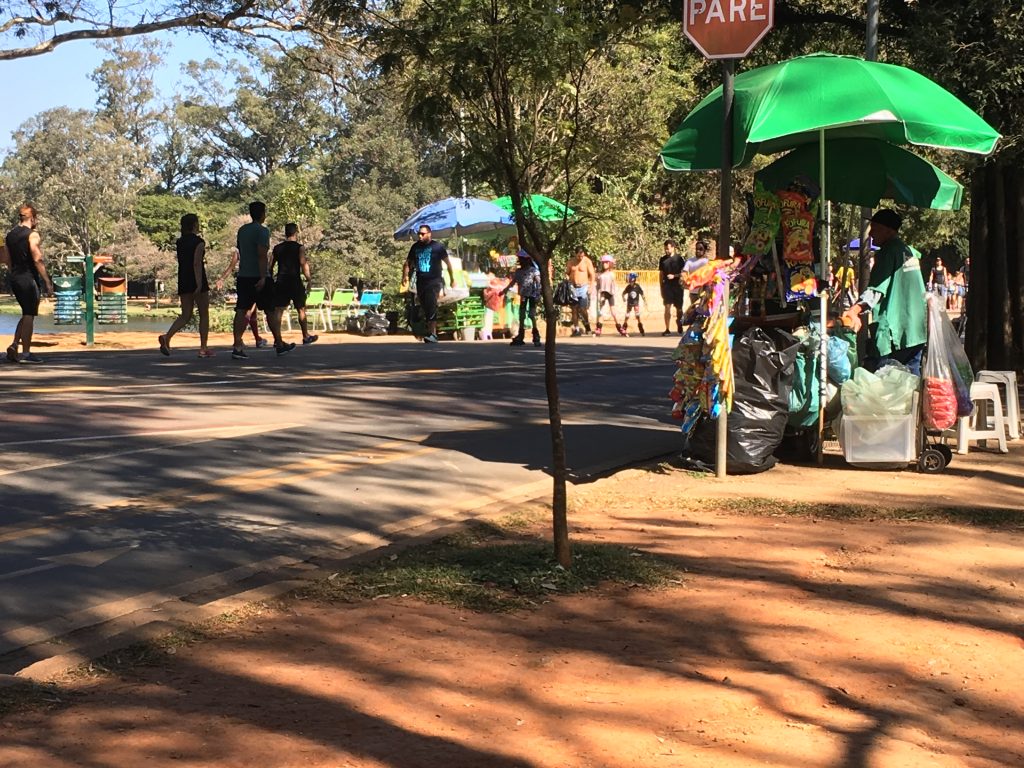 My perspectives on running in Sao Paulo generate assumptions about the local conditions, actions and politics. But the shared questions of how neoliberalism impacts my running in the UK, brings me closer to thinking about the geopolitics of running in the streets in Cardiff and Merthyr (sites where I am currently conducting research on runnability). Early findings from this study suggest that when I insert my experiences into the data, a similar account emerges about the sense of freedom and ecotourist consumption that parallels my experiences of urban running in Sao Paulo (see also MacBride-Stewart, 2019). However the runnability study in South Wales deliberately engages with communities less likely to be associated with running or active transport. For many communities, The Taff Trail exists as the Welsh equivalent of the 'Ruas Abertas', in that it is highly valued by local communities down its length from Merthyr to Cardiff. It is spoken about in terms that communicate it as a socially valued space for exercise and recreation for the local communities.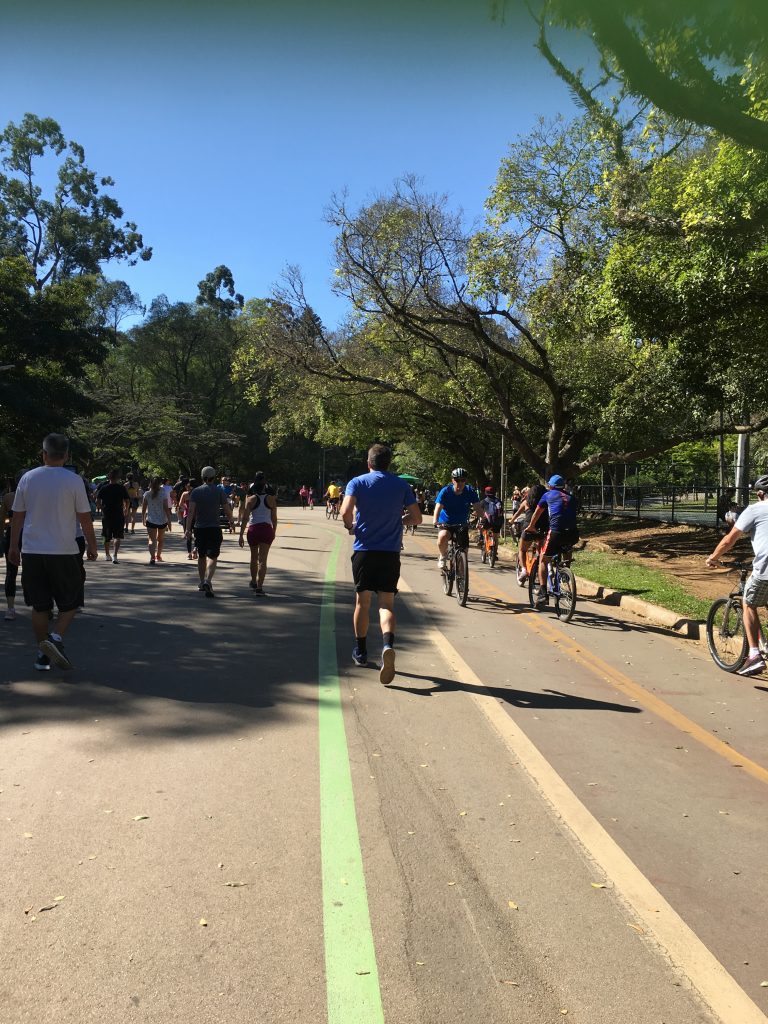 Yet, by speaking to different communities in Cardiff it is possible to see how our accessibility to public space for exercise is similar to Sao Paulo in that environmental and social benefits of the Taff trail and similar places are unevenly distributed. For walkers and people who live in the neighbourhoods that are at a distance from these valued and iconic places, accessing socially valued greenspace may first require the action of being able to travel away from where you live. This creates an unevenness that is obvious to those communities with poor infrastructure to link them to these places of recreation and exercise, including a lack of car or irregular public transport. Living in places with poor local infrastructure has the additional specific challenge of feeling unsafe on the local streets, that can heighten a desire to not go beyond the places that are necessary to visit like the local shops or busstop. So while we as a community may place significant value our 'Taff Trail' and even our 'Brecon Beacons' the freedom for all communities to use these spaces may be assumed. It is the lack of understanding of how neoliberalism contributes to the assumptions that these spaces are accessible to all, that needs to be addressed.
I am grateful to the CU GCRF funding, to Prof Valerie Walkerdine, Flavia Uchoa and members of the Latin American Neoliberalism and Subjectivity Group, as well as participants in 'Women Run the Streets' research in conjunction with Run4Wales funded by the School of Social Sciences, Cardiff University.