Reflections on organising a 'sustainable' event
6 July 2018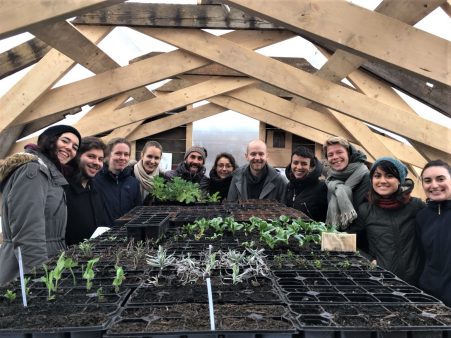 Lorena Axinte, Early Stage Researcher
While planning and running the SUSPLACE spring training we tried very hard to pay attention and reduce our negative footprint. Unfortunately, being located on an island made it difficult for many participants to reach Wales without flying.
Here are a few things we did manage to do, though:
We made good use of the local knowledge and expertise, trying to showcase the people, projects and ideas that are driving change and innovation in Wales and the UK
We actively avoided printing programmes and flyers
We worked with local, independent catering businesses who operate through principles we know and appreciate. Special thanks to the Embassy Café for the wonderful food and for turning a dull room into a lovely, homey space; and to the ladies from Quay St Kitchen who, besides the amazing food, have even bought silverware and helped us avoid single-use, disposable cutlery
When we had to use disposable cups, we did our best to use only one per person throughout the day and recycle them at the end
We tried to provide healthy food and snacks, entirely vegetarian at times, and sourced our coffee and tea from ethical brands
We curbed our food waste by saving leftovers, redistributing them whenever possible. We did run into institutional barriers, unfortunately, when Cardiff University and the RWCMD could not give us the leftovers, yet the kind managers reassured us that the food would be used in some way or another
We arranged bike-rentals and public transport memberships, and we chose locations that could be reached by walking, cycling or public transport. Of course, natural assets such as Bute Park and the River Taff – and unexpectedly good weather, once the snow was gone – encouraged people to choose active transport
We planned enough time for breaks, lunch, and rest days, so that everyone could recharge and come back energised for the otherwise diverse and ambitious schedule
We're conscious that there is always room for improvement and we would love to hear about other aspects that we should keep in mind when trying to run events in a more sustainable way.
Any feedback welcome @lorena_ax @sustainblecu @susplace_ITN