Plants, health and well-being through the ages
10 December 2019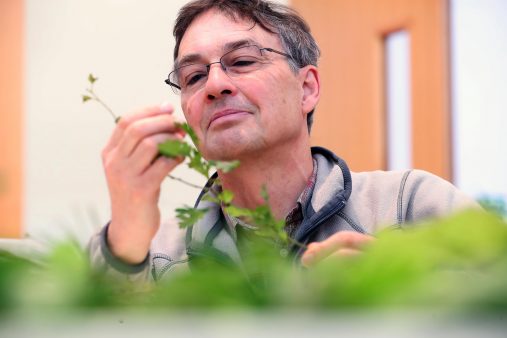 Dr Poppy Nicol
Sustainable Places Research Institute were involved in three events as part of the ESRC Festival of Social Science 2019.
One of the events coordinated by Dr. Poppy Nicol (Research Associate, Sustainable Places Research Institute) aimed to explore the role of plants for societal health and well-being in the past, present and future.
The one-day workshop, held at St.Fagans National Museum of History on the 2 November 2019 was designed to enable participants to 'move through time' and make connections in place through engaging with the Amgueddfa Cymru/National Museum Wales archives, the landscapes of the St.Fagans estate and an interactive 'imagination lab' .
The workshop began with a talk by Ian Daniel (Participation and Interpretation Officer, St Fagans National Museum of History) on 'Plants health and well-being through the ages in the context of Wales.' Participants were invited to guess the medicinal properties of a range of native plants freshly foraged from the grounds of the St.Fagans estate. Specimens included the leaves of burdock, dandelion, hawthorn and nettle and Scot's pine needles. Ian explained the health benefits of some of these plants that have been used for many centuries within Wales. Nettles and cleavers for example are considered spring tonics, whilst Hawthorn leaves are affectionately referred to as 'Bara caws/Bread and cheese' for its nutty flavor and appetite suppressing qualities.
Ian then presented on the Anne Elizabeth Williams archives held at St.Fagans National Museum of History. Anne Elizabeth Williams worked at St.Fagans as a researcher between 1976-1989. During this time, she travelled around Wales collecting information on traditional herbal medicines and remedies for humans and animals. The archives include both sound recordings and notecards, categorised according to region and ailment.
Herbs, plants and other local produce were an essential part of treating ailments before the NHS and times when people couldn't afford to pay for doctors. Although the healthcare system in Wales was very different by the time Anne Elizabeth Williams was conducting her fieldwork, knowledge around traditional herbal medicines and remedies remained in living memory. You can find out more about her research in the book Meddyginiaethau Gwerin Cymru (2017).
Scientific research over the years is revealing many of these traditional remedies to have a sound medical basis including: rosemary and honey for colds and coughs; garlic for decongestion and nettles for 'blood purification'. However some of the remedies based more on folklore including: slug slime for eye infections or the swallowing of frogs for treatment of kidney infections!
We then braved the rain, heading out for a botanical walk with Annwen Jones BSc, NIMH – medical herbalist and co-founder of the Rhizome Community Herbal Clinic. Annwen introduced a range of wild and cultivated plants growing within the St. Fagans estate. Drawing upon Ian's talk and the St.Fagans archives, she spoke about the carminative actions of aromatics such as rosemary and fennel and the important role of bitters for stimulating healthy gut activity.
After lunch, we listened to six lightning talks covering a range of topics from ancient history to contemporary textiles and seasonal cuisine. Speakers were asked to present on a topic related to the theme of the event for seven succinct minutes.
Dr. Laurence Totelin (Reader in Ancient History, Cardiff University) spoke about Silphium: an ancient cure-all, drawn to extinction by over-exploitation.
Dr.Heather Pardoe (Principal Curator, Department of Natural Sciences, Amgueddfa Cymru/National Museum Wales) provided insight regarding the links betweenbotanical illustration and pharmacology.
Cat Lewis (Artist, Colourfields) shared insights on her practice as a textile artist working to explore more ecologically friendly, healthier ways of creating fabric.
Dr. Natasha Constant, (Researcher, University of Venda, South Africa) spoke about Ethnobotanical knowledge and cultural practices of indigenous communities in Venda South Africa for sustaining plant and forest resources.
Dr. Sofia Vougioukalou (Researcher, School of Healthcare Sciences, Cardiff University) spoke about 'Ethnomedicine and the dynamics of ethno-medical knowledge transmission and plant conservation in the Cook Islands.'
Vaida Bardwaite (Artist/cook, One Small Spoon) ended with a session on 'Eating with the seasons, and being creative with food' where she shared an autumnal beetroot and apple cake and herbal tea.
The final part of the event provided participants opportunity to think about the future role of plants for health and well-being in an 'imagination lab'. Participants were guided through a visualisation exercise where they imagined the societal role of plants for health and well-being in 2050.
Group work highlighted how participants valued: 1.the crucial role of creative education and the cultivation of independent and inter-dependent thinking from an early age; 2.the importance of reskilling and reconnecting with indigenous knowledges across time and space, and; 3. the important work of inspiring (and empowering) people to be 'agents of change through community and participatory democratic processes such as citizen's assemblies. The Well-being of Future Generations Act (Wales) 2015 was identified as potentially supportive of these priorities. However, it was felt that it requires more power to hold institutions to account.
Whilst this event primarily drew upon an archive as a resource and the divergent skills of historians, artists and medical practitioners, it further highlights the important role of social sciences as an agent for convergence and catalyst for provoking trans-disciplinary thinking around the global challenge of sustainable and healthy communities for the future.