Paging Dr Care
30 March 2021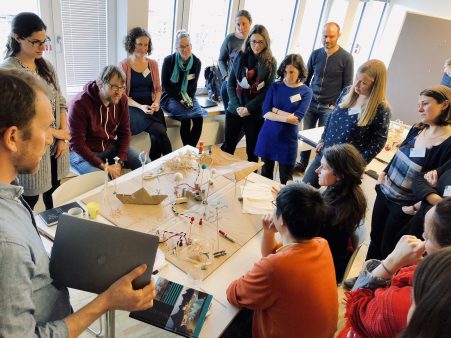 Seeking collective authorship to reward collaborative merits
by The Careoperative
There are all kinds of codes and habits within academia which probably make very little sense to other communities. Many of these relate to publishing. Writing articles is often the end goal of research with peer reviewed journals regarded as the epitome of 'good science'. This has shaped a whole raft of expectations around articles, who writes them, for whom, and how often.
One consequence of this system is that even for papers written by a team, it can be hugely important which names are listed as authors and in what order. Position as first author is often taken to indicate that someone deserves most credit for the work, and this can bring prestige or help career advancement. In certain disciplines, appearing as the last author also denotes a more important role in a collaboration. But others simply list everyone alphabetically, meaning credit is sometimes unduly assumed.
These conventions make it difficult to give due recognition to multiple contributors. They can result in unpleasant competition and even deceit or exploitation, as people seek a favourable authorship credit. Junior academics such as PhD researchers are particularly vulnerable to exploitation by senior colleagues who might, for example, claim a credit without duly contributing. A list of names – in whatever order – also fails to convey the complex and knotty way collaborative work is done.
There is also a healthy tradition of academics seeking to subvert or side-step these troublesome implications. Some opt for pen names, such as feminist economic geographers Katherine Gibson and Julie Graham who published as J. K. Gibson-Graham. Others have written under group names – The Revolutionary Picnic Collective and The QUINTESSENCE Consortium for example. As those behind their 'nom de guerre' Mrs Kinpaisby note, attribution to a collective builds on the radical feminist practices and resists the effects of the "citation game".
Against this background, when we came to write together about transforming harmful academic practices in search of more caring approaches, authorship mattered. If we were arguing for less competition and measurement of excellence based on metrics then a non-traditional credit was necessary.
As a group, we have agreed on important shared principles focused on solidarity – being responsible to one another and sharing in the costs and benefits of membership. The primacy of care is reflected in the group name the Careoperative. It seems fitting that no one quite remembers how this name emerged, no one takes credit for what evolved from our discussions and collaboration.
So alongside co-writing, re-writing and co-editing a paper we explored options and preferences for authorship that would reflect a truly collaborative article. Through discussions and consensus seeking we came to a preferred approach: a pseudonym as first author. And eventually, we whittled down the long list of names to Dr O. Care.
This seemed like a happy solution. And then… Submitting the finished paper for consideration by our favoured journals opened up a whole world of barriers and red tape. Several told us that their rules did not allow for such pseudonyms, even if they admired the spirit of what we were attempting. As we considered the options, it became clear that being able to publish as Dr Care really meant something, so we prioritised journals who supported this.
The process revealed just how rigid some academic systems are, and that those seeking change face resistance. Seeing Dr Care in print for the first time marked an achievement not just as their first authored piece, but as a small step to more equitable ways of doing research and receiving credit collectively.
The Careoperative is a leadership collective which emerged from the first cohort of the Robert Bosch Postdoc Academy for Transformational Leadership. It has 20 members including Poppy Nicol and Hannah Pitt of the Sustainable Places Research Institute. Their first article writing as Dr Care was recently published: Care, O., et al. Creating leadership collectives for sustainability transformations. Sustain Sci 16, 703–708 (2021). https://doi.org/10.1007/s11625-021-00909-y